Tom Brokaw may be one of most famous newsmen in America, but it's one specific characteristic that usually determines whether he gets recognized in public.
"I can hide under a baseball cap and wear sunglasses and nobody recognizes me,'' Brokaw said in an interview in the June issue of Men's Health.
"But as soon as I open my mouth, every head turns. They're all like, 'That voice! I know that voice!' There's no mistaking it for anybody."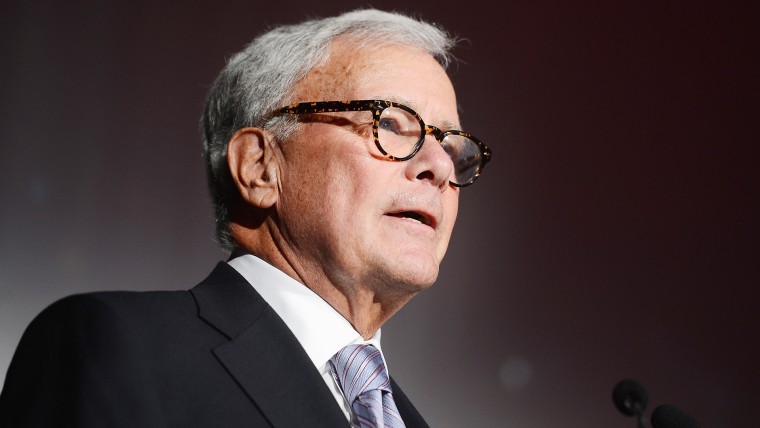 Brokaw's voice became familiar to millions of homes during his tenure as the anchor of NBC's Nightly News from 1982 to 2004. He was also a co-anchor on TODAY from 1976 to 1982.
RELATED: Tom Brokaw: My daughter has been 'invaluable' in my fight against cancer
"I don't think it's unusual in my craft, whether it's Walter Cronkite or Dan (Rather) or Peter (Jennings) or any of us who were there for so many of the defining events of people's lives,'' he said. "The voices stick with them."
Brokaw, 76, also touched on his humble beginnings at his first job for NBC in 1966.
"I was making so little money that on Sunday mornings I would go down to the local cafeteria and figure out how much I could afford for breakfast with the $3 I had left in my pocket,'' he said.
"Once, as I was standing outside studying the menu, these two very well-dressed couples came out, and obviously they didn't have to worry about their budget. They saw me and got so excited because they'd seen me on television."
RELATED: Tom Brokaw: Cancer has 'deepened my awe' of my wife
He also spoke about being the first U.S. journalist to interview a Soviet leader, his ongoing battle with an incurable blood cancer and his best-selling book, "A Lucky Life Interrupted."
The new issue of Men's Health comes out on May 24.
Follow TODAY.com writer Scott Stump on Twitter.