/ Source: TODAY contributor
For toddler Auston Banks, the difference between life and death amounted to the lack of a pencil sharpener.
The 18-month-old tot was frolicking with his family at a Meridian, Idaho, playground when one of the more bizarre accidents imaginable happened. He picked up a stray pencil from the ground, and then collided with a girl on a swing. The force of the collision jammed the pencil into the back of Auston's throat and sent his family on a frantic, life-and-death run to the emergency room. 
Miraculously, Auston survived his predicament, and his thankful parents Ty and Amber Banks happily showed off their recovering son live on TODAY Wednesday.
"We feel tons of relief," Amber Banks told Meredith Vieira as she held energetic Auston in her arms. "It's the best thing I could ask for with the worst thing that could happen to me."
A sudden cry
The drama unfolded May 9 as Ty and Amber took Austen and his 3-year-old brother Brandon to a playground near their home. "We go out every morning before lunchtime and we play to let the kids run their energy out before nap time," Amber related.
"I looked over at him, he was playing with his older brother," she told Vieira. "I turned back to talk to somebody and it wasn't 20 seconds later I heard this high-pitched sound — not even like a scream, because his tongue was pinned down.
"He was lying on his back in front of the swing. I said, 'You're all right,' and brushed his back off and saw the pencil sticking out, and thought he was chewing on a broken piece of pencil.
"So I went to pull it out — and it had no give."
St. Luke's Children Hospital is only a 5-minute drive from the playground, but it still seemed like an eternity for the parents. Ty Banks caught every red light along the way. "It just took forever," the day told Vieira. "I was freaking out, I was scared."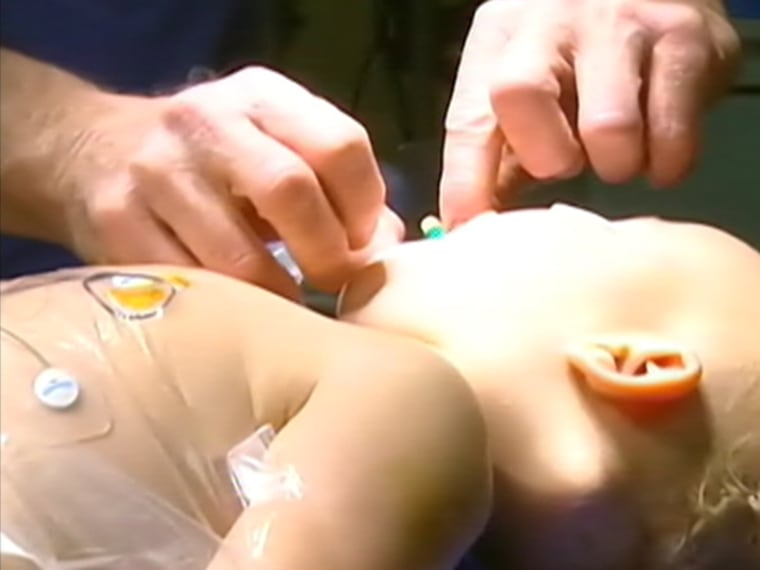 Amber said she could literally feel the life draining from her son's body as the 6-inch green pencil protruded from his mouth.
"We came to the light directly at the hospital and it was red," she said. "All of the sudden he just went limp in my arms. I had his hands pinned down so he couldn't pull the pencil, and I put my hands on his chest. I could barely, barely feel him breathing.
"I said, 'Ty, you've got to run this light, we're losing our baby."
A near missUpon arriving at the hospital, doctors at St. Luke's discovered a near-miss of amazing proportions. X rays showed the pencil tip was dull, and had missed his spine while pushing his carotid artery to the side.
"The doctor told me that if it would have been a sharpened pencil, it probably wouldn't have moved the vein over; it would have went right through it," Amber explained. If it had, Auston likely would have bled to death before he ever reached the hospital.
Doctors successfully removed the pencil from Auston's mouth in surgery captured by the local NBC affiliate's cameras. Three days later, the toddler was out of the hospital and back to running around with his family.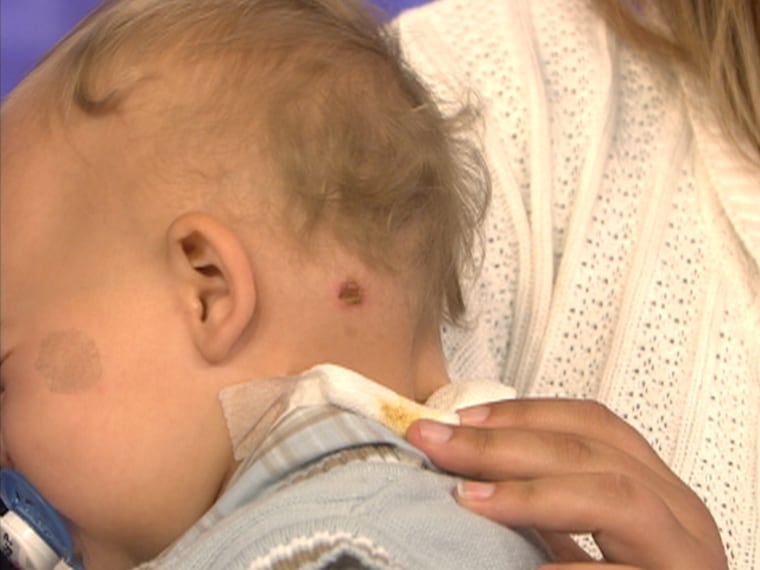 Amber Banks says she found the girl who had dropped the pencil on the playground, but instead of scolding her, the grateful mom thanked for wearing the pencil down to the nub before discarding it. That act likely saved her son's life — but Amber admitted her nerves are still on edge over the one-in-a-million accident.
"It is really emotional — we came really close to losing our baby," Amber said, choking back tears. "It's just really hard to think how close I was to never seeing him again."
Auston sucked on his pacifier during his star turn on TODAY interview — and sent Vieira scurrying across the set to retrieve his "binky" when he spit it out. Amber Banks said the family has instituted a new rule to keep foreign objects out of the tot's mouth.
"I told Ty he's not leaving the house without his binky," she told Vieira. "If he would have had his binky on the playground that day, he wouldn't have had any chance of the pencil getting in his mouth."