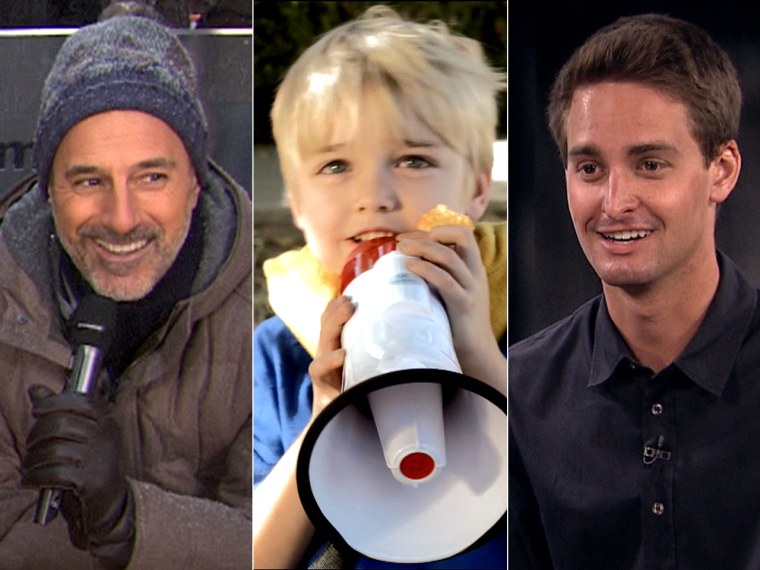 1. Millions were impacted overnight and throughout the morning as the first big winter storm of the new year dumped snow and dropped temperatures well below freezing throughout the Northeast.
TODAY fans started posting their wintry pics first thing this morning using the hashtag #TODAYSnow on Twitter, Facebook and Instagram. Included in those ice-cold shots: viewers' adorable animals enjoying the winter weather.
2. The Super Bowl is less than a month away, and that means one thing: ads.

This year Doritos is leaving it up to you, the viewers, to choose a commercial to play on game day — and they're awarding the creator of the winning ad $1 million. Take a look at the five finalists and cast your vote.
3. Snapchat's CEO insists his company was prepared for a security breach, even though days before it was hacked, a security company warned it was vulnerable.

"I believe at the time we thought we had done enough,'' Evan Spiegel told Carson in an exclusive interview.
4. Could plastic surgery be an answer to bullying? Hoda interviews a 15-year-old girl and explores the controversial choice.

5. Though actor Idris Elba has received award nominations and glowing reviews for playing Nelson Mandela in his new film, it was a thumbs-up from the anti-apartheid leader himself that moved the star.

"I think [Mandela] wanted to find someone who could bring that spirit alive," Elba told Erica Hill. "Which I was like, me? I was really sort of taken aback by that."
And that's TODAY's Takeaway!