1. When David Ortiz of the Boston Red Sox sent a game-tying home run hit through the air on Sunday evening, Boston police officer Steve Horgan threw his arms up in victory from the bullpen, just as Torii Hunter of the Detroit Tigers flung himself over the wall to catch the ball. The image became a viral hit on Sunday night, with one fan calling the cheering cop "a Massachusetts state treasure."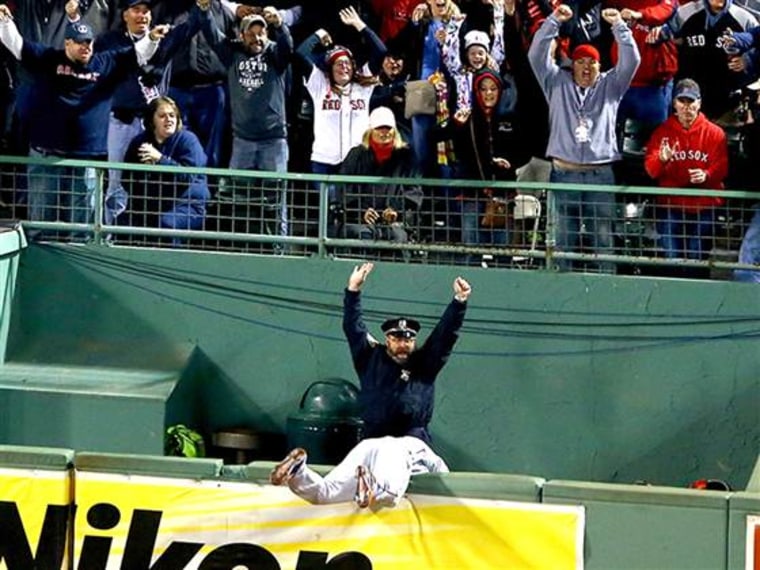 2. Evonne and Deon Derrico got quite a surprise when they found out that they were having quintuplets — without the use of fertility drugs. Evonne gave birth to the little ones in early September, adding five more to their brood of four. The parents chatted with TODAY Monday morning about the extraordinary birth and bringing up nine babies.
"We're all sleeping," Evonne Derrico told Savannah Guthrie. "We're all in the room, one big happy family."
While showing off their family, the Derricos also displayed one of their secrets to getting the kids to sleep: 4moms mamaRoo infant seats. The vibrating pods help rock children to sleep, though experts warn parents that babies should start learning how to get to sleep on their own.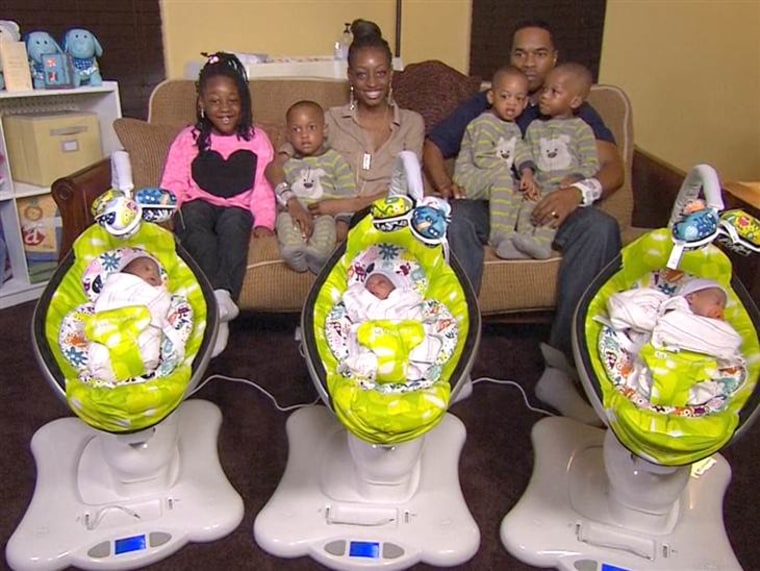 3. A tetherball-playing bear named Eli has gained quite a few fans after a video of him playing his favorite game made the rounds online. The black bear, who lives at the Animal Ark Wildlife Sanctuary in Reno, Nev., can smack the ball back and forth for three minutes at a time.
In honor of the talented Eli, check out a round-up of amazing (and adorable) bear antics caught on camera. 

4. Does Disney have a dark side? Director Randy Moore thinks so. The filmmaker chatted with David Gregory about his horror film "Escape from Tomorrow," which he surreptitiously shot with hand-held cameras on the grounds of Disney World. Inspiration for the low-budget movie came from his wife, who "had an awful, awful experience" at the so-called "happiest place on earth."
5. After much debate and discussion about "Sons of Anarchy" actor Charlie Hunnam being chosen to play the character of Christian Grey in the upcoming "Fifty Shades of Grey" film, Universal Pictures announced that the actor would no longer be starring in the film. 
With the role still up for grabs, we asked TODAY viewers who they would like to see play the character, and most survey takers think Ian Somerhalder is the man for the job. 
6. "Voice" coach CeeLo Green stopped by the Orange Room to chat with Willie Geist about the show and bumped into an unexpected fan: new novelist James Franco. The entertainers swapped phone numbers, and Green admitted that he's "a big fan of his, too."
And that's TODAY's Takeway!