/ Source: TODAY contributor
Traditional Halloween orange turned a royal hue on the Plaza Monday when the TODAY crew staged a major Trick or Treat Day spectacle in recreating the pomp of Will and Kate's royal wedding.
One of the show's most ambitious undertakings — planning began not long after Prince William and the new Duchess of Cambridge tied in the knot in April — saw co-hosts Matt Lauer and Ann Curry play the regal bride and groom. And Curry found it was easier to slip into Kate's dress than copy her royal mannerisms.
Vote: Which TODAY anchor's Halloween costume was the best?
"The royal wave is like this?" Curry said in rehearsals. "I don't know how to do it, so I'm going to go "hey guys!'"
Rounding out the royal wedding group was Al Roker portraying party-hearty royal brother Prince Harry, Natalie Morales as the Kate's vivacious sister Pippa, and Kathie Lee Gifford and Hoda Kotb playing Beatrice and Eugenie, royal daughters of Prince Andrew and Fergie.
TODAY's relative newcomer Savannah Guthrie might be excused for thinking she received the short end of the stick in being tapped to play royal dad Prince Charles. First seeing herself in full Charles regalia, she shouted, "Oh my gosh, that's hilarious!" and added, "This is probably a career-ender."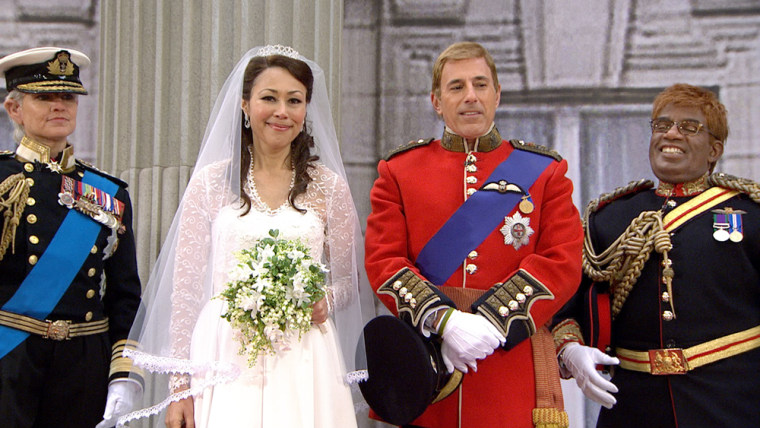 TODAY alum Meredith Vieira, who wowed the Plaza crowd last Halloween as Lady Gaga, returned to join in on the Halloween festivities, eliciting screams from the TODAY personalities as she arrived as the Queen herself.
Re-making the royal wedding wasn't an easy undertaking. Lauer and Roker were outfitted as the Princes from costume shops, and Curry and Morales' dresses were off-the-rack, but Gifford and Kotb's costumes were designed from scratch to recreate the colorful attire of the young princesses.
TODAY staged a major spectacle in recreating the pomp of Will and Kate's royal wedding.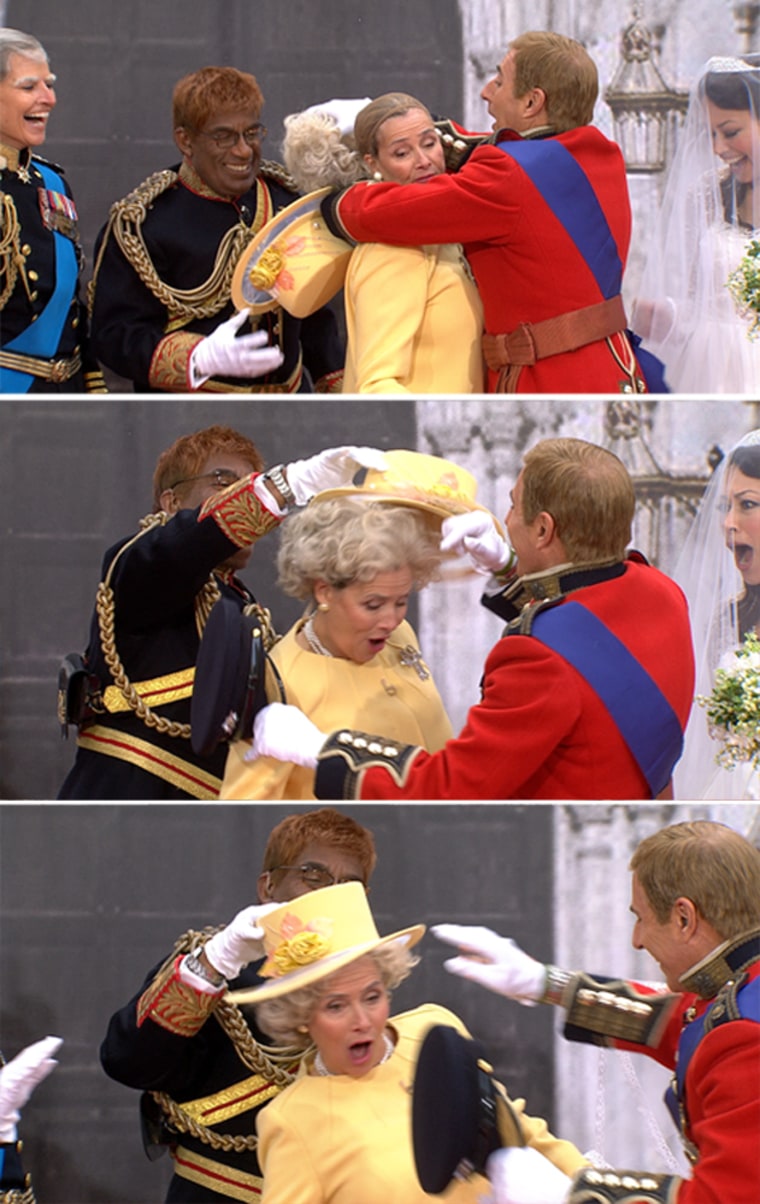 And fittingly for a hair-raising holiday, getting the 'do's of the royal family just right was the most painstaking endeavor. Each wig worn by the TODAY gang took up to 40 hours to make, using a half-pound each of hair.
The big reveal occurred at 8:12 a.m. as the throng gathered in the Plaza, many dressed in their own Halloween costumes and waving Union Jack flags, hailed the arrivals of the royal family.
TODAY producer Cecilia Fang said the production was perfectly fitting for the show. "We've done weddings on the plaza, we've done Halloween on the plaza, and now we're doing both at once," she said.
As pretend princes Lauer and Roker stood at attention, Curry's Kate made her grand entrance — and immediately showed that indeed, she hadn't quite perfected her royal wave. Still, Curry was a Kate-like vision in a lookalike gown, and as she slowly approached her intended she said, "Can we still change our minds?"
Meredith as Lady Gaga? Natalie as Justin Bieber? TODAY's talent dressed as fun pop-culture icons and historic figures.
Just as Lauer expressed regret that the Queen couldn't make it to the ceremony, a Rolls Royce pulled up and out came Vieira, dressed in a copy of the royal matriarch's yellow frock. Joining the royal wedding party, Vieira received a decidedly ungrandmotherly hug from Lauer, who knocked her wig and hat off in the process.
Vieira, speaking in a broad royal accent, expressed surprise at her new look: "Look at my boobs! They're so royal! I can't see my feet!"
And Lauer couldn't help poking fun at his brother for the morning, suggesting he might not make the perfect Prince Harry. "You know what I can't get over? Al, you look like Elton John!," he said.
Later, standing on a faux royal balcony, the TODAY family egged on Lauer and Curry to recreate the first royal kiss. "Let's show as much emotion as they showed on that day," said Lauer as he pursed his lips for a quick peck. Curry grabbed his head for a smooch with a bit more gusto.
All the while, Gifford and Kotb, dressed as Beatrice and Eugenie respectively, made for royal pests, circling the royal family and dancing on the balcony.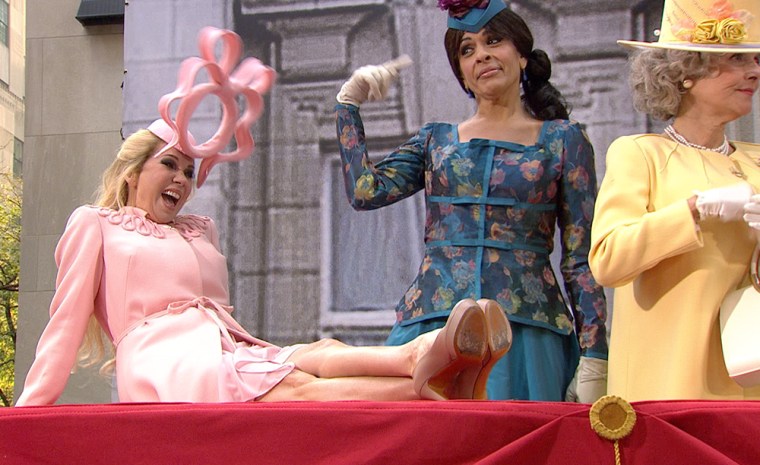 "Mummy sends her love!" Gifford shouted to the couple (Sarah Ferguson, famously, wasn't invited to the real wedding).
As Lauer and Curry drove off in a car trailed with balloons, TODAY's fourth hour correspondent Sarah Haines, dressed as a notably pregnant wedding invitee Victoria Beckham, introduced the behind-the-scenes of the hundreds of hours put into the royal Halloween production.
Cameras captured Kotb in a bit of a diva moment when having her head fitted for her royal wig. "Please take this off, I hate it!" she bellowed. Guthrie proved to be more of a sport, despite being the only member of TODAY that had to gender-bend.
"Goodbye pride, goodbye dignity," she muttered.
TODAY anchors celebrate Halloween by dressing up in lavish "Star Wars" costumes and indulging in a "Jedi Jeopardy" game on the plaza.
TODAY's royal wedding re-make followed a long tradition of major Halloween productions for the show. Last year, the team dressed as pop culture icons, with Curry portraying Amelia Earhart, Roker as Superman and Morales as Justin Bieber.
In 2009, the crew raided the props department of Lucasfilm to stage a Star Wars extravaganza, and in 2008 the TODAY gang dressed as bedtime story figures.