UPDATE: Thanks to everyone who generously opened their hearts and donated this holiday season, the TODAY Toy Drive raised approximately $37.5 million worth of in-kind donations, putting smiles on the faces of more than 3 million children through 180 family non-profits in all 50 states. This was our second biggest year to date. Nearly 80 companies partnered with the Toy Drive this year, along with thousands of people in the crowd and viewers at home. In the 22 years since its launch, the TODAY Toy Drive has received a total of $434 million in donations from loyal and generous TODAY viewers. Thank you again for making our Toy Drive a huge success in 2015!
TODAY kicked off its 22nd annual Holiday Toy and Gift Drive — and this year we are in need of special toys for some very special children.
Since 1994 we've helped more than 4 million underprivileged children, distributing about $395 million in donations to more than 180 organizations across America and to U.S. military bases abroad.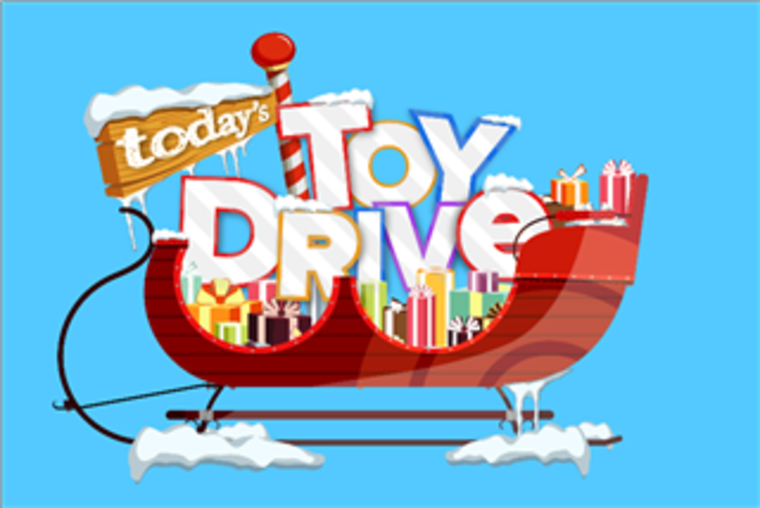 The smallest gift can mean the world to a child in need. As you celebrate with your family, take a moment to let these children know they're loved. We hope you will share the joy this holiday season and open your hearts.
How do you donate?
Come down to the TODAY plaza if you're near New York City — celebrity "elves" collect toys daily during the broadcast. If you arrive after 10 a.m., drop off your gift at the Rockefeller Center NBC Experience Store, in the special TODAY Toy Drive bin.
Celebrity "elves" will start collecting on Nov. 30 through Dec. 22. Celebs who have helped in past years include George Clooney, Kerry Washington, Jon Hamm, Matt Damon, Claire Danes, Samuel L. Jackson, Scarlett Johansson, Ben Stiller, Robert De Niro, Michael Buble, Paul Rudd and so many of your favorite stars. Who knows who will be wearing the Santa hat when you visit?
For those of you who can't be here in person, we've made it easy for you! You can also donate online at www.amazon.com/today. Click the Amazon link, add as many items as you like to your cart, complete the checkout, and Amazon will do the rest.
And now through December 31, families are invited to donate their Pampers Rewards points, which can be redeemed from purchases of Pampers products, to assist little ones and their families this holiday season. For every 100 Pampers Rewards points donated, Pampers will provide a toy to the TODAY Toy Drive. For more information, and to donate, please visit: http://www.pampers.com/en-us/rewards/today-holiday-toy-drive-donation
If you're interested in making a contribution in a different way, please email todayshowtoydrive@nbcuni.com or call (212) 664-7508.
All donations are appreciated, no matter how big or small. We are most in need of toys for boys of all ages, and tweens and teens up to age 18.
Why you should help
Every 29 seconds, a child in the United States is born into poverty, with limited access to food, medical care and basic human services. For many, TODAY is their ONLY source of gifts for the holidays. There will be no toys this holiday season for these children unless you choose to help.
The program is designed to provide gifts and essentials for impoverished children and teenagers up to age 18 nationwide. It has also expanded to include gifts that children are able to give their parents, because giving provides joy in itself.
These items go to millions of kids in all 50 states. Recipients include homeless shelters, children's group homes, schools, foster family services, domestic abuse shelters, Native American missions, military bases, hospitals, preschools, after-school programs, and the Boys and Girls Clubs of America. Natalie Morales helped the children at New York's Graham Windham wrap donated gifts for its annual party.
Read more about some of the participating organizations in our Charity Spotlight series:
Project Sunshine – New York, NY
Jenesse Center – Los Angeles, CA
Portland Homeless Family Solutions – Portland, OR
Domestic Violence Intervention Services – Tulsa, OK
Dorcas House – Little Rock, AR
The smallest gift can mean the world to a child in need. As you celebrate with your family, take a moment to let these children know they're loved. We hope you will share the joy this Holiday season and open your hearts.
More on the Toy Drive:
The TODAY Show Toy Drive is a project of the TODAY Show Charitable Foundation, Inc., a 501(c)(3) non-profit organization. All donations are tax-deductible to the extent the law allows. In 2008, it was honored with a President's Volunteer Service Award.
Let's work together in making our 22nd Anniversary Toy Drive the most successful ever. It comes at a time of great need.
2015 Donors:
Our sincere thanks go to the following organizations for their generous contributions:
Kohl's Department Store, Thirty One Gifts, Horizon Group, Mary Kay Inc., Microsoft, Initials, Inc., PartyLite Gifts, Stampin' Up!, DK Publishing, LEGO, Graco, Music Together, American Girl, ConAgra Foods, Hasbro, Sun Products Corporation, Arbonne, Tyson Foods, Avon, Pampers, Houghton Mifflin Harcourt, TOMY, Hess, Caboodles, ShedRain, The Learning Journey, UPPAbaby, JAKKS Pacific, Inc., Sterling Jewelers, Amazon, Direct Selling Association, Toy Industry Foundation, Amway, HomeGoods, K'NEX, VTech, Lulu Avenue, Origami Owl, International Playthings, USANA, Just Pretend Kids, Playmates, Mattel, Ann Williams Group, SpenserNation, Udderly Smooth, Living Fresh Collection, Rayovac, Alex Brands, HoMedics, B'nai B'rith International, Team National, Shaklee, Moose Toys, Stella & Dot, Bananagrams, RoomMates Decor, Schoenhut Piano Company, Just Play, FedEx, Lulu Press, Inc., Radio Flyer, Jordan Essentials, Kristina Lachaga, Vantel Pearls, Good Will Publishers, Silver Dolphin Books, Fort Funding Corp, Cedar Valley Publishing, Wonder Forge, Smart Toys and Games, Nautica, Next Generation Distributions, YOXO, Creative Kidstuff