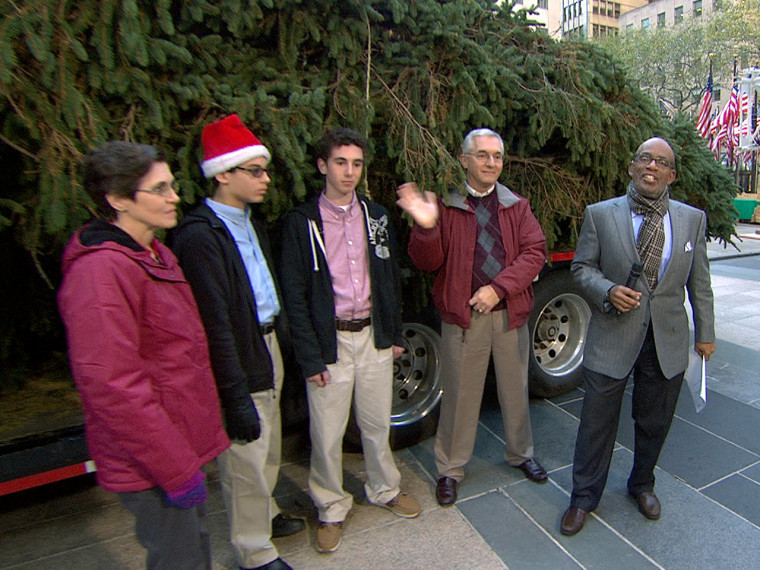 For more than 20 years, the tree was part of the everyday life for the Vargoshe family at their Connecticut home. 

Now they are sharing the 76-foot-tall piece of their family with the world, as it will serve as the tree that will illuminate Rockefeller Center for the 81st time this year. The 12-ton Norway spruce, which is 76 feet tall, 47 feet in diameter, and approximately 75 years old, arrived at Rockefeller Plaza on TODAY Friday in preparation for the annual lighting ceremony that will be held on Dec. 4. The Vargoshe couple, Louise and John, and sons Nathan, 15, and Noah, 12, made the trip from their home in Shelton, Conn., to Rockefeller Plaza to say goodbye to their tree one last time. 
"I think it's going to be very emotional for all of us,'' Louise told Al Roker. "We miss it already. Yesterday it was out of our front yard, but seeing it lit here at Rockefeller Center and letting the world enjoy it I think is going to make us feel good and give the Christmas spirit to everybody." 

More than 13 Rockettes tall! The Rockefeller tree by the numbers
The tree was planted as a sapling in front of their house by the original owner more than 60 years ago and has been a fixture since the family moved there in 1992.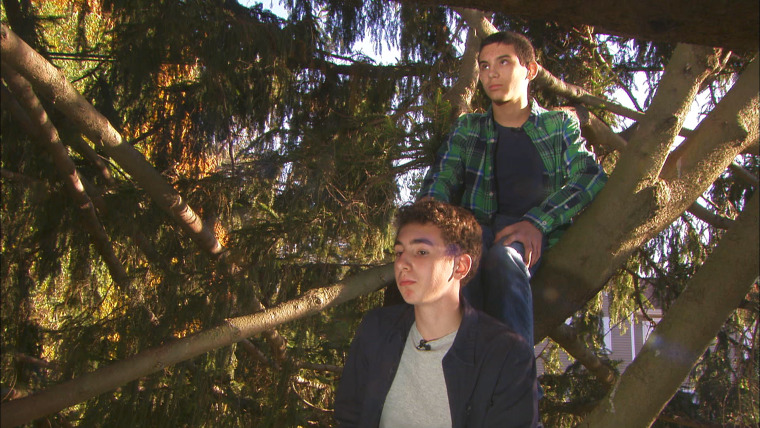 "It's been here my entire life, and it's just going to be completely different without it,'' Nathan told TODAY's Jenna Bush Hager. "It's going to be really great knowing that so many people across America are going to see this tree. It's going to be a cool feeling knowing that we're the ones who had it, and that we're the ones that donated it." 

The boys grew up climbing the tree, and it was always part of the directions the family gave out to anyone coming to their house.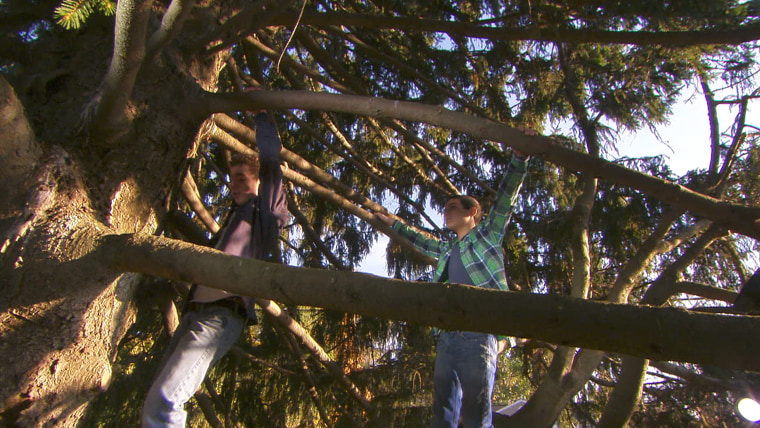 "She's watched over our family for the past 20 years,'' Louise told Hager. "It started as a Christmas tree, it's going to end its life as a Christmas tree. John had always said that if he hit lotto, he was going to hire someone to decorate that tree, so now it's going to be decorated better than I think anybody could ever decorate it. 

"A lot of people say it's just a tree, but no, it's not. It's a big part of our family, and we're going to miss it. She's going out with a bang. Everyone gets to enjoy her."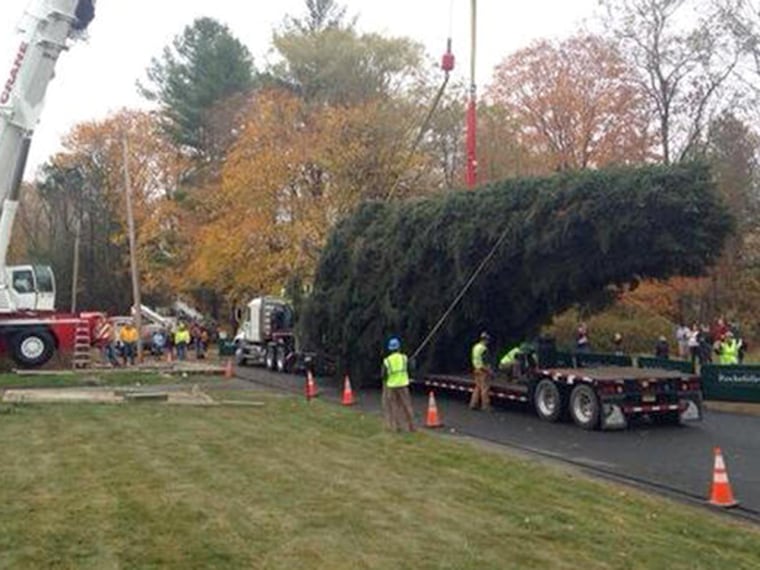 Leading up to the lighting ceremony, the tree will be decorated with 45,000 multi-colored LEDs requiring five miles of wire to string together. It will be topped by a Swarovski crystal star that is 9.5 feet in diameter and features energy-efficient LED bulbs. The Swarovski star also topped last year's tree, an 80-foot Norway spruce from Mount Olive, N.J., that survived Superstorm Sandy.

Construction workers building Rockefeller Center put up the first Christmas tree in front of the structure in 1931, and the first formal lighting ceremony was held in 1933. In 1936, two trees were erected at Rockefeller Center and a skating pageant was held at the newly-opened ice skating rink in Rockefeller Plaza. In 1942, three trees were put up on the plaza decorated in red, white and blue to show support for the troops in World War II. The 1999 tree was the tallest in Rockefeller Center history at 100 feet high.  

Following the lighting ceremony, spectators can view the tree each day from 5:30 a.m. to 11:30 p.m. and all 24 hours on Christmas. The last day to view it will be Jan. 7, 2014, after which the tree will be milled into lumber to be donated to Habitat for Humanity.