Jenna Bush Hager and her mother, former first lady Laura Bush, honored International Day of the Girl by sitting down with several women who risked their lives to travel from Afghanistan to the United States.
Laura Bush has been a passionate advocate for the women and girls of Afghanistan since her time in the White House. In 2001, she became the first person other than a president to address the nation in the weekly presidential radio address. In her speech, she referred to the "plight" of Afghan women and children as a "deliberate human cruelty, carried out by those who seek to intimidate and control."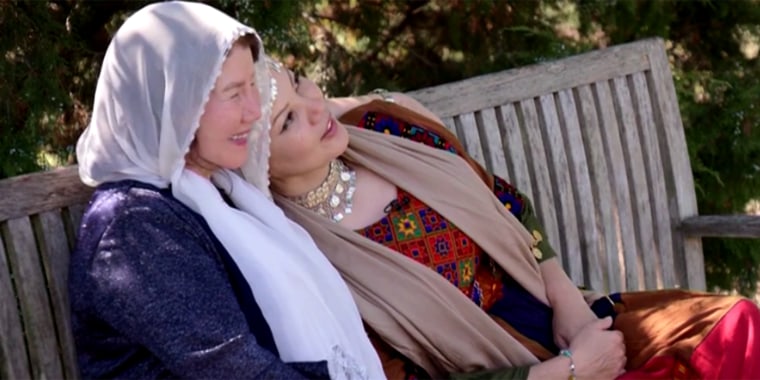 "American women wanted to help," Bush said during a discussion with Jenna and sisters Jamileh and Sharifeh, who are refugees from Afghanistan. "They really did. They looked at their Afghan sisters across the world and worried for them. And many, many women started programs to help women in Afghanistan."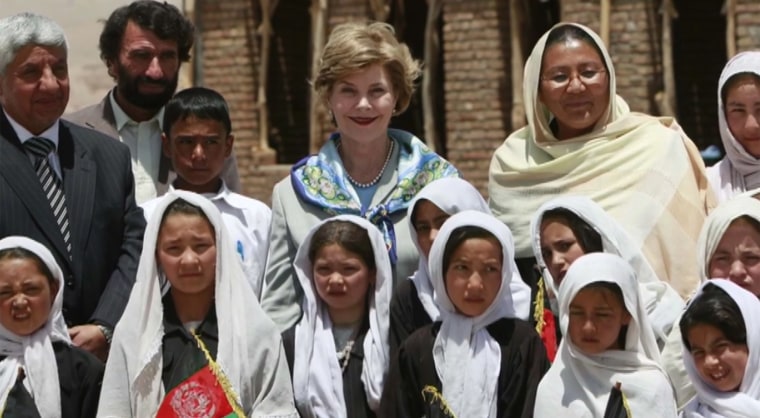 Now those programs are seeing an influx of interest as thousands of Afghan refugees are expected to travel to this country after the chaotic withdrawal of U.S. troops from Afghanistan in August. One of the organizations aiming to ensure they are welcomed and supported in their new communities is Welcome.US, a bipartisan initiative aimed at helping and welcoming thousands of refugees. (If you'd like to find out more about Welcome.US, you can do so by visiting its website here.)
One young woman, who spoke to TODAY anonymously out of concerns for the safety of her family still in Afghanistan, recently arrived in the U.S. and has been getting settled with the help of the Refugee Services of Texas. Here, she hopes to hold a job, something she was unable to do in a country ruled by the Taliban.
However, she frequently thinks of the loved ones she left behind, who are in poverty and afraid to leave their home.
"Every time, when they called to me, they say, 'Please, my baby, help us.' They don't have money. They don't have food. They don't have water to drink," the woman told Jenna and her mother. "They are jobless. They don't have jobs now. … If the girls don't have a hijab (on) they will beat her."
In the U.S., though, she shared that she has "the best life."
"I have lots of dreams," the woman said, adding that one of her largest hopes is "to have the rights" that she is not able to have in Afghanistan.
One culinary training program called Break Bread, Break Borders works to help refugee women find jobs in the food service industry.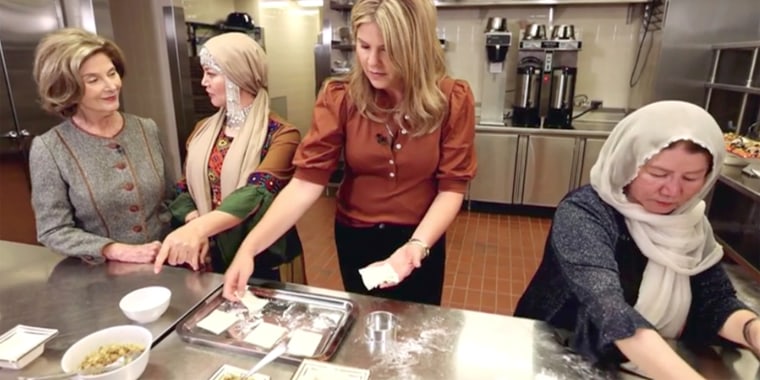 "Cooking is a skill; working in the kitchen is a superpower," said founder Jin-Ya Huang. She created Break Bread, Break Borders in honor of her late mother, an immigrant from Taiwan. "This is what it means to be an American to us. … To always do the right thing, to be a good neighbor, and to practice kindness and compassion every day.
The organization also serves as a place for refugee women to connect and share their traditions. Jamileh and Sharifeh, who arrived in the U.S. three years ago after fleeing Afghanistan, showed the Bush family how to make Afghan dumplings and shared the songs they used to sing when they cooked with their mother.
Despite leaving Afghanistan, the sisters said they still have hope for their country, even after watching the country return to Taliban rule.
"One day, my country is going to be like other countries," Jamileh said. "The people, all of them, happy together. … Not scared for something to happen to children in their school or (at) their home."