We've made plenty of memories over the past 65 years — it'd be a shame to miss the next big TODAY moment, right?
Well, now we're easier than ever to follow! We've launched a new app, one that'll reward our most loyal fans with the best of TODAY, for years to come!
Working hand-in-hand with our partners at Huge, we built an app that's informative, friendly and approachable (sort of like Al Roker). It's got everything you'd expect from TODAY — in addition to a special new feature: The Digest. The Digest is a daily, curated list of the best moments from TODAY, featured in a quick swipe-through format. Think of The Digest as your best friend catching you up on events everyone is talking about. (Our dear Android friends: The Digest is only available on iOS right now, but please stay tuned for updates later this year!)
Remember when Matt reported from atop One World Trade Center? What about the time Savannah watched Gabby Giffords sky-dive? And don't forget about the epic Halloween celebrations! These are the types of stories you'll find in The Digest.
RELATED: Download the new TODAY app now!
If you want to be the first to know, opt-in to push alerts and you'll receive a daily message letting you know when the day's Digest is ready. Beyond The Digest, we hope you find it easier to search and discover content in the app thanks to our simplified navigation and updated look. And we know you love watching video in our app — that's even easier to do than before.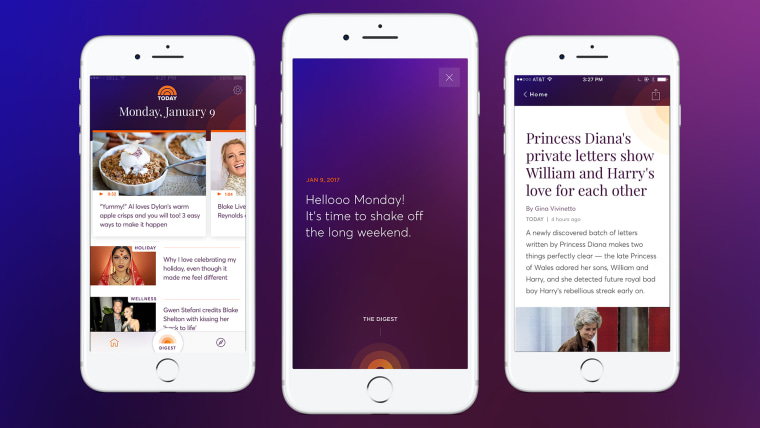 I hope you download the app and let our stories delight you every day, no matter where you are!
(Seriously, go download the app right now. You won't regret it.)
Ian Sager
Editorial manager, TODAY Digital, and the voice behind The Digest