Dear viewers and readers,
We love breaking stories about the things you care about, and you like to be the first to share these stories with your friends. To that end, we've launched a new social app for Facebook Timeline that makes it easier to share what you've been reading and watching on our site.
Want all your pals to see that viral video of the rescued baby otter or join the debate about whether the French make better parents? Just enable the app and everything you devour on the site will show up on your Facebook Timeline, right next to those updates about your perfect Sunday brunch or that aww-dorable photo of your kid. You'll also get to see what content your friends are checking out.
But if for some reason you don't feel like fessing up to reading about Justin Bieber's latest antics, you can turn the sharing function off at any time. The choice is yours. Just look for the "allow" button on our stories and videos.
You'll find more details in the explanation below, and please don't forget to tell me and the TODAY team what you think. We're counting on you to share!
- Sarika Dani, TODAY.com managing editor
Social sharing on TODAY.com
It's never been easier to share what you've seen on TODAY.com (and parent site msnbc.com) with your friends on Facebook and discover the stories that matter most to you and your friends.

Sharing made simpler, friends made smarter


With our new social viewing features, you never miss a moment because the videos you watch and the stories you read on TODAY.com can be automatically shared to Facebook and you can find your friends' news activity and recommendations on both sites.
Look for sharing options and your friends' activity at the top of videos and the end of articles.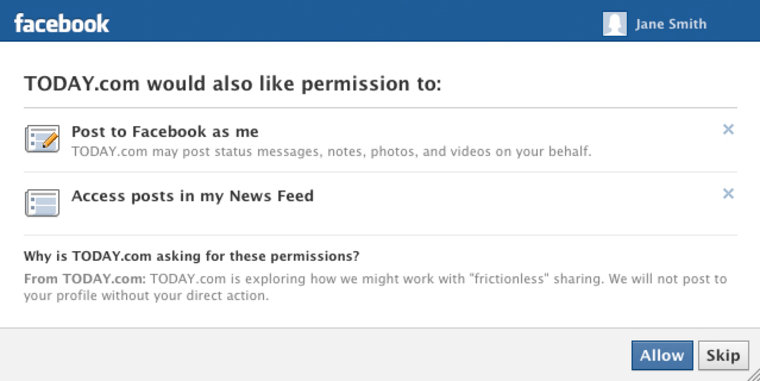 Getting started

If you're logged into Facebook, you're one step away from automatic sharing. Click Allow and you'll be prompted to authorize the TODAY.com app to post your reading and viewing activity to your Facebook Timeline.
There are separate apps for TODAY.com and msnbc.com so you can tailor your viewing and sharing experience on each site. Your sharing status and controls can be found at the top of videos and the end of articles and adjusted at any time.
If you're not yet logged into Facebook and would like to enable social viewing, click Allow at the top of videos or the end of articles. You will be prompted to connect to Facebook with the option to enable automatic sharing and see your friends' activity.
Once connected, your sharing status can be found at the top of videos and at the end of articles and adjusted at any time.

Where do shared items appear?

With social viewing enabled, shared items will automatically appear on your Facebook Timeline and possibly your friends' ticker and news feed.
Shared items will also appear in your friends' activity feed on TODAY.com if they're connected to Facebook.
Controlling what you share

Your privacy settings on Facebook determine who will see your shared items (friends, public, etc.) You can adjust these settings when authorizing our apps under Who can see activity from this app on Facebook or by visiting your Facebook app settings at http://www.facebook.com/settings?tab=applications.
You can remove an item at any time by clicking Undo at the top of the video or the end of the article you don't wish to share.
You can also delete an item already shared on Facebook or change its visibility by hovering over the right of the item on your Timeline and clicking the X.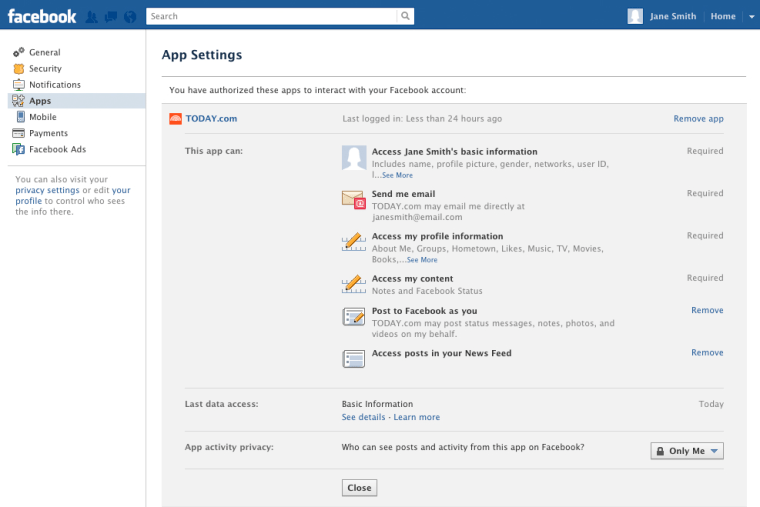 Disabling sharing

You can disable sharing from at any time by clicking Stop all sharing at the top of videos or the end of articles. To resume sharing, simply click Allow. Each site offers its own sharing controls, and changing settings on one site will not affect your settings on the other site.
You can also disable sharing by adjusting the settings for the TODAY.com and msnbc.com apps on your Facebook Timeline or at https://www.facebook.com/settings?tab=applications.