The search continues for a privately owned tourist submersible in the North Atlantic, which went missing on June 18 shortly after it began a dive to explore the wreckage of the Titanic. 
The submersible's Titanic expedition is a reminder that more than a century after the "unsinkable" Titanic sank after hitting an iceberg, killing more than 1,500 of the 2,200 people on board, curiosity still abounds about the ill-fated ocean liner.
Read on to learn more about where the Titanic sank, and where the Titanic wreckage is located.
Where is the Titanic wreckage located?
The wreckage of the Titanic, which sank four days into its maiden voyage in April 1912, is located in the North Atlantic Ocean, about 400 nautical miles south of Newfoundland, Canada, according to Britannica.
The wreckage is split into two main sections, with the ship's bow and stern resting about one-third of a mile apart. The wider debris field of the Titanic wreckage spans about 15 square miles, according to the Titanic Belfast museum's website. 
How deep is the Titanic wreckage?
The Titanic wreckage lies about 13,000 feet underwater. 
The remains of the Titanic's bow are located about 13 nautical miles, or about 15 miles, from the coordinates the ship's crew gave when sending distress signals, according to Britannica.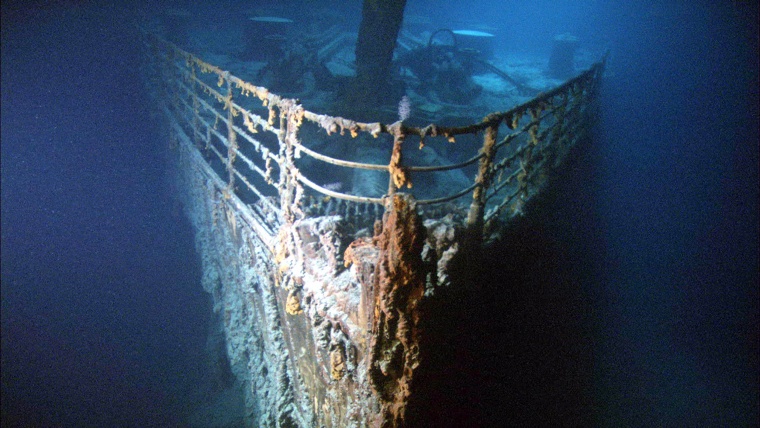 When was the Titanic wreckage discovered?
Multiple expeditions to find the Titanic were mounted beginning in the 1950s, but it wasn't until 1985 that a team of French and American researchers discovered the wreckage site.
American oceanographer Robert Ballard, working with the French Research Institute for the Exploitation of the Sea, developed a submersible vessel called the Argo that could travel down 13,000 feet and send live images back from the ocean floor, according to Britannica.
The Argo recorded the first images of the Titanic wreckage on Sept. 1, 1985, capturing images of the ship's boilers.
Since then, multiple expeditions have been mounted to further study the wreckage.
In May 2023, the first full-size digital scan of the Titanic was revealed, offering new, detailed views of the sunken ocean liner.