/ Source: TODAY contributor
Hostess gifts — the token gifts of gratitude that you give to your host for including you — are a proper etiquette must-do. When accepting an invitation to a dinner or party, most of us offer to help or to bring something and when the host refuses, we end up bringing a bottle of wine.
Not that anything is wrong with wine, but there are other clever, no-fuss gifts that are sure to give your host a post-party smile. Here, TODAY contributor and House Beautiful contributing editor Elizabeth Mayhew offers small gift suggestions that will win you "guest of the night" status.
WineWine is the easiest hostess gift to bring, but dress it up so it doesn't look like you just grabbed it from your wine rack. Try tying the bottle up in a dishtowel — I keep a stash of them on hand for just such a use. Long after your guests have finished the wine, they will continue to use the dishtowel.
You can also add to your wine gift a Red Wine Stain Emergency Kit, which includes three mini spray bottles of stain remover, $9 from www.surlatable.com. For wine: Try RED from St. Francis Winery, $10 per bottle, www.stfrancisred.com. And dishtowels are $4.95 each from www.crateandbarrel.com and www.williams-sonoma.com.
Onion goggles
For the cook, give the gadget that will lead to no more tears in 2009! Onion goggles may look silly, but you will never cry when cutting an onion again. The goggles have fog-free clear lenses and a foam seal that protects your eyes from irritating onion vapors, $20 from www.cheftools.com or www.kitchenkapers.com. For a fun presentation, give them to your host wrapped in a mesh bag of onions.
SaltAlso for the cook, bring them the new, new thing — salt. Salt, like olive oil or wine, comes in many different varieties, each with its own texture, flavor and character. Plus, many cultures have long considered salt to be good luck (along with bread, salt is part of the traditional housewarming gift). Dean & Deluca sells six different varieties including Fleur de Sel from France, which is considered the best. Jars are $22 each from www.deandeluca.com. A worthy alternative is Maldon Sea Salt, $6, available at most grocery stores.
Baked goodsYour best baked goods are always a welcome gift. Rather than putting them in a tin or box, plate them on a decorative platter that the host can use again and again (try John Derian Trays, $13 from www.target.com). If you aren't a baker, assemble the ingredients needed for s'mores on a platter — milk and dark chocolate, marshmallows and graham crackers — so your host (this is especially fun for a family) can have campfire fun at home.
CheeseYou can never go wrong bringing someone a chunk of Parmigiano-Reggiano. This delicious raw cow's milk cheese is crunchy, nutty, spicy and salty — everything a grocery store Parmesan is not. Eat it alone or grate it over pasta. No host will let it go to waste; $20 per pound from www.murrayscheese.com. Tie the cheese up in wax paper and baker's twine and top it with a cheese knife, $5 from www.crateandbarrel.com.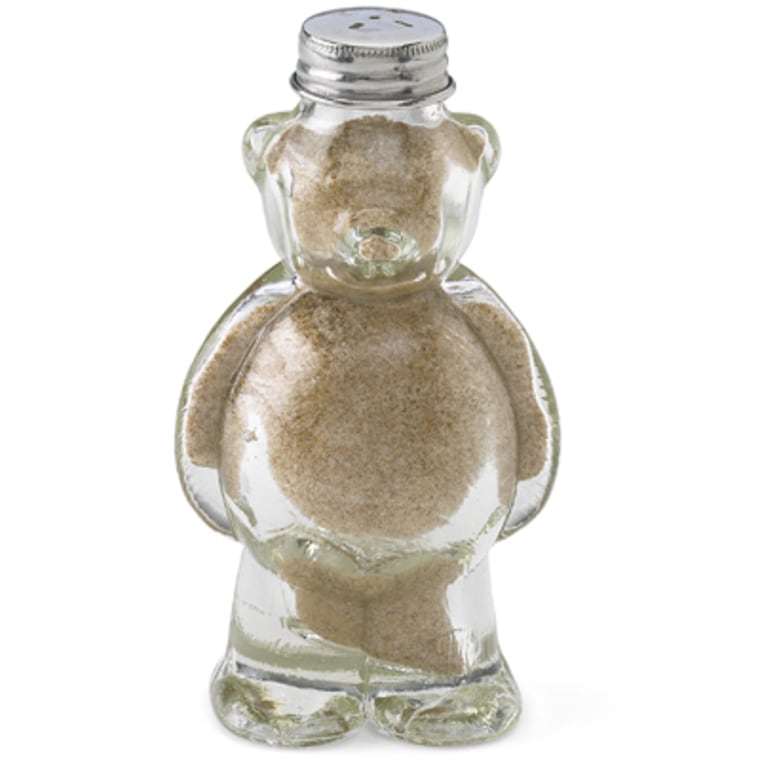 Shakers If you are going to a family party, bring adorable bear-shaped glass shakers filled with toast or pancake sprinklings like cocoa, powdered sugar, cinnamon sugar (mix ¼ cup of sugar with 4 teaspoons of ground cinnamon) or vanilla sugar (split a small piece of vanilla bean in half, place it in the shaker, and fill with granulated sugar). Try the Glass Teddy Bear Shakers, $3, from www.containerstore.com.
Retro funFor a host who is a close friend or someone you talk to all the time, bring a bit of humor with the YUBZ Retro Handset. It is an iconic, classic handset that connects to any mobile phone, $45 from www.neimanmarcus.com. You can pair it with Kate Spade's Retro Dial Phone Message pads (or give them on their own), $9 each from www.crane.com.
CandlesWho doesn't find themselves scrambling at a birthday or other celebration for candles and matches? Show up with both in hand so your hostess will have one less thing to think about. Celebration Candles are birthday candles on steroids — they stand an impressive 15 inches tall, $15 from www.creativecandles.com. Pair them with matchboxes that are too good-looking to misplace, $12 for two sets (each box has 250 matches) from www.iomoi.com.  
SoapCreate a gift for your host's powder room or bathroom by pairing a bar of soap with a pretty small plate or saucer. Orphan saucers (missing their teacups) can be found for a few dollars at any flea market or antiques store and can be repurposed as a soap dish. Alternatively, look for reasonably priced small decorative plates, $8 from www.anthropologie.com or www.pearlriver.com for the same use. You can find the soap itself for $5 from www.crabtree-evelyn.com.
For more tips like these, please visit .