He received decidedly mixed reviews for his Sunday night stint hosting the Oscars. She was mentioned, along with comedy partner in crime Amy Poehler, as a dream host for the future. But both Seth MacFarlane and Tina Fey have now gone on record saying they won't host next year's show.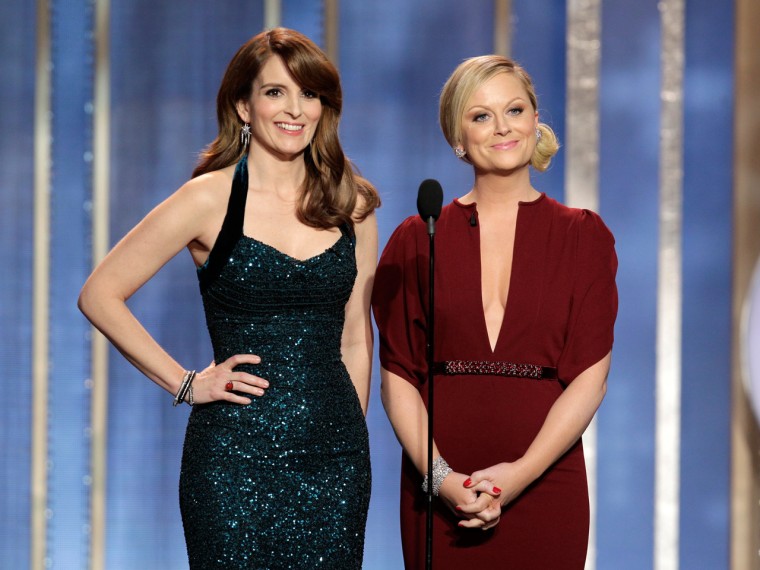 In a comedy bit that opened the awards show, William Shatner muttered, "Why couldn't they get Tina and Amy to host? Why can't Tina and Amy host everything?"
Fey told The Huffington Post that she was flattered "to be Shatnered," but said she won't be looking to host the show.
"I just feel like that gig is so hard," Fey told the site. "Especially for, like, a woman -- the amount of months that would be spent trying on dresses alone ... no way."
When writer Mike Ryan pushed Fey, asking if there was a "one in a million chance," she still declined, saying "I wish I could tell you there was."
As for MacFarlane, he responded to a Twitter fan who asked him if he'd host again with "No way. Lotta fun to have done it though."
With Fey and MacFarlane out of the running, the Academy organizers will have to start combing through a long list of possible hosts. Recent hosts have included Billy Crystal, James Franco and Anne Hathaway, Alec Baldwin and Steve Martin, Hugh Jackman, Jon Stewart and Ellen DeGeneres.
It's a list that heavily favors comedians, but there the Academy walks a fine line. Edgy comics like MacFarlane and three-time Golden Globes host Ricky Gervais may appeal to a younger audience, but also run the risk of alienating viewers who like their Oscar humor safe and friendly. And there's no denying it's a great deal of work for a famous name who arguably doesn't gain much from taking the job but has a lot to lose if his or her hosting night goes awry. It might even be easier to win an Oscar than to successfully host one.
Who would you like to see host the 2014 ceremony? Vote in our poll, and tell us on Facebook.
Related content: