/ Source: The Associated Press
Uma Thurman testified Thursday that she was frightened and panicked when her accused stalker sent her a card with a drawing of an open grave, a headstone and a man standing on the edge of a razor blade.
The 38-year-old actress, testifying at the trial of defendant Jack Jordan, said he had tried unsuccessfully to get into her trailer while she was shooting the movie "My Super Ex-Girlfriend" in lower Manhattan's SoHo area in November 2005.
He tried a second time after mingling with some movie extras. When an assistant intervened, Jordan asked him to give Thurman the illustrated card.
"I was completely freaked out," she said of the drawing, which was on a religious confirmation card. "It was almost like a nightmare; it was scary."
The card also contained random words written in a spiral. Some were crossed out. From the witness stand, she read some of the words that were legible: "chocolate, mouth, soft, kissing," and the sentence, "My hands should be on your body at all times."
During Thurman's testimony, Jordan occasionally drummed his fingers lightly on the table. He rarely looked in her direction.
Thurman testified that a bit of paper fluttered out when she opened the card. One of them was a picture of a bride with her head torn off.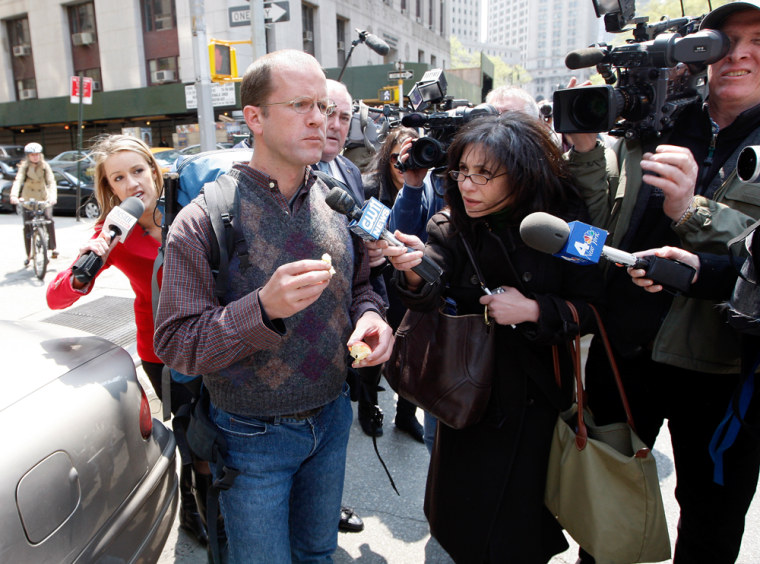 Jordan is accused of following and trying to contact Thurman from early 2005 until late last year. He is charged with stalking and aggravated harassment, and faces up to a year in jail if convicted.
His lawyer, George Vomvolakis, said he believed Thurman's demeanor during her testimony was "a little overdone and exaggerated. I'm not saying she's acting, but reactions are unreasonable."
Vomvolakis also said he instructed Jordan not to stare at Thurman while she testified "because we don't want to make her uncomfortable."
Thurman said she called her parents and her brother, who testified earlier this week in Manhattan state Supreme Court. She said they knew about Jordan but didn't tell her about the calls and e-mails they had received because they didn't want to scare her.
Thurman said she read some of the e-mails quickly and noted they made references to her ex-husband and — more frighteningly — her two children, ages 6 and 9.
One e-mail said, "You have no children," and called them an "illusion." The same e-mail referred to the biblical story of God ordering Abraham to kill his son Isaac but then rescinding the order.
"I don't think any mother or parent would want a stranger to fixate on their children, and fixate on them not existing," she said. "That was terrifying to me."
Thurman said she received a letter from Jordan in November 2005 telling her that he had been involuntarily committed to a Rockville, Md., mental hospital because of her, and he asked her to intervene to help him get out.
Thurman said that was the last she heard of Jordan until August 2007 when she was on vacation in the Bahamas.
She said she "felt physically nauseous" when her personal assistant called her to say a man named Jack Jordan had come to her front door, was ringing the doorbell, and had refused to leave.
Thurman said her assistant told her Jordan left only after she told him she was calling police.
Vomvolakis, who says Jordan never would have hurt Thurman because he loves her, says his client has been diagnosed as schizophrenic and bipolar and should be in psychiatric treatment, not in jail.