In its March issue, PEOPLE Stylewatch takes a look at three hot spring fashion trends: "ballet," "nautical" and "mod," and shows how to get three looks from each trend.  Here's how to pull together these great spring looks:
Ballet Trend
When it comes to the Ballet look for this spring, the key is movement and volume and shades of blush and gray.  You can go from a loose shirt to a soft swingy dress, then choose ballet flats or lace-up pumps, and add a delicate headband to finish the look.
Just a touch (left in photo)
Top – Velvet, "Keidra" cotton jersey tee, $74; Wendy Foster, 805-966-2276
Pants – Theory, "Anala" cropped cotton skinny-leg pants, $215; theory.com
Bag – Kooba, "Elisha" handbag in black, $535; Saks Fifth Avenue, 212-753-4000
A bit more (center)
Dress – Calvin Klein, Crinkle silk dress, $198; select Macy's, 800-526-1202
Belt – Michael Kors, "Clean" waist belt in anthracite, $395; shopkitson.com
Shoes – tylet. Richard Tyler, "Wildcat" ballet flats, $109; zappos.com
Bag – Elliott Lucca, "Socialite" satchel in woven leather, $268; elliottlucca.com
Full-on (right)
Sweater – DKNY, Slip colored wrap sweater, $195; 800-231-0884; dkny.com
Skirt -- DKNY, Cotton poplin skirt, $125; 800-231-0884; dkny.com
Necklace – Charm, Baby Diamond heart and key 14k-gold necklace, $150 and cable chain with Horseshoe and ballet slippers charms, $195; charmco.com
Shoes – Michael Kors, "Nile" lace-up open toe pumps, $355; Neiman Marcus, 800-944-9888
Bag – Adrienne Vittadini, "Vachetta" satchel, $248; 800-497-1631
Headband – Colette Malouf, Satin headband, $42; Henri Bendel, 800-423-6335
Nautical Trend
The sailor look has grown up this season!  Sail on from a navy-and-white base by adding stripes, sailor pants, rope details, espadrilles, or even a jaunty cap.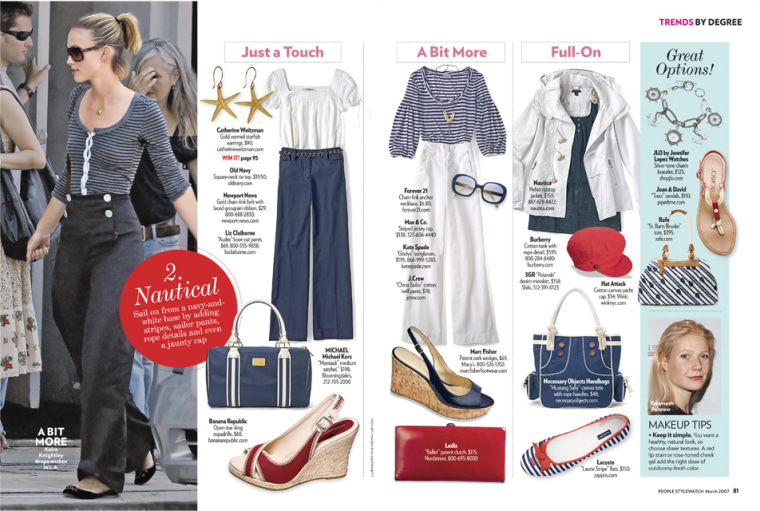 Just a touch (left in photo)
Top – Old Navy, Square-neck tie top, $19.50; oldnavy.com
Pants – Liz Claiborne, "Audra" boot-cut pants, $69, 800-555-9838; lizcliaborne.com
Belt – Newport News, Gold Chain-link belt with laced grosgrain ribbon, $29; 800-688-2830; newport-news.com
Bag – MICHAEL MichaelKors, "Montauk" medium satchel, $198; Bloomingdale's, 212-705-2000
A bit more (center)
Top – Max & Co. Striped jersey top, $138; 323-606-4440
Pants – J.Crew, "Chino Sailor" cotton twill pants, $78; jcrew.com
Sunglasses – Kate Spade, "Gladys" sunglasses, $195; 866-999-5283; katespade.com
Shoes – Marc Fisher, Patent cork wedges, $69, Macy's, 800-526-1202; marcfisherfootwear.com
Bag – Lodis, "Ballet" patent clutch, $115; Nordstrom, 800-695-8000
Earrings – Catherine Weitzman, Gold vermeil starfish earrings, $90; catherineweitzman.com
Full-on (right)
Jacket – Nautica, Nylon ripstop jacket, $159; 887-628-8422; nautical.com
Tank – Burberry, Cotton tank with rope detail, $595; 800-284-8480; burberry.com
Skirt – 3GR, "Polanski" denim miniskirt, $158; Shiki, 512-391-0123
Hat – Hat Attack, Cotton canvas yacht cap, $34; Wink; winknyc.com
Bag – Necessary Objects Handbags, "Mustang Sally" canvas tote with rope handles, $48; necessaryobjects.com
Shoes – Lacoste "Laurie Stripe" flats, $150; zappos.com
Pedestal table
Shoes – Banana Republic, Open-toe sling espadrille, $68; bananarepublic.com
Bracelet – JLO by Jennifer Lopez Watches, Silver-tone charm bracelet, $125; shopjlo.com
Bag – Rafe, "St. Barts Brooke" tote, $295; rafe.com
Mod trendMod is so 60's and now it's so 21st century!  Start with a short, loose dress or slim pants, then turn up the groove factor with chunky silver and Lucite accessories.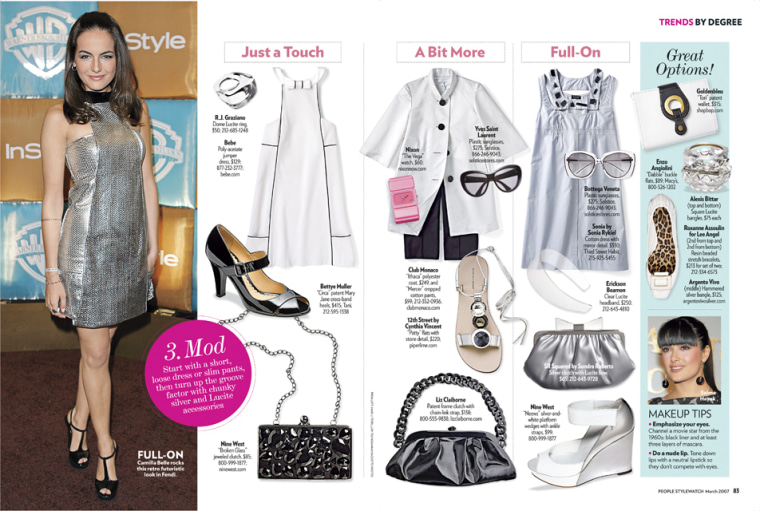 Just a touch (left in photo)Dress – Bebe, Poly-acetate jumper dress, $129; 877-232-3777; bebe.com
Bag – Nine West, "Broken Glass" jeweled clutch, $85; 800-999-1877; ninewest.com
A bit more (center)
Coat – Club Monaco, "Ithaca" polyester coat, $249, 212-352-0936; clubmonaco.com
Pants -- Club Monaco, "Mercer" cropped cotton pants, $249, 212-352-0936; clubmonaco.com
Sunglasses – Yves Saint Laurent, Plastic sunglasses, $275; Solstice, 866-246-9043; solsticestores.com
Watch – Nixon, "The Vega" watch, $60; nixonnow.com
Shoes – 12th Street by Cynthia Vincent, "Patty" flats with stone detail, $220; piperlime.com
Bag – Liz Claiborne, Patent frame clutch with chain-link strap, $138; 800-555-9838; lizclaiborne.com
Ring – R.J. Graziano, Dome Lucite ring, $50, 212-685-1248
Full-on (right)
Dress – Sonia by Sonia Rykiel, Cotton dress with mirror detail, $330; Third Street habit, 215-925-5455
Headband – Erickson Beamon, Clear Lucite headband, $250; 212-643-4810
Bag – SR Squared by Sondra Roberts, Silver clutch with Lucite bow, $65; 212-643-9728
Shoes – Nine West, "Neews" silver-and-white platform wedges with ankle straps, $99;
800-999-1877
Pedestal table
Wallet – Goldenbleu, "Tori" patent wallet, $315; shopbop.com
Bracelets – Alexis Bittar, Square Lucite bangles, $75 each
Sunglasses – Bottega Veneta, Plastic sunglasses, $275; Solstice, 866-246-9043; solsticestores.com
Shoes – Bettye Muller, "Circa" patent Mary Jane cross-band heels, $415; Tani, 212-595-1338