When Rion Holcombe got the news he'd been accepted to college, he didn't quite believe it at first.
The 20-year-old, who has Down syndrome, had applied to the ClemsonLIFE program at Clemson University in Clemson, S.C., but wasn't home when his acceptance letter came in the mail. So his parents, who were both sneakily in on the good news already, were able to catch the moment he learned he got in.
The emotional video, now making the rounds online, shows Rion carefully opening his letter and then turning to his father, Danny, for confirmation of the good news. "It says congratulations," his dad says, reading part of the letter aloud.
"I got accepted?" Rion asks, a huge grin spreading across his face. "They said yes?"
"They said yes!" his dad says. "What do you say?"
"Yes!" Rion exclaims, beaming. "This is crazy!"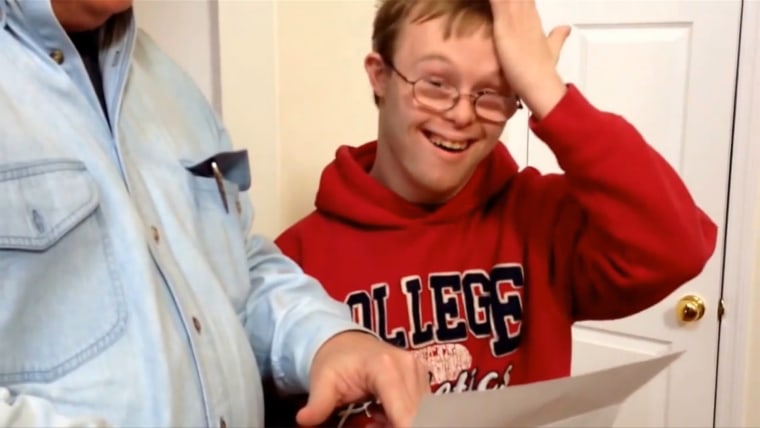 His parents uploaded the video to YouTube shortly after they taped it, which was a few days after Thanksgiving, and it's already melting hearts across the Internet.
"We're awfully excited for him," Danny Holcombe told TODAY.com, though he added as parents, he and his wife Susan are "not real excited about him leaving home." But they're especially thrilled because they never expected their son would have this kind of opportunity. "When he was born, nothing like this was a possibility," Danny said.
The program Rion will attend next fall is "designed for students with intellectual disabilities," and aims to help young adults develop skills they can use to live independently. The campus is only about an hour and a half away from their home, but the Holcombes plan to let Rion get settled so he can get into the rhythm of the program. "They don't really want us there," Danny laughed. "We would go a lot, but the idea is to let them get on campus and let them be there."
And Rion can't wait.
"He's just excited," Danny told TODAY.com. "He's not looking back at all. We asked him if he'd miss us, and his response was, maybe eventually!"