Sure, we'd like to have the bank account of a celebrity. But we wouldn't want the attention they get, where every utterance out of their mouths is transcribed and shared worldwide. Some of those quotes are hilarious, some are just dumb. Here are our 10 favorites from 2012.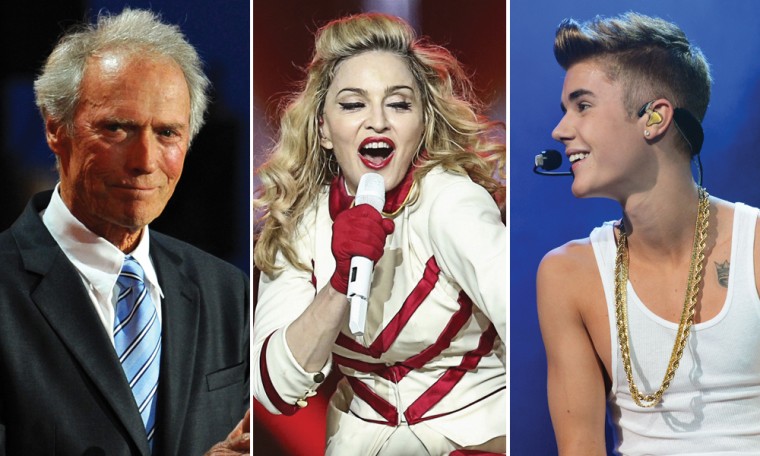 Best comeback
"If they have a problem with spokespeople, what about the Pillsbury Doughboy? He runs around without any pants on, basically begging for people to poke his belly. What kind of message is that?" -- Ellen DeGeneres, on One Million Moms protesting her use as JC Penney spokeswoman.
Best photo explanation
"I think you can see I'm forming the letter F with my mouth. And what I'm saying is ... 'What F-stop are you on with the camera?'" -- Alec Baldwin joking about a photographer run-in on "Late Show With David Letterman."
Best political quote
"I figure if somebody's dumb enough to ask me to go to a political convention and say something, they're gonna have to take what they get." -- Clint Eastwood on "Extra," about his GOP convention appearance.
Best TMI quote
"I plan to be done. But my husband is kind of a wonder sperm kind of guy." -- Jennifer Garner on whether she and Ben Affleck will have more kids.
Best awards-show greeting
"Welcome to the 66th annual Tony Awards, or as we like to call it, 50 Shades of Gay." -- Neil Patrick Harris
Best parental wisdom
"This is mommy when she was 21. This is what not to do. Learn from it." -- Snooki on "Late Show With David Letterman" on what she'll tell her kids.
Best daughter wisdom
"I say to my daughter, 'That outfit is a little bit too risqué or revealing' and she looks at me and says, 'That's rich coming from you.'" -- Madonna, on "The Graham Norton Show."
Best in-your-face response
"Get used to it because I am going to live to be 100, and I am going to show my thighs every day till I die." -- "Girls" star Lena Dunham on being criticized for a short red-carpet outfit.
Best gaffe
"I'm not going for the Sixteenth Chapel." -- Justin Bieber, who wasn't going for the Sistine Chapel either, when asked about his tattoos on "Late Show With David Letterman."
Best blame game
"With Angus' Hale-Bopp-like meltdown, it is radically clear to me that the show is cursed." -- Charlie Sheen on his former co-star's YouTube video calling "Two and a Half Men" filth.