/ Source: TODAY contributor
It was the ultimate rude awakening: A 4 a.m. wake-up call delivered by an automobile in a cascade of noise, debris and hot, leaking engine fluids.
"I actually thought it was an earthquake and the roof fell on us," Kristin Palmer told TODAY's Meredith Vieira Monday as she tried to describe what it was like to wake up pinned underneath an automobile. "I pretty much woke up with it on top of me. Before that I remember the shaking of the house and the noise, and then just a weight. It was like it just came right down on top of us."
Palmer and her boyfriend, Trent Wood, showed no visible signs of injury from their brush with death, which happened last Tuesday morning in the bedroom of their rented home in Sparks, Nev.
"I don't know how we survived that. We shouldn't have, really," Palmer added in a second TODAY appearance Monday with Natalie Morales.
Panic modeThe couple are students at the University of Nevada, Reno, and would learn later that an allegedly drunk driver had intentionally driven a stolen car into their house, in a case of mistaken address. According to published reports, police believe the man was hoping to kill his girlfriend's estranged husband after she said she was returning to him. But the suspect drove into the wrong house, with results that could have been tragic.
It took some time for Palmer and Wood to even realize what had happened. Awakened from a sound sleep, all they knew at first was that something was horribly wrong and they were in desperate trouble.
"I don't know how long it took, but I definitely went into panic mode ... and started screaming for help," Palmer told Vieira. "I actually had my head lodged up in the engine somewhere. It was pretty uncomfortable."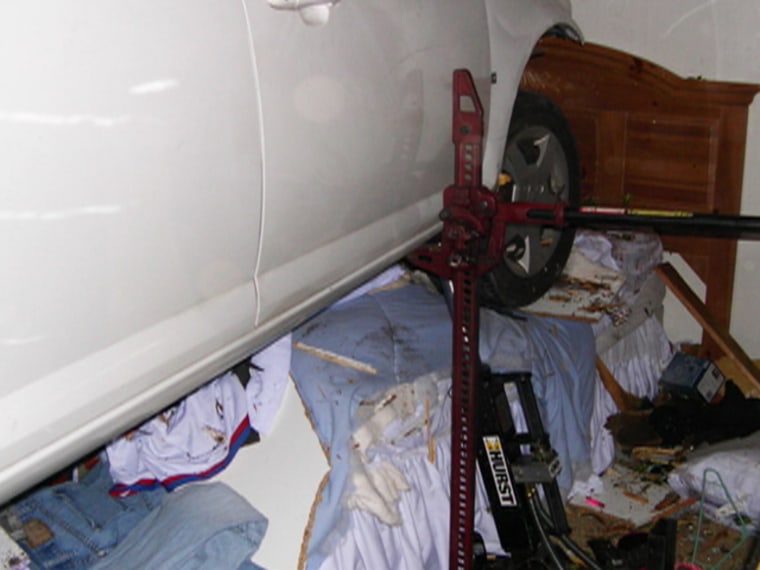 Wood recalled smelling gasoline and being underneath an automobile dripping hot fluids. The grill of the car had smashed into the headboard of the couple's bed, and the right front tire was on the mattress while the left front was precariously balanced on top of a pile of debris from the wrecked house. Wood and Palmer could hear each other but couldn't see each other.
"I could hear her screaming," Wood said. "We were trying to keep ourselves strong."
At the same time, Wood was wondering if all the hot, flammable fluids leaking from the car would catch fire and incinerate them.
"Your first reaction is, 'OK, I hope it doesn't blow up or start a fire because we're stuck under here, and I don't know how long it's going to be,' " Wood told Vieira.
Burning fluidsWood recalled spitting out fluids that were dripping on his face. He said he was lucky, getting dosed with substances that were merely hot. Palmer, meanwhile, had hotter liquids dripping on her that were actually burning her. Her legs were also pinned underneath the exhaust system, which caused second-degree burns.
But both were lucky. Superficial burns on Palmer's face healed quickly and her legs will be just fine. When they were carted off to a hospital after being rescued, doctors would find that neither had any significant injuries, not even a broken pinky.
Police and local firemen arrived quickly, but after assessing the situation, they realized they would have to work carefully to avoid dislodging the car and crushing Palmer and Wood.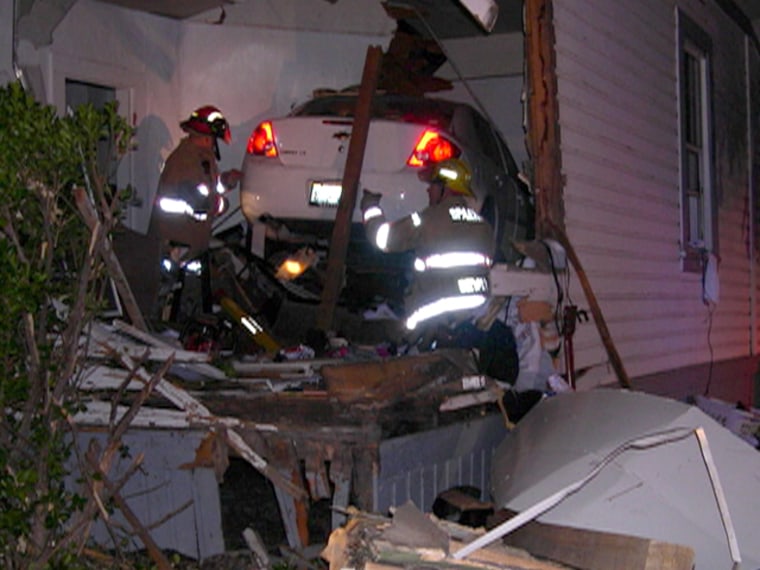 "I've seen a lot of cars into buildings," said Sparks fireman Carl Blincoe, who directed the rescue and joined the couple on TODAY. "This is the first time I've seen a car all the way inside a building. The rear end of the car was 10 or 12 feet inside the building."
It would take nearly 45 minutes to free the couple, and the first half of the rescue time was consumed by clearing debris out of the bedroom. After that, rescuers had to lift the entire car at once with jacks and airbags. One slip could have been disastrous.
"Any wrong move, the car could have slipped off the bed, the car could have shifted on the debris pile. There were so many things that could have happened to make it worse," Blincoe said.
Changed perspectivePalmer said her inclination was to panic. Wood's was to attempt to analyze the situation and reassure her.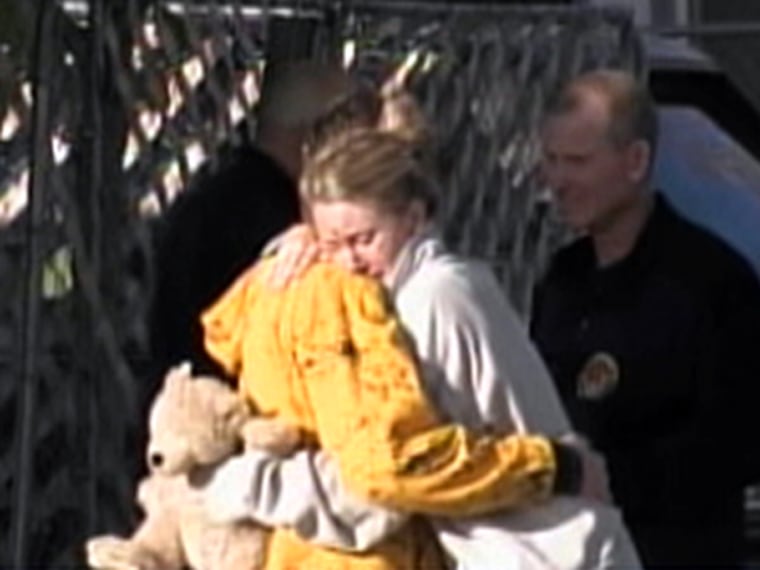 "He was actually keeping me calm," Palmer said of her boyfriend. "I remember him saying, 'We have quite a story to tell everyone.' He was awesome to have under the car with me for support. Without that, I was in shock."
Even with rescuers all around them, they relied on each other, Palmer said. "We were saying, 'I love you.' We were pretty much each other's support system."
While they were pinned under the car, the couple said, their friends showed up to offer moral support. Once they were rescued and learned that they had lost much of what they owned — including their computers, which were in an office in the front of the rental house — friends chipped in to give them housing and clothes and support.
Palmer said the wake-up call has changed her appreciation for life. When you wake up with a car on top of you, it's hard to take things for granted.
"I still can't believe that we're alive," Palmer told Vieira. "It's a miracle that we're alive. Definitely, under the car we were thinking, 'Am I going to live or not?' It definitely changes your perspective.
"I definitely think we have more of a purpose in life."
If you would like to to help Trent Wood and Kristin Palmer with their expenses from the car crash, funds for both have been set up at Bank of America. Make contributions payable to Trent Wood Medical Fund and/or Kristin Palmer Medical Fund.