Seeing a group of Syrian refugee children gleefully experience snow for the first time on a hill in Ontario, local policeman David McNab came to a clear conclusion.
"They are going to make fantastic Canadians," McNab told TODAY.com.
McNab, a constable with the Ontario Provincial Police, shot a video of three Syrian siblings smiling and laughing as they tobogganed down Armour Hill in Peterborough, Ontario, that has been viewed more than 200,000 times. McNab and his wife, Kristy Hiltz, are part of a group of about 14 local residents who are sponsoring a mother and her three children by helping them adjust to life in Canada after fleeing the conflict in Syria.
RELATED: Refugee crisis: How you can help families and their children
"Like so many people around the world, we were seeing the images and the despair, especially the image of young Aylan Kurdi,'' McNab said. "When my wife and I saw that, we wanted to do something to get involved in helping. It's really that image (of Kurdi) that motivated our group."
McNab's video features siblings Ansam,13, Ibrahim,10 and Dalya, 9, having fun in the snow with McNab and others.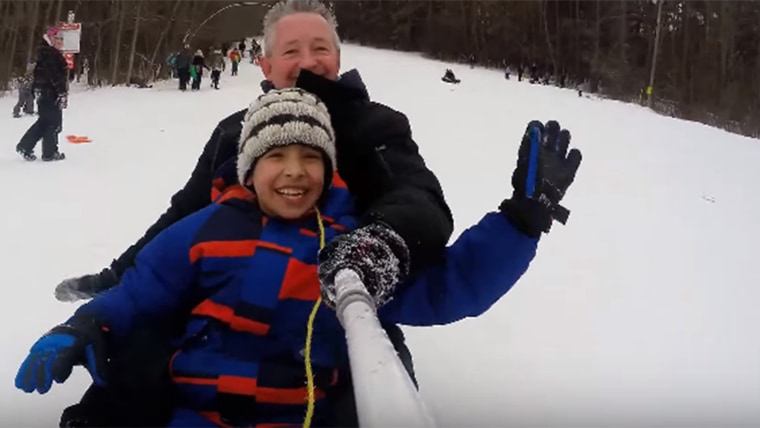 "Tobogganing is a right of passage in Canada,'' McNab said. "In Canada we grow up on snow, so I was wondering how they would react to it, and sure enough it was every bit as exciting as I hoped it would be."
The children made an arduous journey from Syria to Lebanon to Canada with their mother, Amal Alkhalaf, 40, arriving a few days after Christmas. Their ordeal was detailed in Canadian publication Maclean's by journalist Michael Friscolanti, whom McNab credits as instrumental in helping the family reach Canada. McNab and his wife, who are parents themselves, are part of a group called Salaam Peterborough that plans to help welcome up to 100 families of Syrian refugees looking to live in the town.
RELATED: The simple way one American mom helped thousands of refugee children
The community has been welcoming, and the video's proof. One of the stool racers that Ibrahim and Ansam can be seen racing downhill with joy was given to them as a gift by a local boy that day on the hill. Snowsuits, boots and winter clothes have also been donated to the children.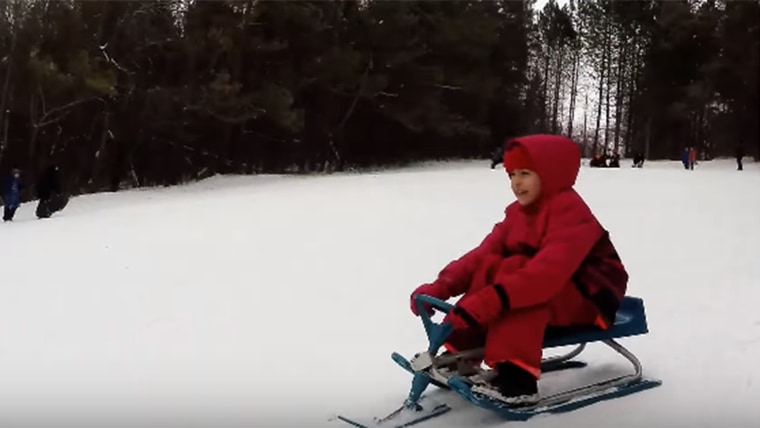 "The reception has been incredible,'' McNab said. "That gift of the stool racer for Ibrahim to keep is typical of Peterborough."
The children, who had not been to school in two years nor seen a doctor or dentist, were already enrolled in school three days after arriving in Canada. The family speaks little English, but they're all taking language classes.
"Each day you can see their progress,'' McNab said. "They've come a long way in a short time."
McNab also hopes that amidst reports of countries looking to shut their borders to Syrian refugees, the video shows that many of the fears are unfounded.
"My daughter put it so clearly,'' he said. "She said they are so much like us, and we need to focus on what makes us the same instead of what makes us different. I know people have mixed feelings, and they can be afraid because it's the unknown. But the more we get to know these people, the more the community gets to know them, the more that's just fading away."
Follow TODAY.com writer Scott Stump on Twitter.