America loves to grill. We adore the ease and speed, the dancing flames, and the fact that it's usually an outdoor sport. But after we've had our fill of franks and burgers, charred steaks, and sticky barbecue-sauced chicken, we look for new dishes and new ways to grill. And with that in mind, we look to our shelves for grilling cookbooks. The competition is heated, and plowing through the pile to get our top seven picks wasn't easy. We looked for books that were instructive, easy to comprehend, authoritative without being intimidating, and, of course, books that were full of recipes, tips, and even stories, all of which make grilling that much more enjoyable. And being the visual beings that we are, lush photography was certainly welcomed. Over the years, we've found all these criteria in these favorite books, classics — and one, a classic in the making — that have earned their place in our kitchens and backyards.
Best overall: "The Barbecue! Bible 10th Anniversary Edition" by Steven Raichlen (Workman)
Was it really ten years ago that we first opened Steven Raichlen's book on round-the-world grilling? That we first heeded his "Ten Commandments of Perfect Grilling "("Turn, Don't Stab"; "Never Desert Your Post"), learned his way to make "killer grill marks," and discovered that we could actually grill salads and even desserts? Realizing that times have changed, Raichlen revised his tome to address new equipment and culinary trends with updated recipes and more color photos. But what really makes this book stand out is his Grilling Basics F.A.Q. in which he answers questions from the very basic (What's the difference between grilling and barbecuing?) to the more advanced (The last few times I've cooked brisket, it's come out unpleasantly smoky. What am I doing wrong?) to the very specialized (How do I go about entering a barbecue contest?). But whatever the reason, this is still the book we turn to when we want to know anything from how to light a fire to how to make our own sausages, whether it's Balkan cevapcici or Spanish chorizos. Enthusiastic, curious, and totally in love with his subject, Raichlen makes us feel the same.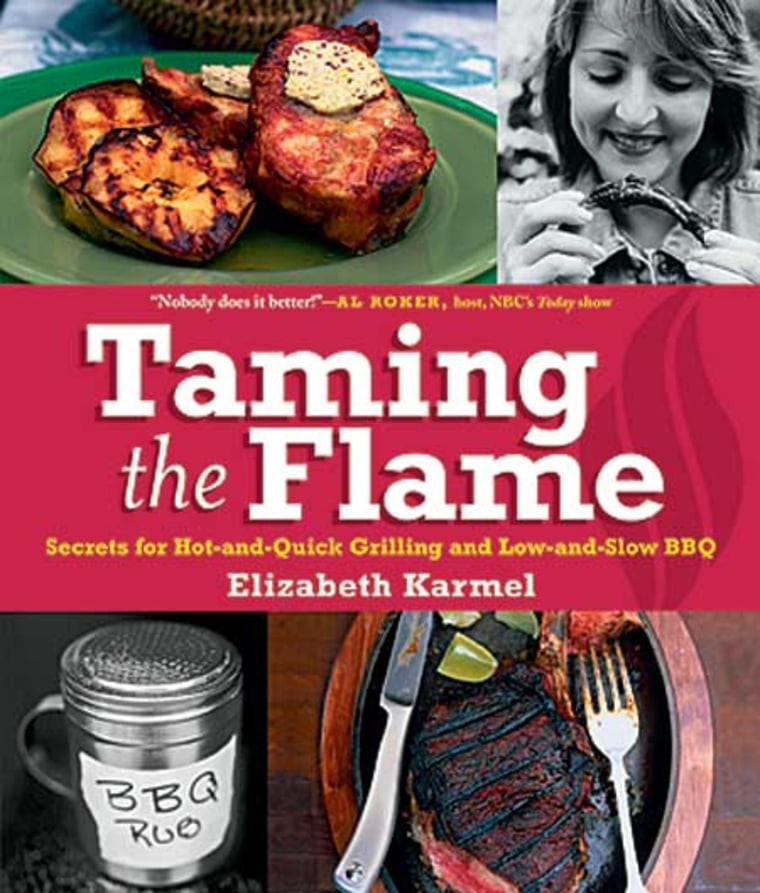 These recipes probably aren't any easier than those in other books, but Elizabeth Karmel presents them in a way that makes us think, "I can do that." This self-taught North Carolinian shares her knowledge with the rest of us, starting with the choice of coals or gas and going all the way to showy and delicious creations like grilled pizza and fire-roasted paella. Don't want overcooked burgers? Bury an ice cube in the patty. Afraid your fish will break and fall apart? Make sure the grate is clean, preheat the grill, and don't turn the fish too soon. Grilling shrimp? Double-skewer them using her Ladder Method so they're easier to flip. Full of practical tips like these, this book is a godsend for novices and is just as useful to the intermediate griller in search of more interesting and ambitious recipes and advice, too. Best for advanced grillers: "The Thrill of the Grill" by Chris Schlesinger and John Willoughby (Morrow)
Feeling pretty confident at the grill? It's time to check out "The Thrill of the Grill," Chris Schlesinger and John Willoughby's personal and anecdotal take on open-fire outdoor cooking. Innovative and highly spiced, the food is inspired by what Schlesinger calls "equatorial cuisine." The recipes from the Caribbean and Southeast Asia are balanced with a good dose of down-home American ones such as The Only Real Barbecue Sandwich and Barbecued Bologna. Often surprising in its mix of ingredients (Grilled Expensive Mushrooms on Texas Toast) and never boring in flavor or in prose, this is the book to have when you're ready to try something new and agree with Schlesinger's philosophy: "It's the cooking, not just the eating, that is to be enjoyed."
Best for barbecue lovers: "Smoke & Spice" by Cheryl and Bill Jamison (Harvard Common Press)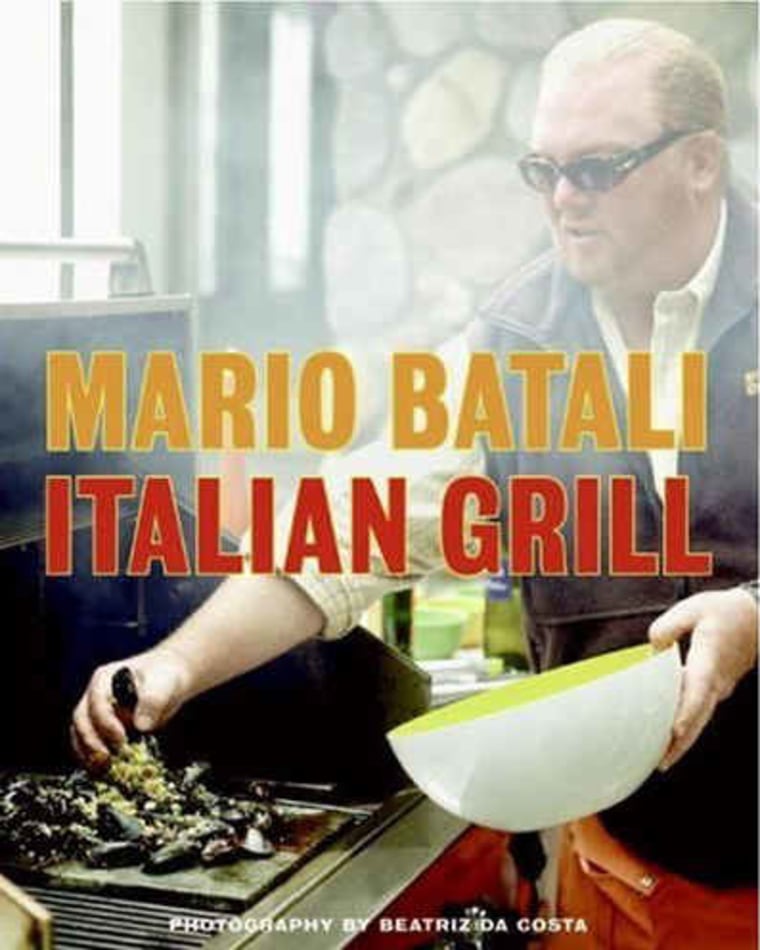 TV star Italian-American chef Mario Batali writes in his newest book that the 80 recipes "are not exactly 100 percent Italian …. What you will find here is my take on the Italian grill," and that is exactly what you get. If you ever wanted to have a properly stocked Italian pantry, the ingredients guide will be useful. Wine advice proffered by sommelier David Lynch really adds to the book's value and helps make it stand out. Batali's hyphenated heritage is represented with recipes such as piadina with taleggio, coppa, and apples, pork shoulder braciole, and sweet potatoes in cartoccio. What else to expect when an American birthright ("we were born with it; it is ours") intersects with the Italian emphasis on "nuance and minimal interference with the flavor"? It's true that sometimes hype precedes the reputation, but not in this case: Molto Mario's deep passion for Italian grilling shines through.Best vegetarian: "The New Vegetarian Grill" by Andrea Chesman (Harvard Common Press)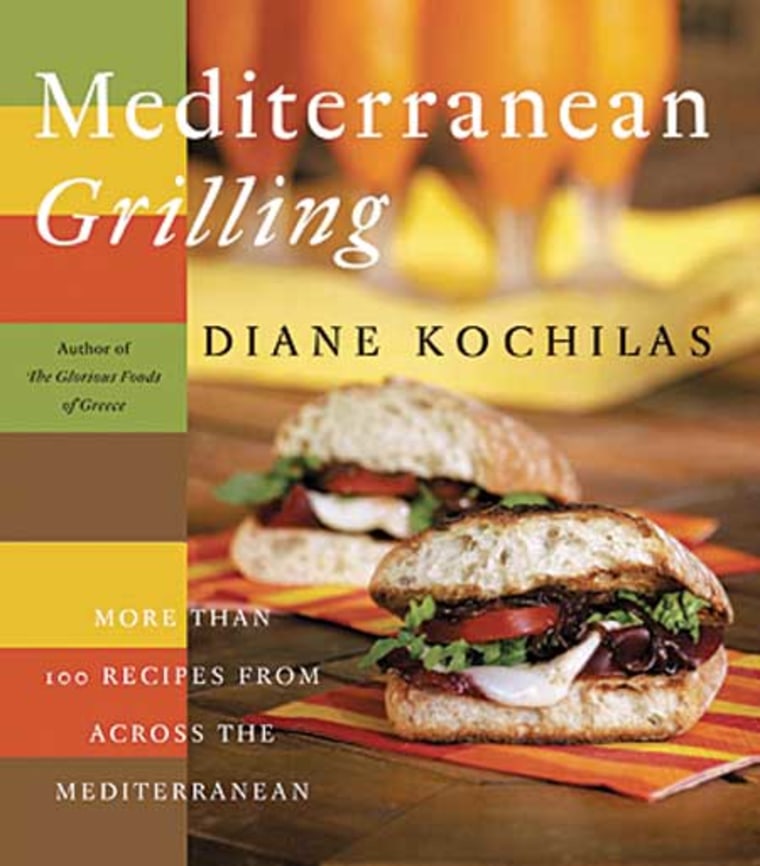 Diane Kochilas' book is about the flame-touched dishes of countries all around the Mediterranean. She includes Spanish warm vegetable salad, Turkish lamb kebabs, and Cypriote grilled Haloumi cheese and Italian spaghetti with garlicky grilled clam sauce. But the majority — and the best — of her recipes hail from Greece, reflecting Kochilas' own heritage. When she tells us how to grill a whole fish, serve smoky skordalia on grilled artichokes and toss grilled shrimp and Feta with orzo pasta, Kochilas illustrates just how basic and integral grilling is to Greece and the Mediterranean as a whole.