Police officers in a Texas town are giving people the right to remain generous this holiday season.

As part of its third annual "Cops for Kids'' toy drive, the Pantego Police Department in Texas is issuing warnings instead of fines to motorists for minor traffic violations, and urging drivers to donate a toy to the department for its toy drive.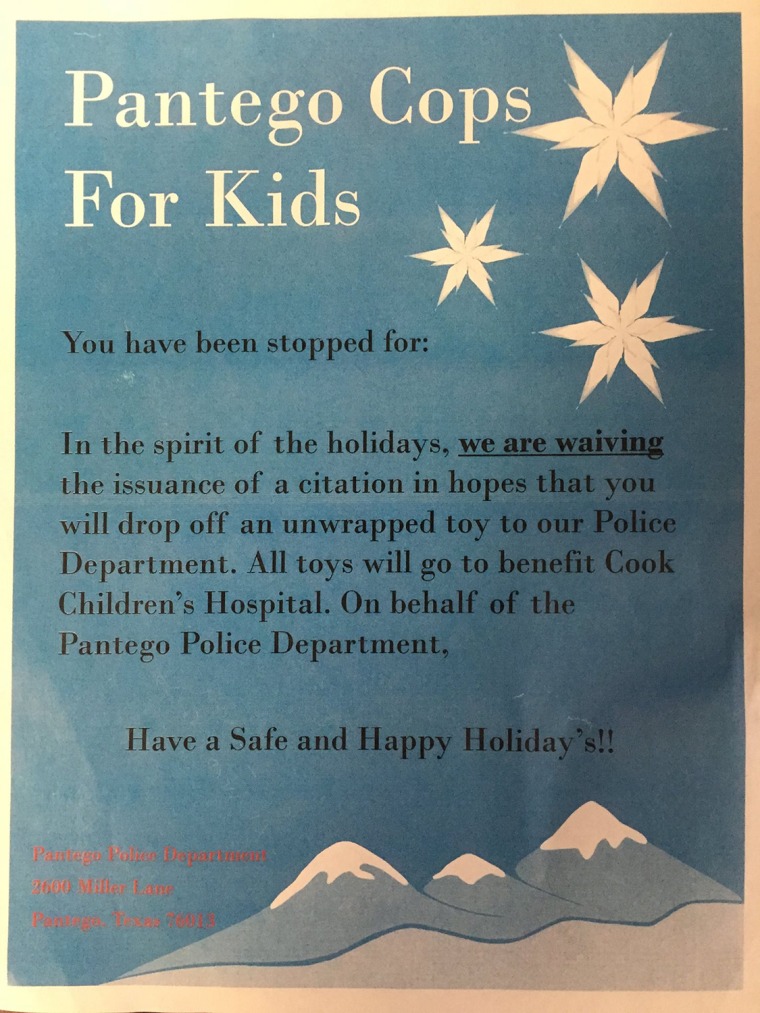 "As far as the response from people who donate the toys, they're happy,'' Pantego chief of public safety Thomas Griffith told TODAY.com. "They're getting warnings and getting a flyer explaining the program, so usually they're happy they're not getting a citation, and are more than willing to donate a toy." 

The Pantego police officers are allowed to use their own discretion when deciding whether to issue a fine or just a warning for violations like expired registration or inspection, or rolling through a stop sign. 
"[Violators] are given the warning first,'' Griffith said. "That's so that we don't give the appearance that we're trying to extort toys, like, 'Sign this ticket or donate this toy.' The officer uses his discretion to give warnings a little bit more loosely. If the traffic violation's not very serious or hazardous, we tend to give more warnings." 
A room in the police department is nearly filled with toys since the program began in mid-November, according to Griffith. The program will go through Wednesday to allow a few more days or toys to be donated in advance of the holidays. All of the donated toys will then be brought to Cook Children's hospital in Forth Worth, Texas, on Dec. 18. Griffith estimated that about 50 percent of motorists who are given a warning end up donating a toy. 

"We occasionally get a note or a letter written thanking us for the program,'' he said. "We just want people to be more careful out there while also expanding the program to help as many kids as we can."