Photographer Mike Mezeul was taking family portraits at the Fort Worth Botanic Garden in Texas on Wednesday when he stumbled upon a beautiful moment.
During a break, Mezeul, 31, saw a man get down on one knee on a bridge across from the pond. He immediately whipped out his camera to capture the marriage proposal, and then carried on with his own photo shoot.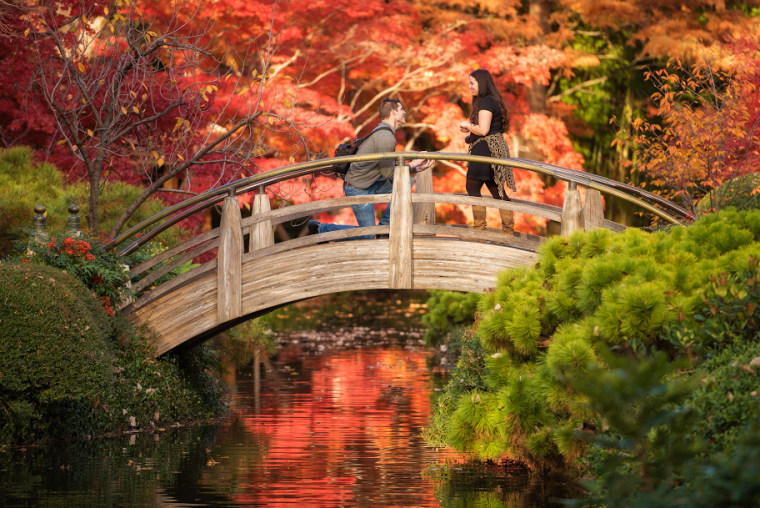 "Being a photographer and in a relationship myself, I'd want photos to remember the day by," Mezeul, from Frisco, Texas, told TODAY.com. "I had to get back to my photo shoot and never crossed paths with the couple after that."
RELATED: Scottish couple tracks down Iceland engagement photo with social media help
When he returned home later that day, he couldn't stop thinking about the couple and what he witnessed that day.
"I sat down and looked at them and saw the beautiful fall foliage behind them and how happy they were and just had to get these photos to them," Mezeul said.
He decided to post his picture on social media to see if he could track down the couple; he also asked his friends to get in on it too.
"I've used social media in the past to get my photos out there, so I figured why not this time?" Mezeul said.
Just two hours after posting the photos online, he was contacted by a friend of the couple — Brittany Ann Jasper and Scott Hunter, both from Denton, Texas — who ended up connecting them.
"WOW! ALL I CAN SAY IS WOW!" Brittany Ann Jasper enthusiastically wrote to Mezeul after receiving the photos. "Thank you so much for trying to find us. This is something you only hear about in movies!"
RELATED: Marathon couple tracks down 'elusive' photographer who captured perfect proposal photo
Jasper, a photography student at Texas Women's University who also celebrated her 24th birthday that day, apologized for disappearing. She explained that they ended up sitting on a bench for a while because she was feeling dizzy and her knees were shaking from the shock.
Coincidentally, she'd been following Mezeul's work on Instagram and was blown away to find out it was him who took the photo.
"I still can't believe it was you. You have no idea how much I love your work," Jasper wrote to Mezeul. "It's so ironic that you happened to be there at that exact moment."
"It's unbelievable how an act of kindness from a stranger made an amazing day even more special," Jasper told TODAY.com.