Alexis Shapiro was morbidly obese but starving at age 12 when her story was first told by NBC News. In the year since, donations poured in from strangers whose hearts went out to the girl denied surgery by her insurer, and Alexis underwent a procedure to reverse her rare condition. In this essay for TODAY.com's "2014 Voices" series, her mother Jenny describes their whirlwind year — and how it changed all their lives for the better.

We began 2014 in the darkest, lowest place. But as the months rolled by, we slowly climbed up the mountain. Today, we get to see the pretty view. My daughter, Alexis, is healthy. We have not been able to say that for a long time.

This is not the spot where we'll finish our journey. But from here, we can see life so much better. Before, something enormous was blocking our view: We didn't know how much longer we had with Alexis. Today, we see her future.
Three years ago, Alexis underwent surgery to remove a benign brain tumor. That operation caused her hormones and metabolism to go haywire, making her constantly hungry. She never felt full after meals and kept eating despite our efforts to stop her. She was 4-foot-7 when all this began and her eventually weight rose past 200 pounds — a rare, medically triggered obesity. Her health deteriorated rapidly.
Our last hope was a gastric-sleeve procedure. That was performed in March at Cincinnati Children's Hospital Medical Center. The operation reduced her stomach size and helped curb her appetite. While the surgery was successful, I soon began to second-guess our decision. That's because I wasn't the one who had to go through it. My 12-year-old daughter was the person who had to endure the agony of recovery. It was so hard to watch her suffer pain. She was crying almost all the time. It felt, to me, almost like tough love: 'I have to do this in order to get you better.' It was hard.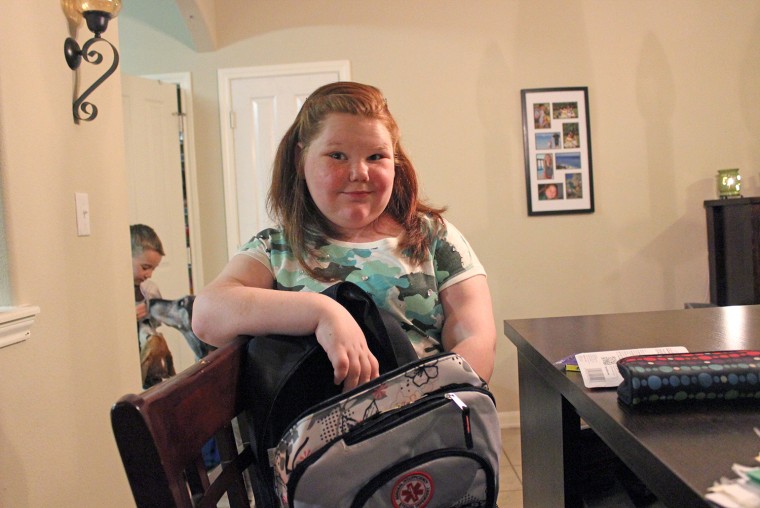 And she did get better. She started to lose weight. By late June, she had lost 37 pounds.
I saw a new person emerge. I was amazed. Once she began feeling better, she started smiling more. She became giggly. She joked around with us. She would tickle us. She was enjoying things. She wanted to play, just like any little girl at that age. She became a happier person. By this fall, she was back in school for the first time in almost two years. 
Parts of the old Alexis began coming out again. She became more confident. She began doing things for herself — putting on her clothes, putting on her shoes, taking showers, bending down and picking up items from the floor. Before, her weight had not allowed her to do those things.
The turning point, for me, came when I saw her grab her shoes from the floor, go to the couch and put them on. She didn't ask me to do that. She didn't call for me.
As a mom, I learned to back off a little and let her do for herself. I realized I had to back up and give her space. As she could do more, I told myself, 'OK, just let her do it.' That has given me a whole new layer of independence.
Just the other day, Alexis and I were talking about her life before: hurting every day with lots of joint pain and stomach pain, just not feeling good from all the weight. She could only stand for a couple for minutes and after that, she felt like her legs gave out on her. Now, she can climb three flights of stairs without stopping.
As far as her weight, I try not to focus too much on the number. She's at 145 pounds, nearly 60 pounds lighter than she was at the start of this journey. This year, she wore a bathing suit and went swimming. She rode on a roller coaster. She jumped on a trampoline. She joined a fitness club at school. She's made friends.
We have enjoyed so much support. This experience showed us that people really do care, especially among those who write on our Facebook page. When she was having a hard time at the hospital, or getting down on herself, I would I read her those comments. I feel like I know these people. And I feel like people got to know Alexis.
We went from not having anybody who understood and feeling like we were alone to feeling like people have our backs. I feel like everybody on that Facebook page would do anything to stick up for Alexis or to see her succeed, just like I would.
My daughter's strength and determination have made me even more proud of her. I can see her finishing high school. I can almost see her someday living across the street from me in her own little place. She's going to find her interests. That's exciting. I never wanted to think that far ahead because, before, I just didn't want to know what was ahead.
During this year, I never really thought about myself because all of it was on Alexis. She's the one who had to go through the surgery. She's the one who had to eat the healthy foods. She's the one who had to do the exercise. I fought for a good cause, and now I can see all the benefits of that hard work.
But to know that I was right there with her, that I helped her along, I'm a little proud of me, too.
Jenny Shapiro lives in Cibolo, Texas. Her story was told with the help of NBC News' Bill Briggs.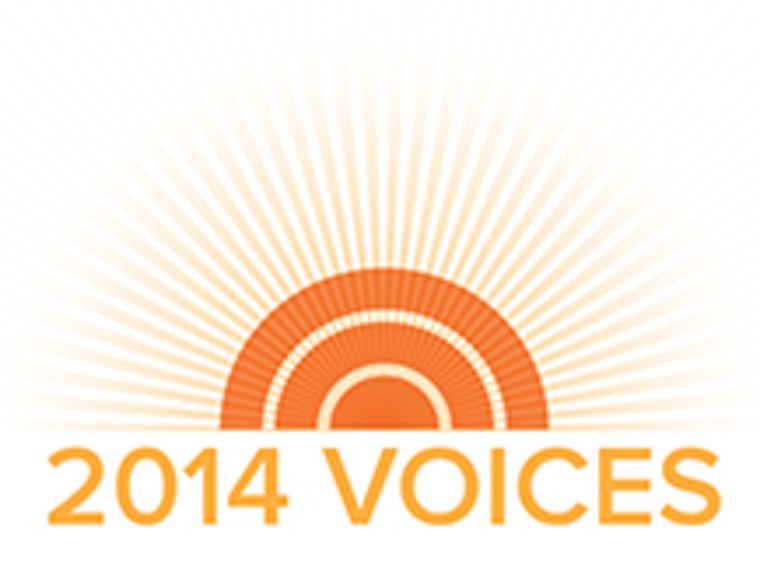 Find more of TODAY.com's 2014 Voices here.
*Rachel Frederickson on life after 'Biggest Loser' win: 'I found strength in this struggle'
*Woman whose weight-loss bikini pic went viral: 'I can help others not feel alone'
*Ice Bucket Challenge star on ALS fight: 'I want to grow old with my wife'