In the first minute of meeting her new family, Lucy was already referring to Audrey Shook as "mama."
Over 20 years ago, Shook watched a documentary on Chinese orphanages and it really stuck with her.
"I knew in my heart that someday I was going to be a family to one of those babies," Shook told TODAY.com.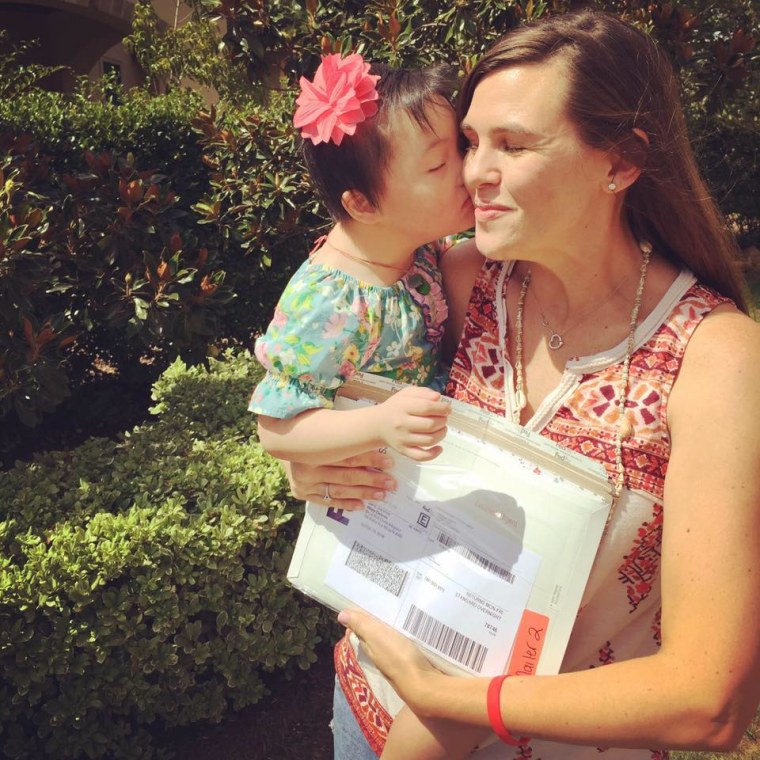 She married her high school sweetheart, Brent Shook, at the age of 21, and together they live in the Woodlands, Texas, with their five biological kids, ages 18, 16, 13, 7 and 5 — and now 6-year-old Lucy.
During the time between having their 13-year-old and 7-year-old, they were looking into adopting, but then Shook got pregnant.
RELATED: 11-month-old boy with Down syndrome gets signed with mom's modeling agency
About a year ago, they decided they were ready to adopt again and out of nowhere they received an email about a hosting program from the adoption agency they were in contact with. They thought it could be a good way to get their kids used to the idea of adoption, but as soon as they saw Lucy's photo, they had a feeling that she was going to be their daughter forever.
"My husband and I had it in our hearts that we couldn't just have her here for a month and send her back, especially with what we were feeling about her," Shook said.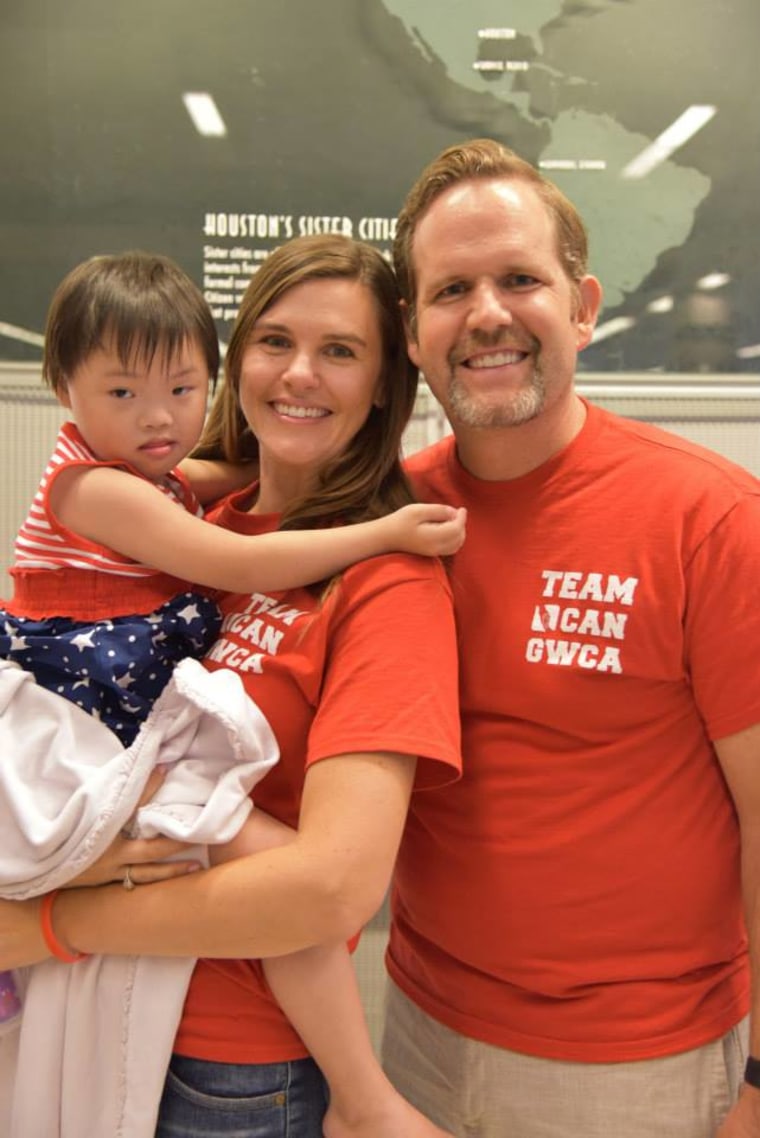 It was Lucy's photo that originally sparked the Shooks interest, but after reading her bio and finding out that she has Down syndrome, it only further confirmed that she was their daughter.
"I've always had a special bond with people who have Down syndrome," Shook said. "I have an extra feeling of love for them."
So they filled out the paperwork and picked up their new daughter from the Houston airport July 20, with family and friends in tow.
Shook was surprised by how welcoming her biological kids have been to Lucy. She was most worried about how her 5-year-old daughter Maggie would react.
She had a hard time at first, but after having a dance party while watching "Frozen," they have been inseparable ever since. Now, Maggie wants Lucy to join her for every bath.
RELATED: Athletes defend cheerleader with Down syndrome against bullies
"Something clicked in their hearts that they're going to be sisters forever," Shook said.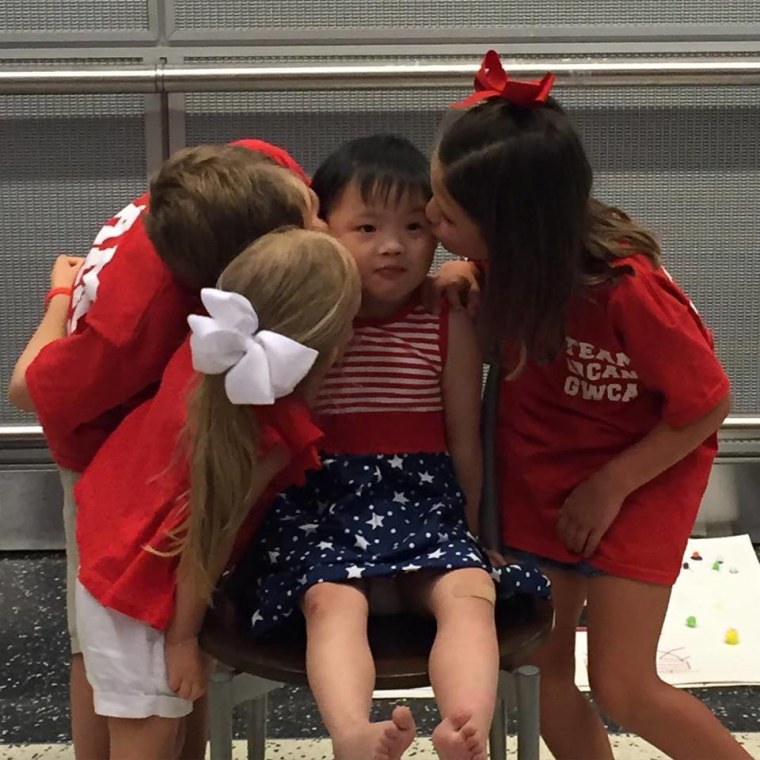 While the family was walking to their local park Monday night, the whole neighborhood came pouring out of their homes to meet Lucy.
"It's crazy to think that just over a week ago she was a baby in an orphanage and now she's a princess," Shook said. "She's so treasured here."
Lucy is super sweet and loving and gives hugs to everyone she meets. She's also hilarious and will do anything to give her new family a good laugh, like putting pots on her head or dancing funny.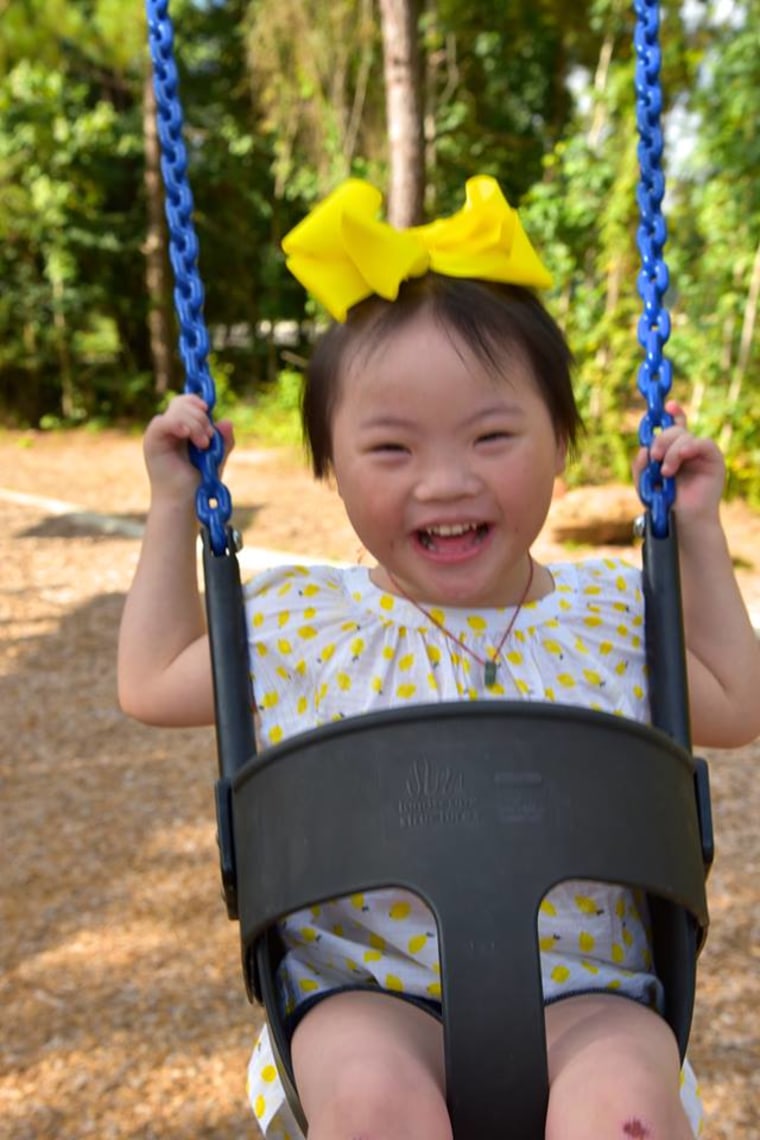 The family was surprised to find that Lucy's a chatterbox, even though she speaks in Mandarin. To prepare for her arrival, Shook learned sign language and taught Lucy to help communicate when she's hungry or has to go to the bathroom.
They plan on teaching her English soon and know she's not going to have a problem catching up because she's really smart, but they don't want her to lose her Mandarin.
"There are a lot of ways we can keep her culture a part of her," Shook said. "We want her to be part of her heritage."
In their Houston community, it's common to adopt from Chinese orphanages, so there are regular parties thrown for these kids in the area.
"She is such a joy and her presence makes everyone happier," Shook said.