As parishioners at a Texas church gathered to worship for the first time since last week's deadly shooting, 26 empty folding chairs, each holding a single rose, served as a heartbreaking reminder of those lost.
The surviving members of First Baptist Church of Sutherland Springs came together to worship on Sunday for the first time since a gunman killed 25 people and one unborn child during a service one week earlier.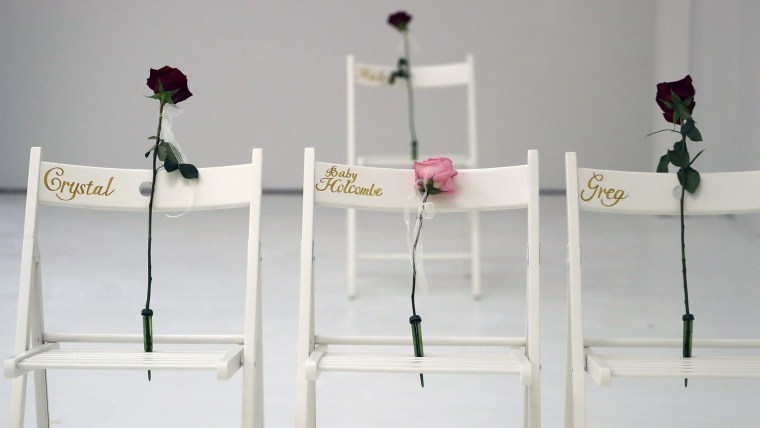 "I say we choose light," pastor Frank Pomeroy said at the memorial. "Not the darkness that the gunman did."
The 26 white folding chairs each contained the first name or nickname written in gold script of a person who was killed.
One of the chairs was labeled "Baby Holcombe" for the unborn child of Crystal Holcombe, who was eight months pregnant. Three generations of the same family were also among the dead.
Pomeroy's daughter, Annabelle, 14, was also killed by gunman Devin Patrick Kelley in the worst mass shooting in Texas history. The dead ranged from 18 months to 77 years old.
"I know everyone who gave their life that day," Pomeroy said at the ceremony. "Some of whom were my best friends and my daughter.
"I guarantee they are dancing with Jesus today," he said.
The front three rows were reserved for survivors, as hundreds of people gathered at a church that can only hold a few dozen.
The large crowd prompted the sermon to be moved to a tent at a nearby baseball field before people were invited to return to the church for the memorial.
Church members and volunteers had repaired broken windows and ceiling tiles and filled bullet holes, according to The Associated Press. Pews, carpeting and equipment were all removed, and the walls, floor and pulpit were painted white.
"This is our church, but it is not just us that are suffering," Associate Pastor Mark Collins said in a statement. "This tragedy has rocked our nation, and has had an impact on all Americans and our country as a whole. It is our hope that this will be healing for everyone."
Church officials said in a statement last week that they planned to demolish the building. But, for now, it will remain open five days a week as a memorial.
Follow TODAY.com writer Scott Stump on Twitter.