You know those stories parents and grandparents tell about the times they walked uphill both ways in the snow? A modern-day teenager braved a slog like that just the other day — and it changed his life forever.
Jhaqueil Reagan, 18, needed to make his way to a job interview last Friday. It was 10 miles away from his home in Indianapolis, and he didn't have enough money for bus fare. So, the enterprising teen — who had to drop out of high school after his mother died so he could help support his younger brother and sister — gave himself a few hours to trudge through the ice and slush.
About three miles into the journey, Reagan passed the Papa Roux Cajun restaurant in Indianapolis. Restaurant owner Art Bouvier, 43, was outside, working to melt ice in his parking lot. Reagan asked Bouvier how far it was to his destination: a thrift store that had advertised a minimum-wage job opening.
"I told him it was at least six or seven miles," Bouvier told TODAY.com. "I said, 'You're gonna want a bus, you can't be walking out in this.'"
Reagan thanked Bouvier and kept going. About 15 minutes later, Bouvier and his wife were driving down the street when they spotted Reagan marching along in the cold.
"I said, 'Honey, pull over, let's pick him up,'" Bouvier said. "I asked him, 'Why aren't you on the bus?' He said, 'I don't have money for the bus. I'm heading to an interview because I need a job.'"
An idea began to form in Bouvier's mind: Wow, I should hire this kid. He asked for Reagan's phone number and began thinking about what he could do with another restaurant employee.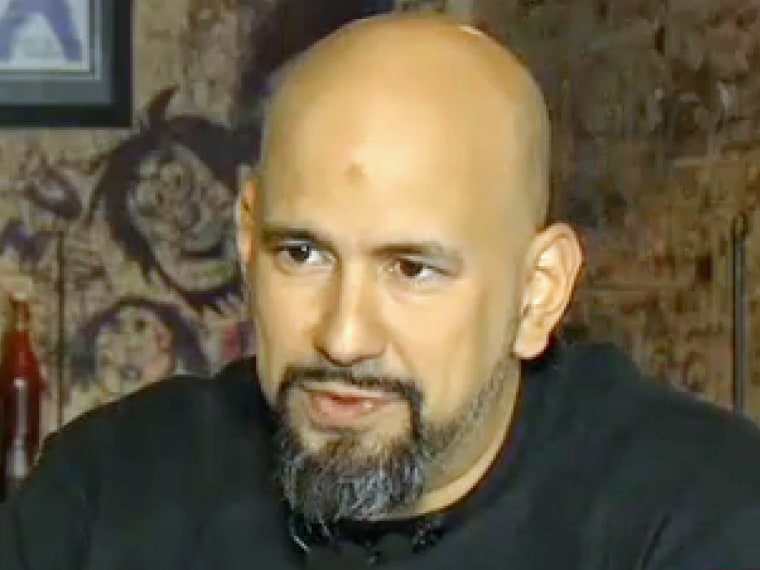 As he dropped Reagan off, Bouvier asked the teen whether he'd eaten anything yet that day. He hadn't. So, Bouvier gave him some money for lunch at a Dairy Queen near the thrift store.
"I think he was in shock," Bouvier said.
After the encounter, Bouvier — a self-described "chronic over-sharer" on Facebook — wrote a lengthy post about how much the teen's work ethic inspired him.
"It was a classic 'too long, didn't read' post ... but we watched it go viral that day," Bouvier said. "It was surreal!"
As of this writing, Bouvier's Facebook post has more than 20,000 likes and 5,000 shares. On the very same day he posted it, local television news stations scrambled to cover the story about the restaurant owner who wanted to hire the determined teen.
"It was his work ethic that got me," Bouvier said. "You don't get a feel for that on an application or a resume, but when you see that in a person, you don't pass it up. He'll definitely get here for a shift if he'll do that much for an interview."
With cameras rolling, Bouvier called Reagan on the phone last Friday. He offered Reagan a job and Reagan happily accepted — especially because the thrift store had already filled its opening by the time he got there.
Reagan now has two distinctions he never anticipated: a much-publicized crew member position at the Papa Roux restaurant — (which, incidentally, is paying him more than minimum wage) — and a flash of stardom on the Internet and multiple TV news shows. Papa Roux also got something unexpected: lines of customers waiting outside the standing-room-only restaurant, and calls from investors and real-estate agents who want to help the establishment expand.
"I think we'll keep this location, too, as we expand," Bouvier said. "That could mean more jobs for this community."
Reagan started his new job busing tables, serving drinks and doing light kitchen prep on Monday. On Tuesday evening he told TODAY.com that he can already tell how much he likes his co-workers and his new boss.
"I do appreciate him a lot," Reagan said. "He's helped me out so much already."
Reagan said he earned his GED after he left high school in the wake of his mom's death at age 39. His 16-year-old brother and his 7-year-old sister are now living with his grandmother. Reagan said he's been homeless and couch-surfing for the past seven or eight months; he's staying at a friend's place at the moment.
"He's one of the hardest working new hires I've had in a long time," Bouvier said. "My hope is that every time Jhaqueil's story airs, someone is moved to do something good for someone else in their community."
Need a Coffey break? Connect with TODAY.com writer Laura T. Coffey on Facebook, follow her on Twitter or read more of her stories at LauraTCoffey.com.
More: