A high school senior in Pennsylvania sparked a flurry of online outrage after he was suspended for defying school administrators' orders and asking Miss America to the prom during an assembly Thursday.
Patrick Farves, 18, approached the pageant princess, Nina Davuluri, as she addressed students at Central York High School to discuss the importance of diversity and math and science studies. In a gap between his classmates' pre-vetted questions, Patrick handed Davuluri a purple plastic flower and said, "Miss America, I have a question. Will you go to prom with me?"
He didn't get a date out of the prank, but he did get national attention after a three-day school suspension prompted hundreds of supporters to rally to his defense on social media, launching the hashtag #FreePatty.
Patrick is the class clown, and word of his plan to ask Davuluri to the school dance had spread days before her visit to the school. That's why an administrator took Patrick aside 10 minutes before the assembly, telling him it would not be the appropriate venue for his question.
On TODAY Monday, the jokester said he doesn't regret ignoring the school's warning.
"This is kind of what I do. I'm kind of known for this stuff, just like, pranks, standing out, jokes with my friends," Farves said. "I'm a real goofy and standout character."
Though he understands and respects the school's decision to punish him, concern over suspension never caused him to reconsider the proposal.
"I had looked at it like, this was a now-or-never type thing. This was a once-in-a-lifetime chance," the student said. "I did it anyway, and I knew I would get in some type of trouble. I can totally understand and respect the disciplinary actions that had to be taken."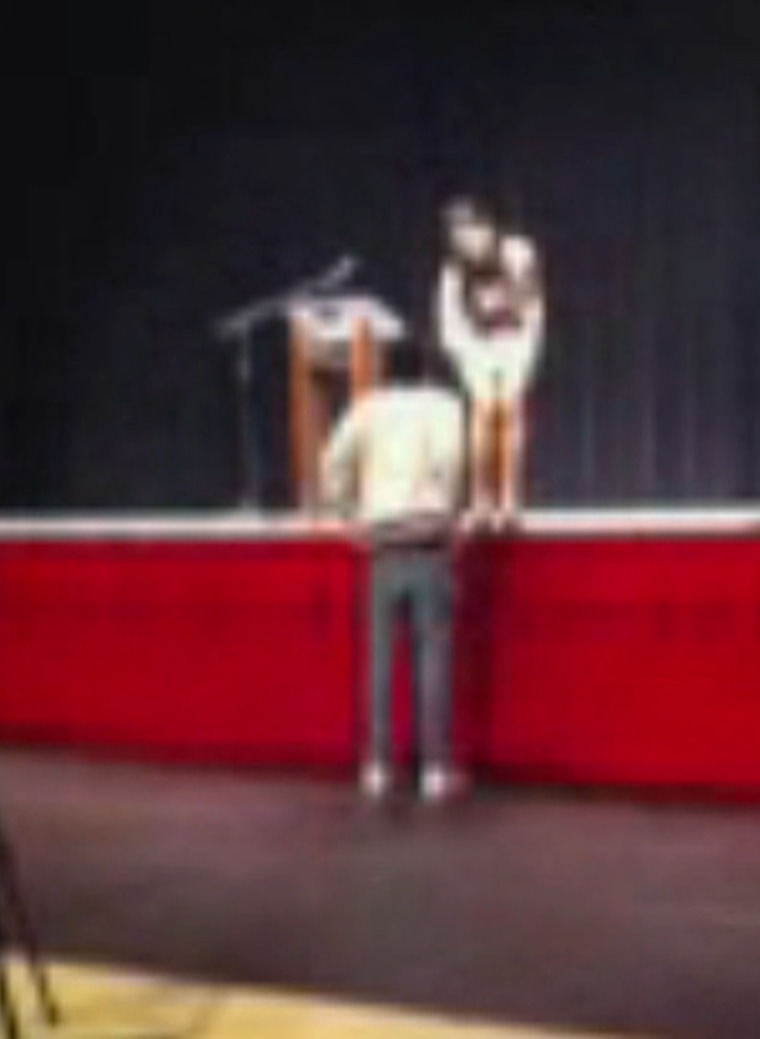 Patrick said he thinks his own mother is surprised by all the attention his stunt generated.
"She had to be a parent and discipline me as well and say, 'You know better, and you know you shouldn't have done that,'" Patrick said.
Still, he said, "I think it's amusing to her, with all this media attention. It's crazy."
Davuluri didn't respond onstage to Patrick's invitation, and she gently discouraged him when he asked for her to pose for a selfie, saying, "Maybe later."
And yet, when she learned of the teen's suspension, even Miss America came to Patrick's defense, issuing this statement:
"I was flattered by the gesture, although I am unfortunately unable to attend due to my travel schedule. I later learned of the disciplinary action taken and reached out to the school in hopes that they will reconsider their decision."
As for the school, they defended their move to punish Patrick for his insubordination, stating: "It is not our practice to discipline a student for asking someone, even Miss America, to a school dance. However, it is our practice to set expectations for student behavior, to communicate those expectations and rules to students and families, and to ensure those rules are followed within our schools."
On TODAY Monday, comedian and "Last Week Tonight" host John Oliver took a stance on the trend of teens asking out supermodels.
"High school boys have to stop asking out supermodels on camera, and, crucially, supermodels have to stop saying yes," he joked.  
Patrick said he will serve the remaining portion of his suspension next week and will probably be back to school Friday. One problem remains, though. He has no prom date.
"I don't know if I'm going to ask someone or, with all this attention, a girl will ask me or whatever," the senior said nonchalantly. "I don't know if you couldn't tell by all this, but ... I'm pretty good at making my own fun, so I wouldn't have a problem going alone."