Jordan Holgerson, the teenager who survived a fall from a Washington state bridge into a river about 60 feet below, joined TODAY for an exclusive live interview Saturday morning from Portland, Oregon, hours after prosecutors filed criminal charges against Taylor Smith, the 18-year-old who pushed her.
Holgerson, 16, told anchors Craig Melvin and Kate Snow that she's still in pain from her injuries. She suffered six broken ribs and two punctured lungs from the impact of her plunge at Moulton Falls Regional Park on Aug. 7.
On Friday, Smith, the friend caught on camera pressuring Holgerson to jump before pushing her, was charged with reckless endangerment, a gross misdemeanor in Washington state, punishable by up to a year in jail with a maximum fine of $5,000.
Holgerson told TODAY she believes Smith deserves prison time for the shove that nearly killed her, reiterating her earlier statement to NBC News.
"I just want Taylor to be put away for a little bit so that she can think about what she did and about her actions," she said.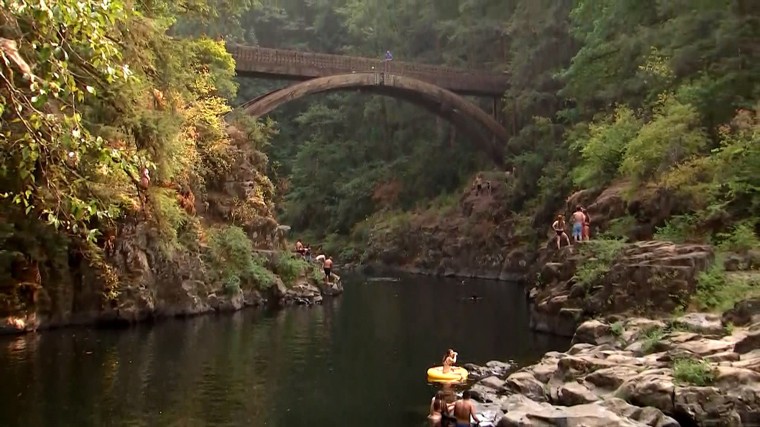 Smith spoke out on ABC News with her side of the story prior to the criminal filing, sustaining Holgerson asked to be pushed from the bridge. Holgerson disputed that claim.
"I never asked Taylor to push me," she told TODAY. "Taylor was definitely lying in her interview yesterday because I can't imagine asking Taylor to push me off a bridge."
Holgerson said Smith and her family should be responsible for some of the medical expenses that Holgerson's family has incurred.
"The bill that we have definitely wasn't my fault ... so I think Taylor's family should help pay for it," Holgerson told TODAY. Asked if she was planning to file a lawsuit, Holgerson responded that it's a possibility.
When questioned by Snow about her friendship with Smith and how the incident occurred when a group of friends were together having fun, the 16-year-old said she sees the situation differently.
"I don't think that's what kids do to have fun," Holgerson said. "I don't think kids push each other off bridges to have fun."