You can't trust everything you come across on the Internet.
Alivia Briggs found out the hard way after buying what she thought was her dream prom dress.
The 17-year-old from Decatur, Alabama, took on extra hostess shifts at the Texas Roadhouse restaurant where she works to save up enough money for the perfect dress for Austin High School's junior prom.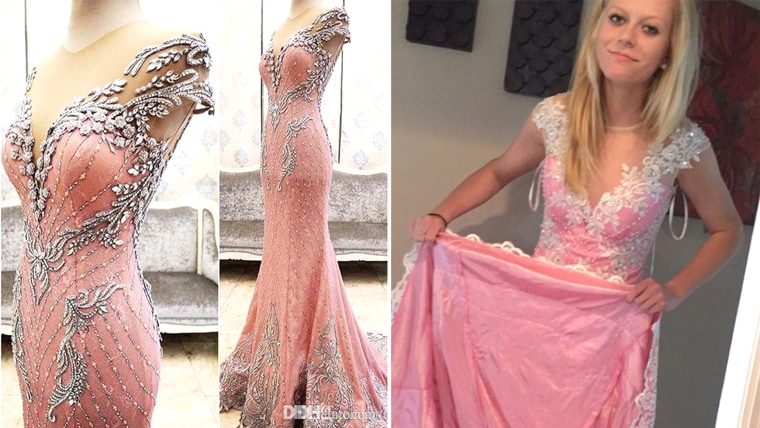 A friend, Kourtney King, told her about DHgate, a website and app that claims to offer bargains on high-end dresses.
RELATED: Scammers target promgoers with fake designer dresses
She found one that she liked, a soft pink gown with embellished silver detail, for $223.
When she ordered it, she expected it to come within a week or two, in plenty of time for the April 16 dance.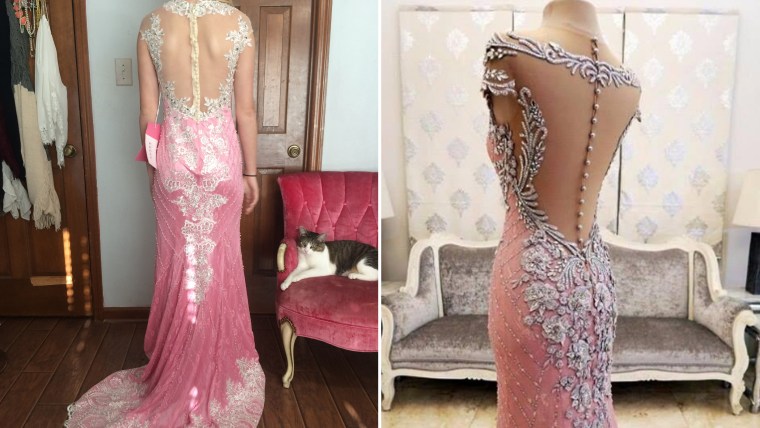 But when it didn't arrive by March 30, she started to get nervous and contacted the company. They told her it was still in the process of being "handmade."
"If by hand-beaded they mean taking cheap string and putting plastic beads on it as a little kid would do, then something is seriously wrong here," Briggs told TODAY.
Because when she finally received the dress on April 15, just one day before the big dance, it was nothing like what it looked like online.
"It felt like a mix between sand paper and satin," Briggs said. "As soon as I opened the package I started laughing because I could already tell how cheaply it was made."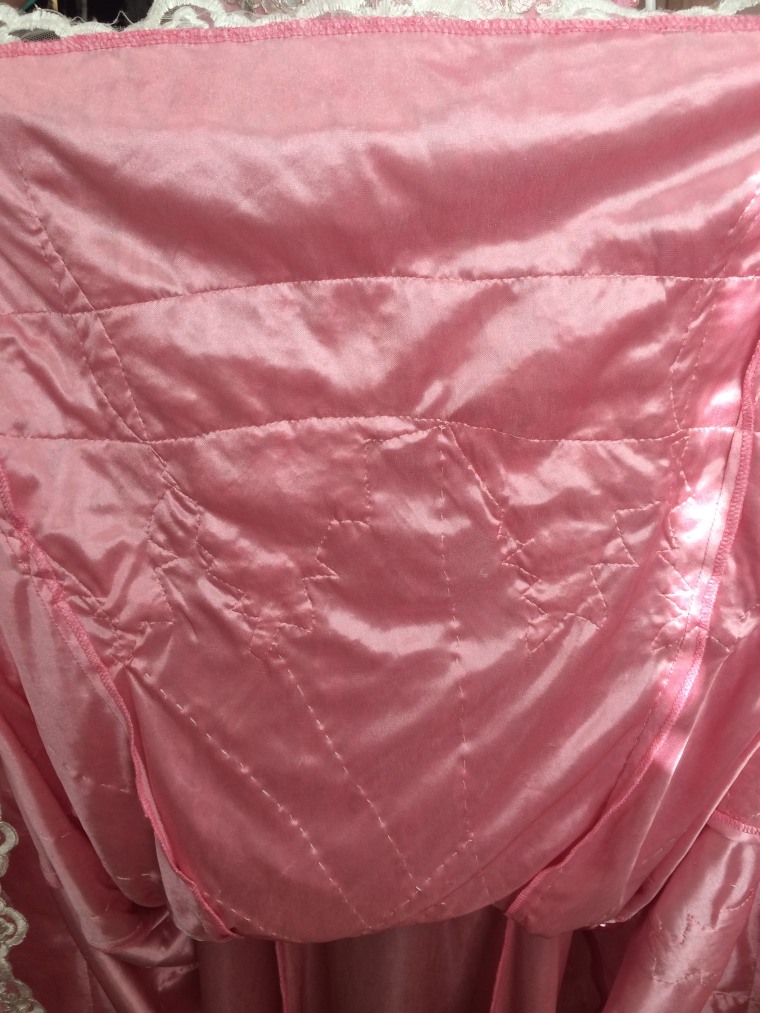 Aside from being the wrong color, the dress's detail was made of white cotton instead of the bedazzled look in the website photos.
RELATED: Student with special needs is crowned prom king — with 37 dates
Thankfully, her friend Kara Copeland had a backup dress for Briggs to wear.
"I knew she was ordering from China, and buying any formal gown online is a brave move, but as time grew closer, all our friends were just as worried as she was, so I lent her my dress," Copeland told TODAY.
"When we saw the gown in our group text, we all busted out laughing because it was such a joke!"
But the last-minute bailout didn't mean Briggs was going to let the company get away with scamming her.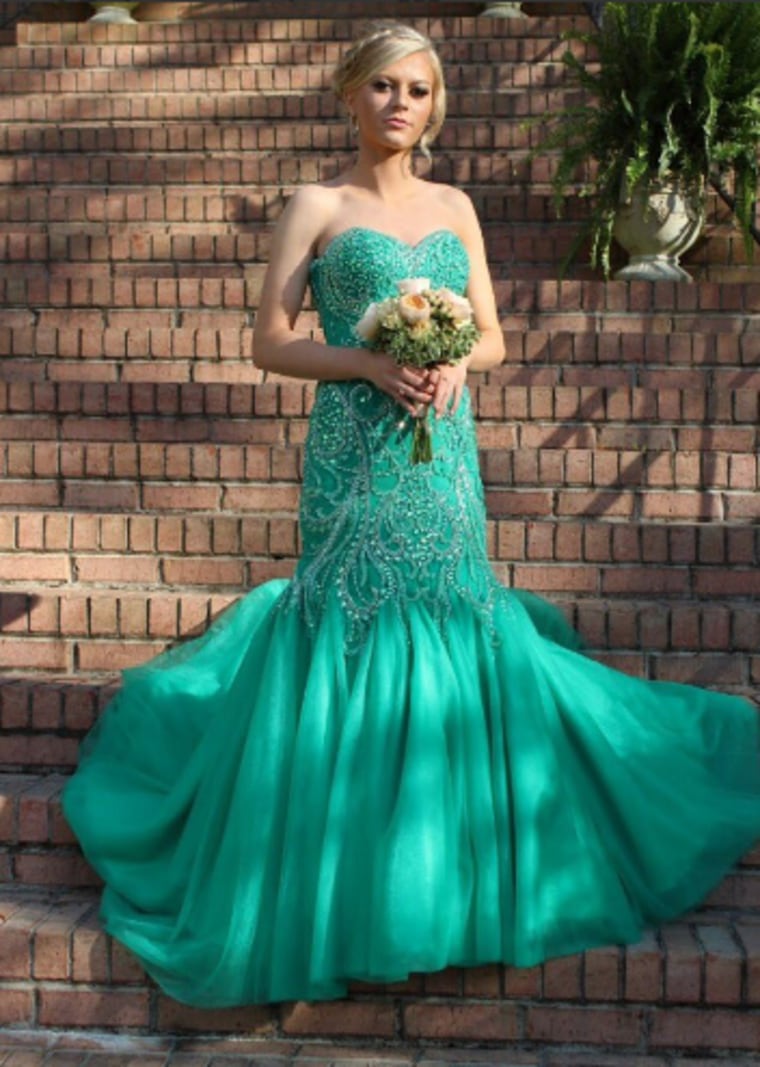 DHgate wouldn't give her a refund; they only offered her the option to get a different dress, which she understandably wasn't eager to accept. TODAY contacted the company for comment, but didn't hear back.
The disappointed teen then took her case to the manufacturer, who is currently negotiating her refund.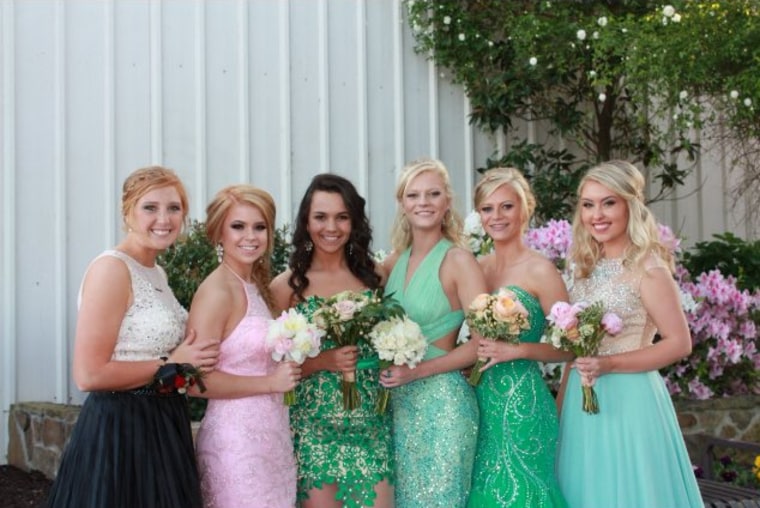 In an effort to prevent this from happening to anyone else, she took to Twitter to tell her story — and give her friends a good laugh.
"I've heard horror stories like this, but never thought I'd be the one ripped off," Briggs said. "Lesson learned!"