The Ohio teenager dubbed "hell on wheels" — who was convicted of intentionally crashing her car at 100 mph into a building, killing her boyfriend and his friend — was sentenced two concurrent 15 years to life sentences Monday.
Mackenzie Shirilla, 19, faced life in prison after she was convicted in a bench trial on Aug. 14 on 12 counts, including murder, for the July 2022 crash.
Shirilla, then 17, drove without braking into a brick building in the Cleveland suburb of Strongsville. Her boyfriend Dominic Russo, 20, and his friend Davion Flanagan, 19, were pronounced dead at the scene. 
Cuyahoga County Common Pleas Judge Nancy Margaret said at Shirilla's verdict: "She had a mission, and she executed it with precision. The mission was death."
Shirilla, who did not testify in the case, spoke before the court before the sentence was read.
"The families of Dominic, Davion, I'm so deeply sorry I hope one day you'll see that I could never let this happen or do this on purpose," she said crying.
"We were all friends and Dom was my soul mate," she said. "I wish I could take all your pain away. And to my family, thank you for the support and all the love you guys give. I love you all so much." 
Frank Russo, the father of Dominic Russo, told NBC News last week that he didn't want Shirilla to spend her life in jail despite her actions.
"It's horrible for everybody. Yeah, I lost my son, it's harder on our family, but I don't want the rest of her life ruined too. It isn't going to make me feel any better," he said.
The crash happened around 5:30 a.m. on July 31, 2022, when Shirilla accelerated her Toyota Camry into the Plidco Building, a large brick building at the intersection of Progress and Alameda drives in the Cleveland suburb of Strongsville, police and prosecutors said.
Police arrived to the scene around 45 minutes later. Russo and Flanagan were pronounced deceased at the scene; Shirilla was hospitalized.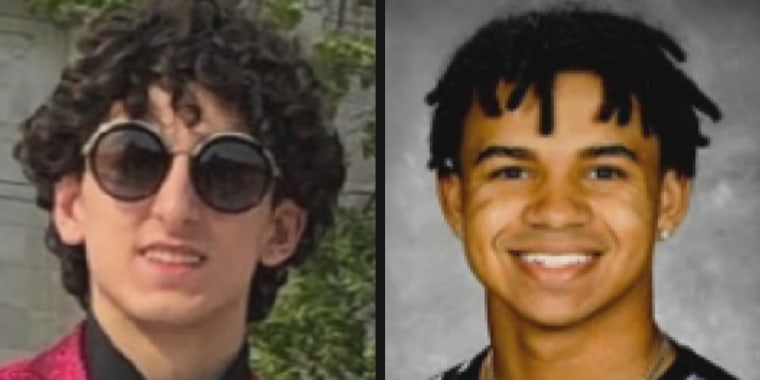 Judge Russo said in handing down her verdict remarks that Shirilla was "literal hell on wheels," saying she intentionally drove at an hour when not many witnesses would be around, on a path she didn't routinely use but had visited days before.
Prosecutors argued in the trial that Shirilla had become turbulent and threatening towards her boyfriend and crashed to end their relationship.
Prosecutors argued that Shirilla had a toxic relationship with Russo and had threatened him before. 
Two weeks before the crash, she allegedly threatened to crash her vehicle when she was driving with Russo because she was upset over a disagreement they had. Russo called his mother and asked to be picked up, and a friend ended up retrieving him. In a phone call with Russo, the friend allegedly overheard Shirilla say, "I will crash this car right now," prosecutors said in court documents. 
The month of the crash, Shirilla allegedly "made multiple threats" toward Russo. Videos recovered from his phone reveal an altercation in which she was heard "repeatedly degrading Dominic, threatening him, and damaging his property," prosecutors said in court documents. She allegedly threatened to key his car and to break the handle off a door after he refused to let her into his home, the filings said. 
The trial featured surveillance video played in court showing the moment Shirilla accelerated towards the building without stopping, until a gut-wrenching crash is heard.
Shirilla cried in court as the judge read out that she was guilty on four counts of felonious assault, two of aggravated vehicular homicide, one of drug possession and one of possessing criminal tools, in addition to four counts of murder.
This article first appeared on NBCNews.com.