A trio of girl rockers in Massachusetts said a judge at a county fair penalized them for not being "sultry" enough during a recent Battle of the Bands competition.
Now the teen rock band, Kalliope Jones, is standing up for girls everywhere to make the point that women in the music industry don't have to use sex appeal to be successful. In notes the girls received after their performance on Saturday at the Three County Fair in Northampton, the band earned a score of 3 out of 5 in the stage presence and showmanship category, with a note to "use the sultry to draw in the crowd," adding that audience participation opportunities had been missed.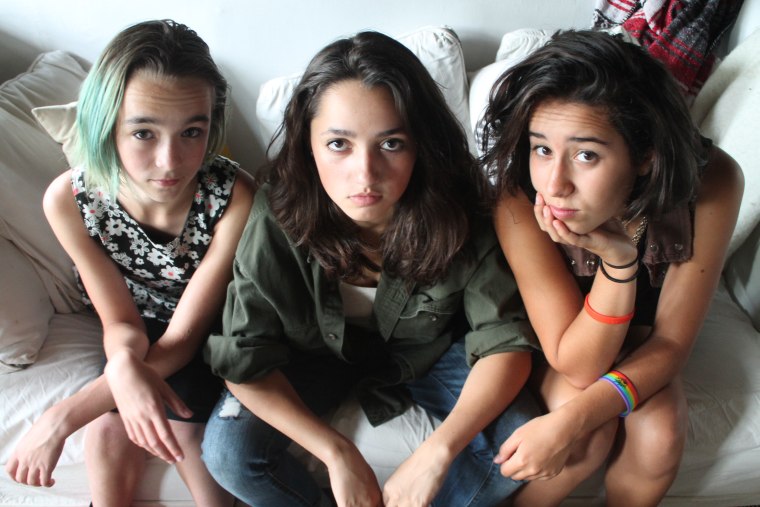 The band, consisting of singer and guitarist Isabella DeHerdt, 16, bassist Amelia Chalfant, 14, and drummer Alouette Batteau, 14, called the notes "glaring and crude, sexist and stereotypical" in a now-viral Facebook post. Batteau told TODAY.com the issue is bigger than the Battle of the Bands.
"We just want people to know that sexism is a real problem in the music industry," she said. "And we want to try to change that."
RELATED: Target under fire for 'Trophy' T-shirts critics call sexist
Kalliope Jones finished third in the competition, and the band says they don't have a problem with how they placed. The girls approached the judges to ask about their notes and the use of the word "sultry" and were told it was meant to mean "soulful," they said.
Bruce Shallcross, general manager of the Three County Fair, sent the following statement in an email to TODAY.com: "We believe that the band has taken the term used by the judge out of context and this is a publicity-driven event and no comment is warranted," he wrote. "Criticism of judges, especially unpaid volunteers, is not warranted."
Batteau also questioned the judges' decision to give the band a bonus point because "chicks rock," according to a copy of the scoring sheet, posted online by a reporter from MassLive.com.
"Although it was meant as a positive, it didn't really seem like that," Batteau said. "Because we're girls, we get an extra point?"
RELATED: Female engineers fight gender stereotypes, cyberbullies with #ILookLikeAnEngineer
Katie Hennessey, Batteau's mother, told TODAY.com she's proud of her daughter and the other band members' response.
"We're trying to let the girls speak for themselves, but the message is not about the Battle of the Bands, it's not about the judges, it's not about the fair, it's not even about Kalliope Jones," Hennessey said. "It's about this issue that it's OK to judge teenage girls by their sex appeal. We really want to change that. We just want to open the dialogue."