Rebecca Draper Townsend died not knowing she had accomplished all three items on her bucket list.
After watching fireworks on July 2, Townsend, from Brookfield, Connecticut, was crossing the street with her friend Ben Arne when she pushed him out of the way from an approaching car, costing the 17 year old her life.
"I'm not surprised that she would save him," Matthew Hooker, friend of Townsend and Arne, told NBC Connecticut. "She was always a really bright and smart girl."
She had just graduated from high school and was set to attend the University of Notre Dame in the fall. Upon graduation, she received a note she wrote as a sophomore for a school assignment, addressed to herself as a senior.
While Townsend's sisters and cousins were hanging out in her room reflecting on their favorite memories, they came across the note that was written in December 2012:
Dear me, So I guess I'm a senior now (wow that didn't come out cool. I'm not cool…oops) Well, hi. Currently I'm a little sophomore. I'm five foot two, I weigh 98 pounds. Maybe I'll grow a little bit in the next two years...
So I haven't had a boyfriend yet, sadly. I really hope by senior year I'll have a cute one (I'm not being shallow, he should be cute…as a plus). I think I want to go to college in a city, maybe I'll go to Fordham or Boston College.
Bucket list: o Kiss in the rain o Fly to Spain o Save a life
Yeah, I don't know what I want to do before I die. So my friends right now are Sammy, Jess, Emily, Drew, Lauren, Emma, Andrea and Katie. My best friends not at this school are Molly, Devrie and Anna. I love the play and the volleyball team. I really want to be in one of our school musicals. Or get a lead in the play. Well this was homework and I'm doing this the day of…oops. Maybe by the time I read this I'll stop procrastinating HAHAHA. Like that would happen. Bye, Me! Love, Past Rebecca
Since 2012, Townsend has traveled to Spain with her family and kissed her boyfriend in the rain.
Her sisters turned to Facebook to share the note as well as to thank those who had an impact on her life.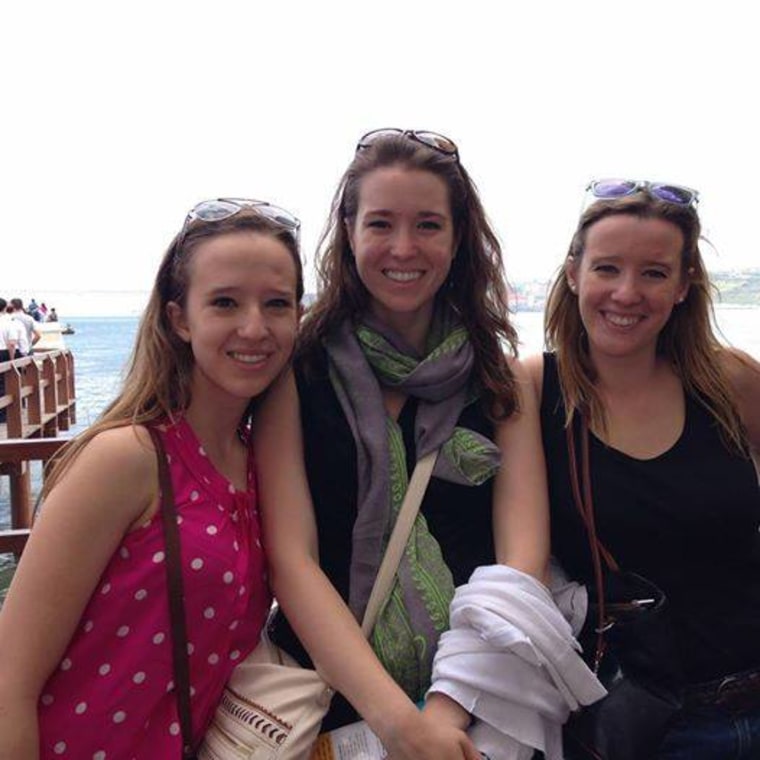 They started out by thanking their parents for taking Townsend to Spain and went on to thank Notre Dame, the drama club, her teachers and friends.
"To Niko, thank you for being the cute boyfriend she could kiss in the rain," they wrote. "And to Ben, thank you for letting her save a life."
Her family is keeping her memory alive through the Remembering Rebecca Facebook page they set up to encourage people to share kindness with others.
"Whether paying for a meal, volunteering time or donating to a cause, we all have the opportunity to pay it forward every day, just as Rebecca strived to do," the Townsend sisters wrote.