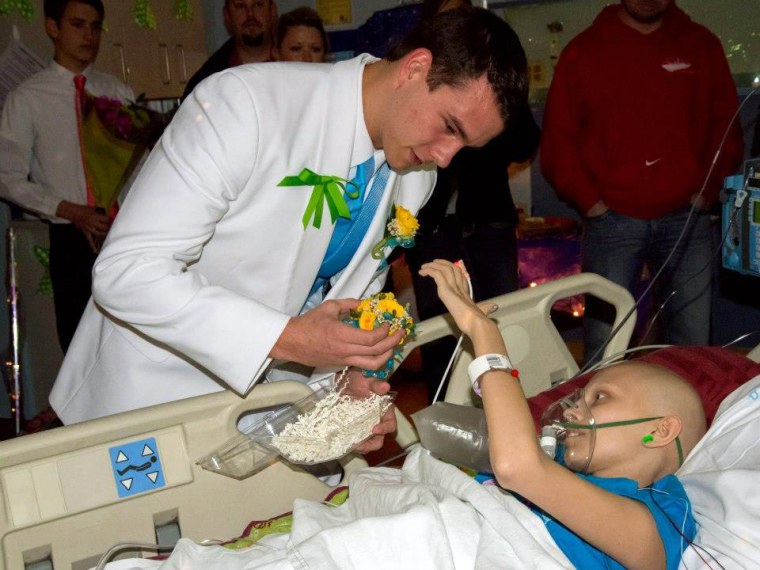 Katelyn Norman was all set to receive her "bucket list" wish to go to prom on Tuesday night, when she suddenly had to be rushed to the hospital.
The 14-year-old, who is suffering from bone cancer, was set to attend a special prom celebration put on for her by friends and family at her high school, but when her health took a turn for the worse, she insisted that the party go on without her.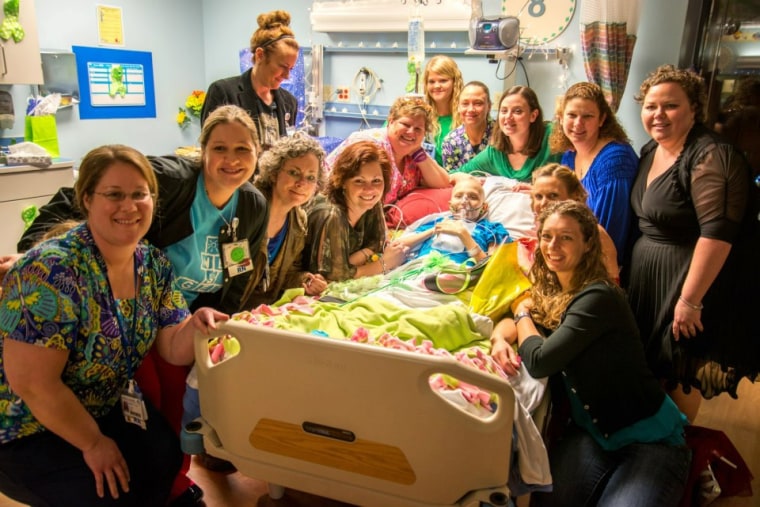 But her friends and employees at East Tennessee Children's Hospital in Knoxville were determined to grant her wish, and made sure the prom came right to her bedside. Once she was in stable condition, after having trouble breathing, the party began in her honor.
Norman's family and a group of friends crammed into a hospital room to fulfill her wish, bringing her balloons, music, dancing and even her own "prom queen'' sash given to her by her date. Thousands of people who couldn't fit into the room lined a local highway with candles in her honor, while others gathered in a heart formation outside her window. At the same time, a group of students and local community members celebrated for Norman at the previously-planned prom event at Campbell County High School in her hometown of La Follette, Tenn.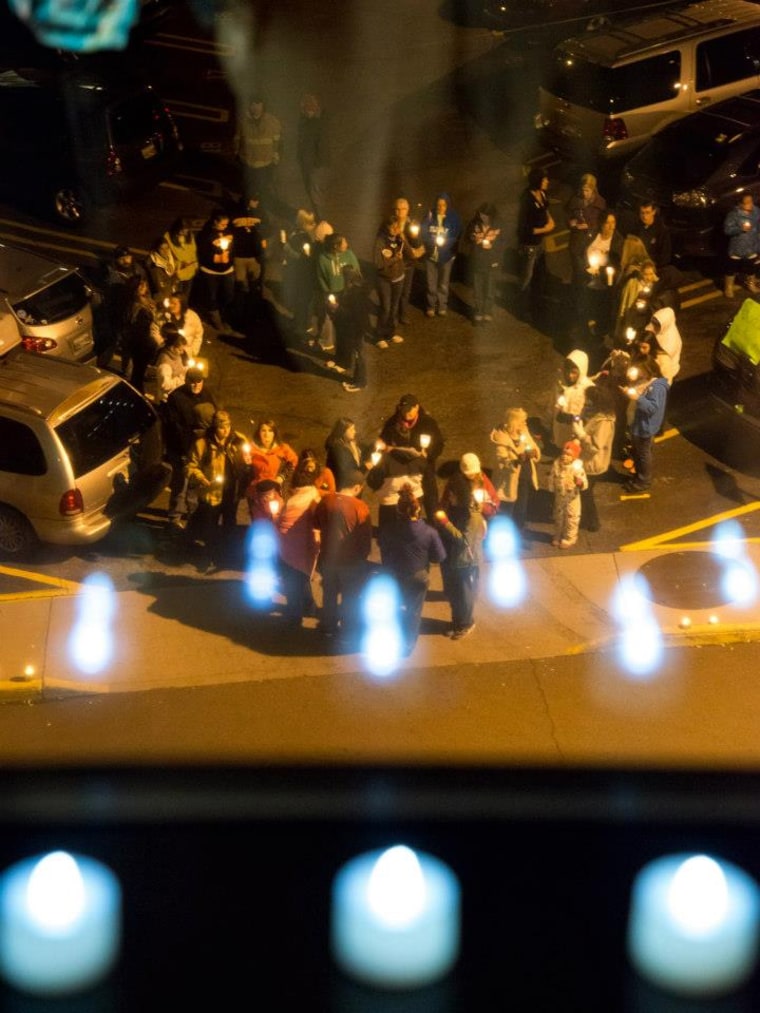 "It was very emotional,'' Karen Johnson, a nurse in the hematology and oncology clinic at Children's Hospital, told TODAY.com about the makeshift prom. "When she came into the hospital that day, she made it known she wanted the prom to go on. When it was determined she couldn't leave, they brought the prom to her. We found a room in the hospital, everyone decorated it, and then all her friends arrived.
''She was so surprised, and she was as happy as ever and excited to see everyone and hoping that everyone was having a good time. It was exciting and heartbreaking at the same time because it was here (at the hospital)."
As of late Thursday, Norman was listed in critical condition in the pediatric intensive care unit, according to Children's Hospital public relations manager Erica Estep. On Thursday afternoon, Norman's friend, Kristi Buckner, posted a message from Norman's mother, Erica Nelson, saying the cancer "is progressing too fast and (surgery) will not help. The goal at this time is to keep Katelyn as comfortable as possible. May God comfort her pain, as well as the hearts of those who have loved her for her whole life and those of us who have fell in love with her in the last 2 years!"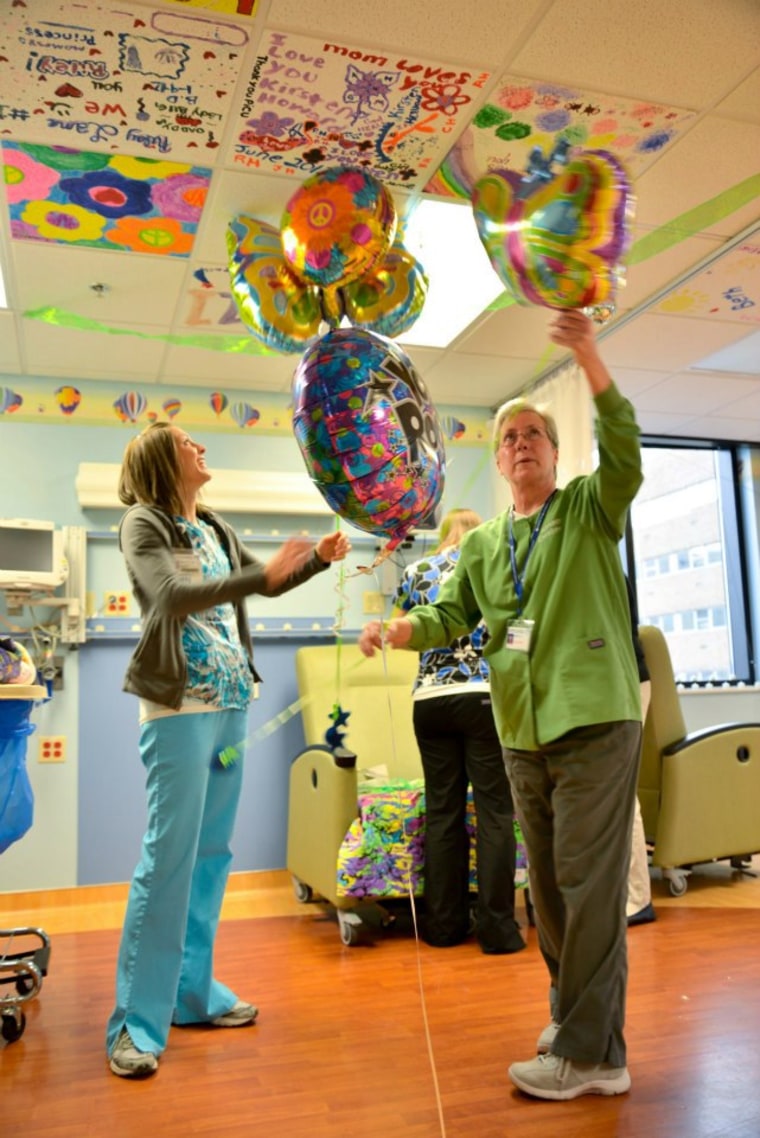 Norman has been getting treatment for two years at Children's Hospital for osteosarcoma, an aggressive bone cancer, but was told by doctors last week that it has spread to her heart, spine and pelvis, and that there is nothing more they can do. Determined to celebrate the time she had left, Norman came up with a bucket list of activities, including riding a motorcycle, spending a day with her three siblings, having a final slow dance and going to prom.
Also a big fan of the band Of Mice & Men, Norman hoped to get an autographed T-shirt and see them in concert as part of her bucket list. On Tuesday night, lead singer Austin Carlile sent out several tweets saying he was thinking about her after news about Norman was posted to the band's Facebook page.
Norman's good friend Brandon Huckaby, 16, planned the prom/candlelight vigil event on Tuesday night at Campbell County High School, dubbed "Light the Night for Kate," and plans on starting a non-profit foundation in her honor.
"Kate always talks about how she is not dying from cancer, she is living with cancer,'' Huckaby told TODAY.com. "She is always positive and wants her story to be able to impact others by raising money for research. This has been a crazy and emotional time, but I just try to stay focused on doing something positive for her."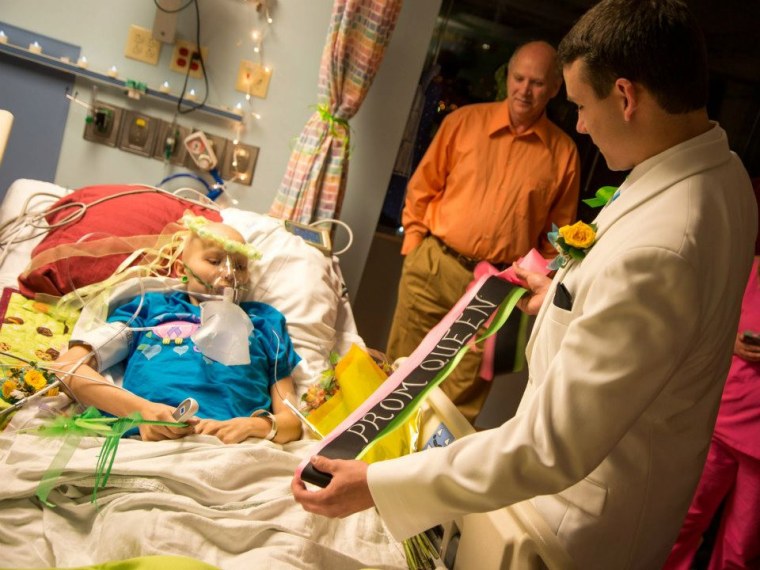 "Katelyn is wise beyond her years,'' Johnson said. "Her outlook and attitude are amazing."
In the past two days, there has been a huge outpouring of donations to Norman's fund-raising site on GoFundMe.com. After initially hoping to raise $50,000 to help her fulfill her bucket list, the drive had raised $78,000 by mid-Thursday with a new goal of $100,000.
More from TODAY: Autistic girl's 'broken cheeseburger' goes viral after kind waitress saves the day