Draven Rodriguez was on a mission this week: to make sure he could immortalize his love for his rescue cat, Mr. Bigglesworth, in his school yearbook.
So the Schenectady High School senior, 16, hired a professional local photographer to come to his house, where they captured a striking image of Rodriguez with the cat set against a colorful, futuristic background complete with laserbeams.
"I've always been a cat person," Rodriguez told TODAY.com, noting that he wanted his yearbook picture to be anything but forgettable. "It just sort of came to my head. I always look at really tacky family photos and they're just glorious. They have this weird charm."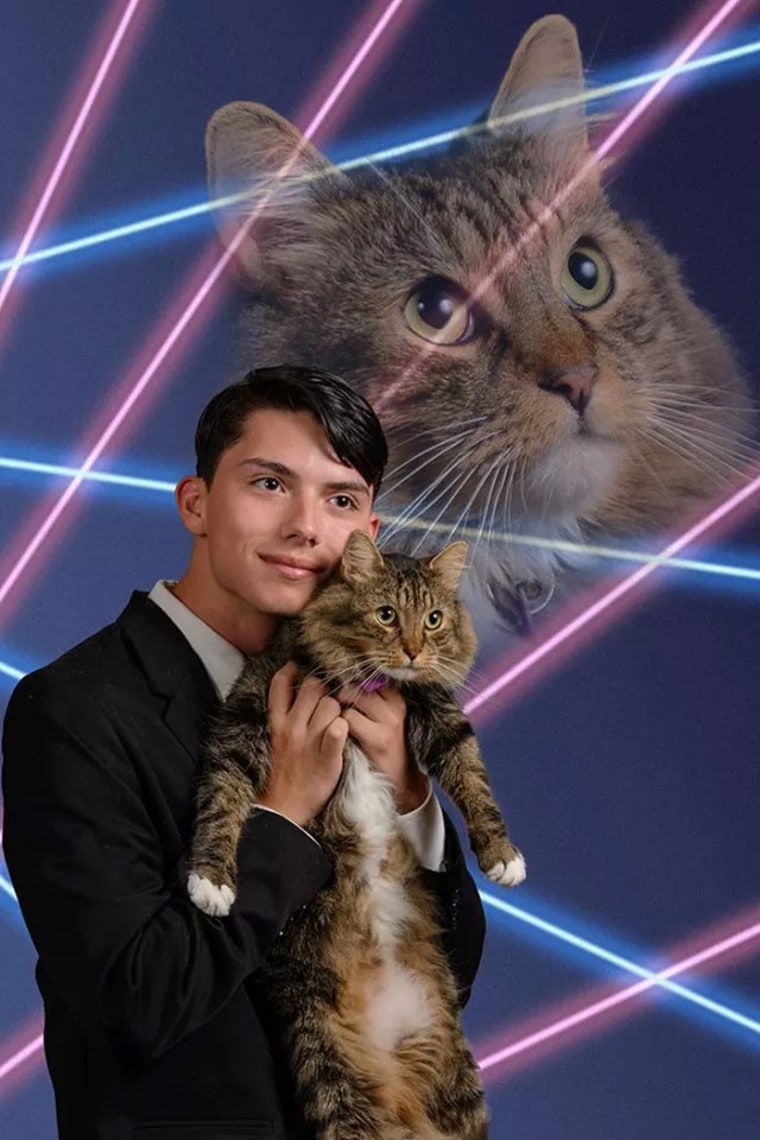 Anticipating the photo would be rejected by the school, Rodriguez submitted it to his teachers for approval, and created a pre-emptive online petition to lobby for his cause.

His "Get my photo into the yearbook" petition — and the photo — quickly took the Internet by storm, and as of Friday evening, he'd racked up over 5,000 signatures.
The school, however, did not seem swayed at first.
"We're not trying to keep him from being creative, but there other places in the yearbook where the photo could go," Karen Corona, the school's public information officer, told TODAY.com, citing the specific guidelines that govern what goes into the student portrait section.
"It's a uniform, consistent looking section," she said. "When you opt to be included, all photos look like each other."

But when school principal Diane Wilkinson dropped by Rodriguez's English class on Friday, she pitched an idea that rendered the petition obsolete. Wilkinson is also the proud owner of a rescue cat, and she suggested the two of them take a photo in the same awesomely '80s, laserbeam style while posing with their respective pets. Rodriguez and the rest of his class were thrilled with the idea.
"I think it's fair," Rodriguez said. "Considering all the circumstances, the fact that we came to a compromise is the most important part. I didn't want to start a war with the school."
As far as the school is concerned, all's well that ends well: "We wanted a solution that let him know his creativity and energy around this is very much appreciated," Corona said.
Wilkinson and Rodriguez are planning to take their photo within the next two weeks, at which time TODAY.com will be sharing what promises to be an even more "glorious" creation.