Tommy Caldwell and Kevin Jorgeson, who became the first people to free-climb the Dawn Wall of El Capitan without tools, said the moment they reached the summit of their grueling years-in-the-making journey was better than imagined.
"I've been picturing what it was going to be like that last 10 feet to the summit for a very long time," Jorgeson told TODAY the morning after they reached the summit. "I remember grabbing the very top and just pausing for a minute, making sure it was real. And then the tears erupted and it was."
The pair began scaling the nearly vertical granite monolith, located in Yosemite National Park, on December 27. It took them 19 days to climb 3,000 feet and reach the summit of what's considered the hardest rock climb in the world.
The duo slept in tent slings that Jorgeson described as "quite relaxing" despite the way they hung from the mountainside.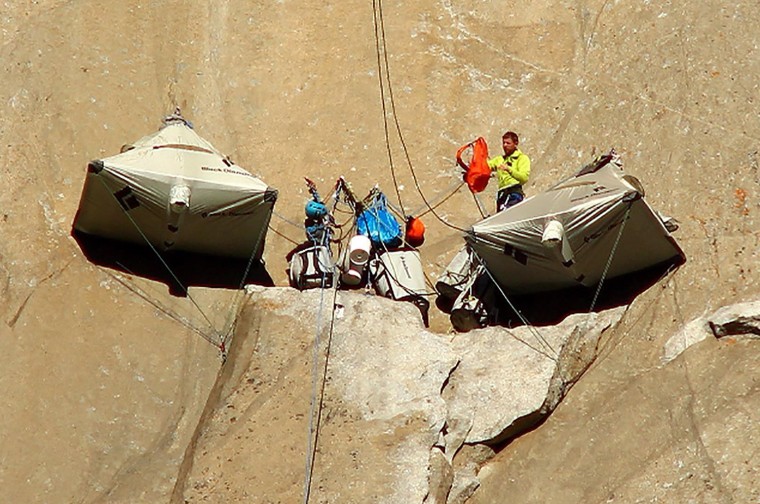 "Of the 19 days up there, we didn't climb every single day, so sometimes we'd hang out all day in our porta-ledges, stretching and drinking coffee or water and just recovering from the day," Jorgeson said.
"It's easy to forget where you are up there."
Free-climbers do not pull themselves up with cables or use chisels to carve out handholds. The men used only their feet and their hands, shredded by craggy edges, along with harnesses and ropes to prevent deadly falls.
Caldwell, who had lost his voice during the trek, gave Matt Lauer and Savannah Guthrie two big thumbs up when asked what it felt like to get his first shower and use a real bathroom after the 19 days.
The journey has captivated the nation's attention. Caldwell envisioned the project in 2007 and Jorgeson joined him two years later.
"Tommy and I have been thinking a lot about what is it about this climb that is capturing everyone's attention. I think the opportunity is for everyone to find their own Dawn Wall, if you will. We had our project that we saw through to the end. What's yours?"
Follow TODAY.com writer Eun Kyung Kim on Twitter.