The Team Hungary skier who drew a strong reaction for her basic run down the Olympic halfpipe says she is capable of doing high-flying tricks like her competitors - just not on snow.
Elizabeth Swaney, 33, spoke about her unusual performance with Hoda Kotb and Savannah Guthrie on TODAY Wednesday.
"I'm always trying to work on my skiing,'' Swaney said. "I do front flips and back flips onto the water ... and some 720s and occasionally some 540s on the water (during training) as well.
"The goal has always been to incorporate those into the halfpipe. I'm just not comfortable landing the water tricks on snow yet. I'm just trying to figure out a way to cross that bridge."
The U.S.-born Swaney, who is a University of California-Berkeley graduate with a master's degree in design studies from Harvard, has had people scratching their heads over how a skier who can't do basic tricks made it to the Olympics.
During qualifying on Monday, she skied down the halfpipe without attempting any high-flying maneuvers like her competitors.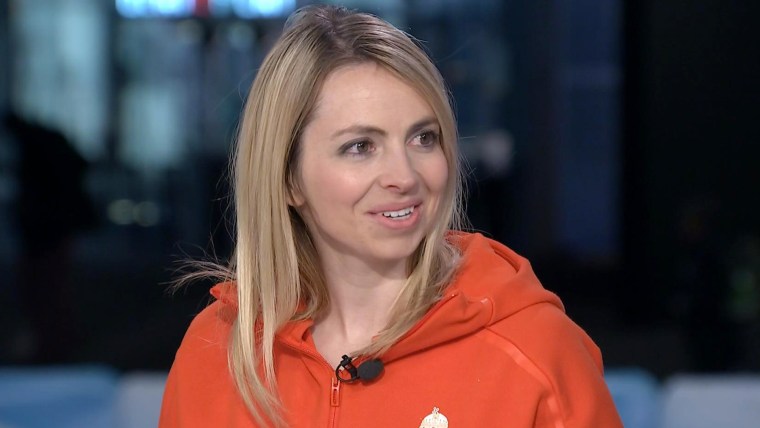 "I always try to give my best in the halfpipe,'' she said. "I actually did three tricks on my second run, two on the left wall, one on the right wall and a 360 at the end."
Swaney said her basic run down the halfpipe was not intentional, even though it was a big reason she qualified for the field. Her ability to simply stay upright during World Cup events allowed her to accumulate the necessary points to qualify for Pyeongchang. She was able to compete for Hungary because her grandparents are from there.
"I never had a plan to do the run I did,'' she said. "I wanted to do more than that, so it wasn't a strategy. I always try to give my all."
Swaney also responded to the reaction to her performance, which ranged from calling her the worst Olympian ever to being compared to Olympic folk heroes like British ski jumper Eddie the Eagle and the Jamaican bobsled team.
"I try to take every comment whether it's positive or negative and try to build that into my life as something constructive that I can work on,'' she said. "I thank them for their time.
"I would just encourage positive vibes for everyone," she added.
Follow TODAY.com writer Scott Stump on Twitter.