Brittni Darras can still remember the shock of finding out from a parent that a student she assumed was doing fine had nearly committed suicide.
The English teacher from Rampart High School in Colorado Springs, Colorado, started crying when she heard the news at a parent-teacher conference in March. The emotional meeting then sparked an idea.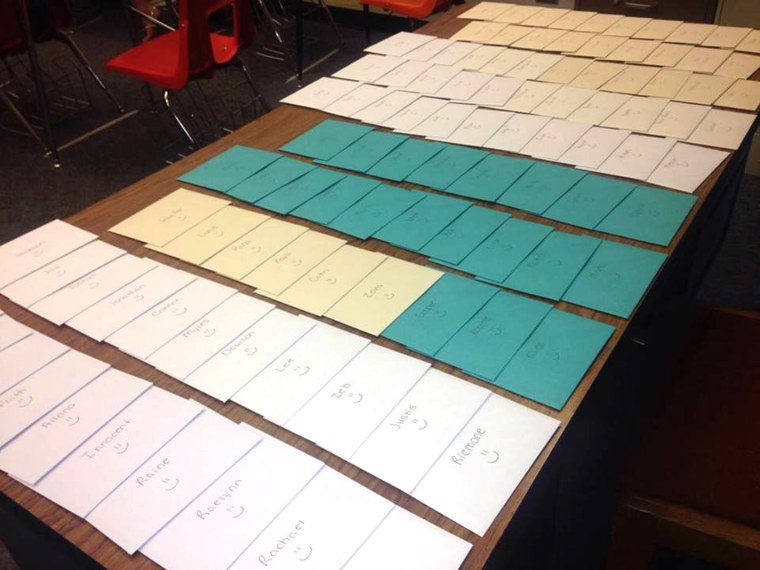 Beginning with a heartfelt letter written to the girl while she was recovering in the hospital, Darras, 25, spent two months composing letters to 130 of her students about their great qualities and how much they are valued in the school.
RELATED: For graduation, student draws his entire senior class — all 411 of them
She gave them out to each of the students before they went on summer vacation, prompting hugs and smiles from many of the teens as they read the kind words. One student thrust her letter into the air and said it was the best thing she had ever gotten.
"(The girl's suicide attempt) made me realize she felt like she was not important and didn't make a difference in this world," Darras told TODAY. "For these other kids, it's very hard for us to know who is struggling with thoughts of depression or suicide. If she had that response and I couldn't see her as having struggles, the only thing I could think to do was to write every single one of them a unique card."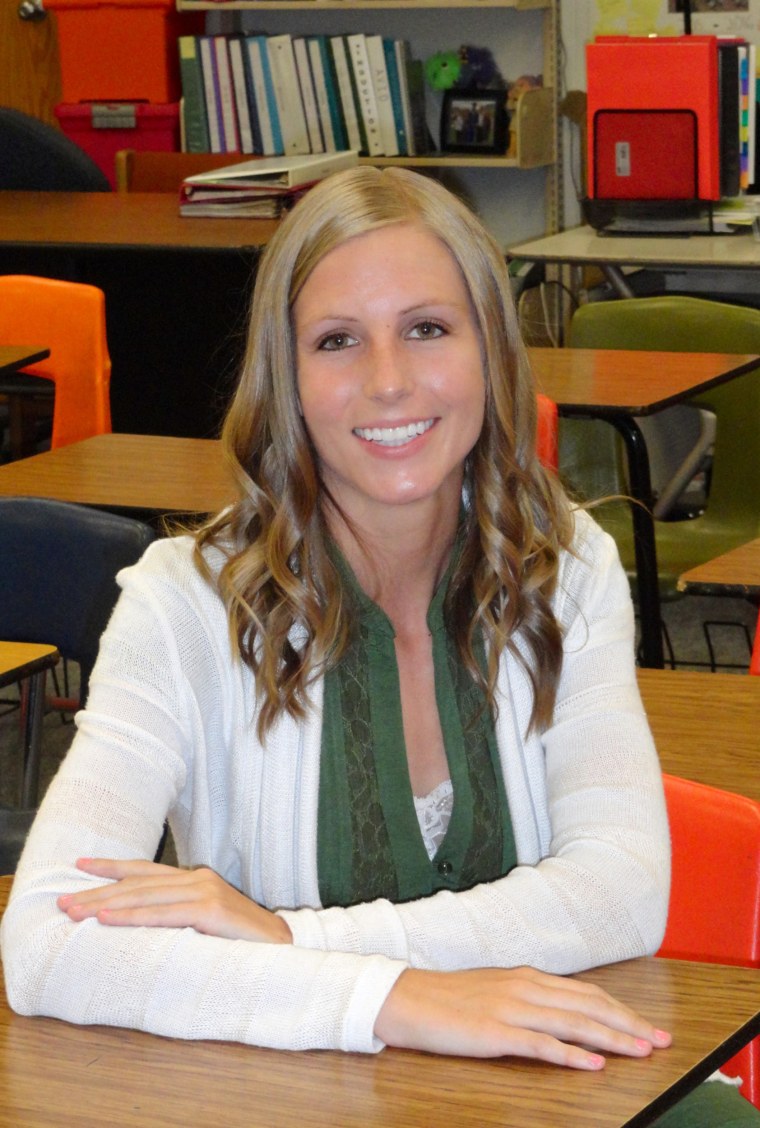 The reaction to the initial letter sent to the girl in the hospital provided the impetus to writing to all the sophomores and juniors in her classes.
"Her mom said that her daughter cried, turned to her mom and said, 'How could somebody say such nice things about me? I didn't think anybody would miss me if I was gone,''' Darras wrote on Facebook. "It made me realize that I was way too close to losing another student to suicide."
RELATED: Students create powerful videos about suicide prevention: 'It could save a life'
Darras also personalized each of the 130 letters based on regular conversations she always tries to have with students before and after every weekend during the school year. For sophomore Rachael Redmond, 16, it involved mentioning a great memoir she had written, and being a member of the girls basketball team.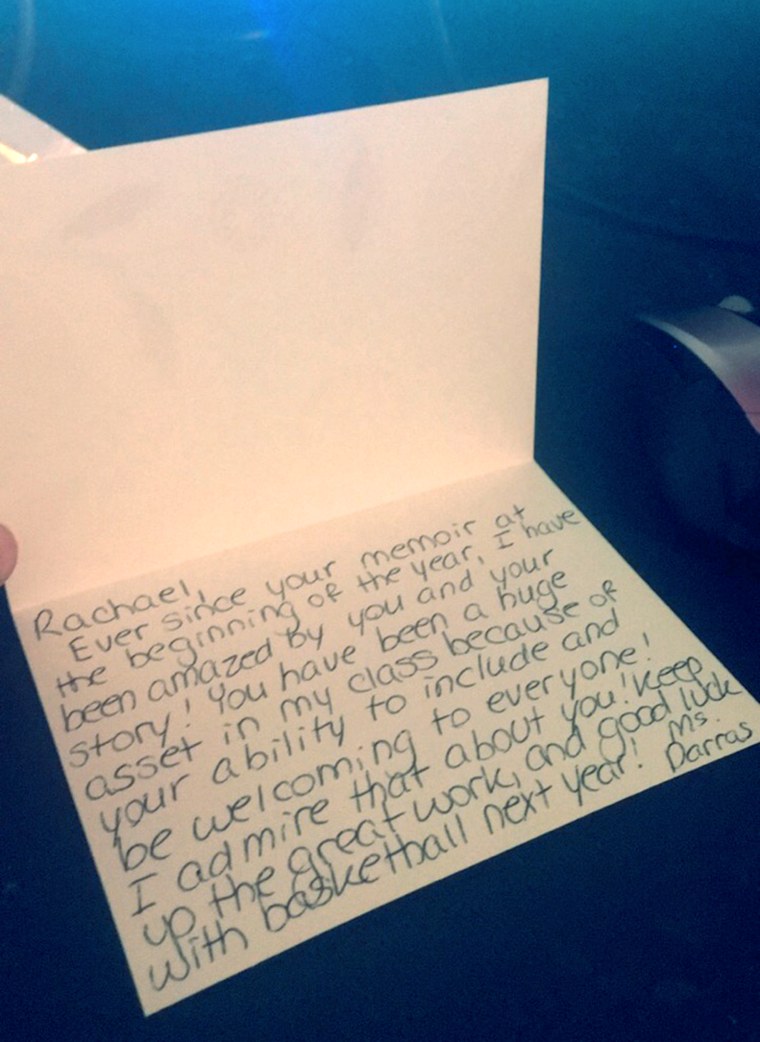 "I think that's why it meant so much to all of us,'' Redmond told TODAY. "It wasn't just a, 'Hey, have a good summer,' it was a specific memory or something that we said.
"It made us feel really important. Some kids got cards about stuff that happened they thought nobody remembered, and it made them really happy."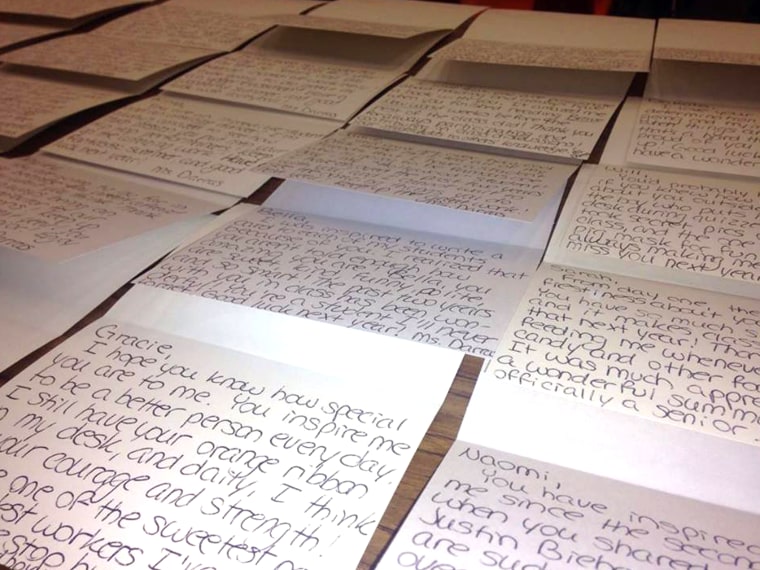 Darras, who has been at the school for five years, was in her first year of teaching when a student at Rampart committed suicide. Two other high schools in Colorado Springs had a combined three suicides in one 10-day stretch in May, so it's an issue that has been at the forefront of the school.
RELATED: The talk that could save a life: How to talk about suicide to kids of any age
"Kids think (suicide) is something that happens only in movies or online, but when it happened locally everyone took a step back because it hit home,'' Redmond said. "Sometimes you go through high school and you feel like your teachers don't really care, but she went out of her way to let us know she does."
The letters not only received an overwhelming response from students, but also their parents.
"It's something that I want to do every year now,'' Darras said.
Follow TODAY.com writer Scott Stump on Twitter.