Teachers routinely go above and beyond expectations. They arrive at school early, stay late and often pay for supplies from their own pocket book, among many other things. But few would let their students shave their heads.
On Monday, Tori Nelson struck a deal with one of her fourth-grade students in Winlock, Washington: He could shear off her short, blonde locks but only if he would take off his hat, which the school prohibited, and finally come to class.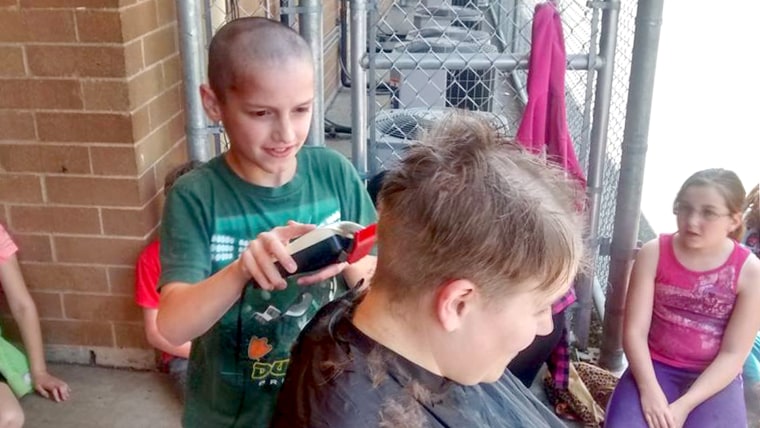 At the time, the bell had already rung and 9-year-old Matthew Finney remained sitting outside their classroom door, crying. His newly shaved head was hidden beneath a hat tucked inside the hood of his coat.
Over the weekend while playing with friends, Matthew had been teased by a pal for a tiny bald spot he had on his head from of an old scar. The same boy teased him again at school Monday morning.
"He's super sensitive and shy. He keeps to himself," Nelson explained to TODAY.com. "The mocking just sent him over the edge."
Nelson, 32, tried to coax him into class but nothing was working until she came up with an unconventional idea.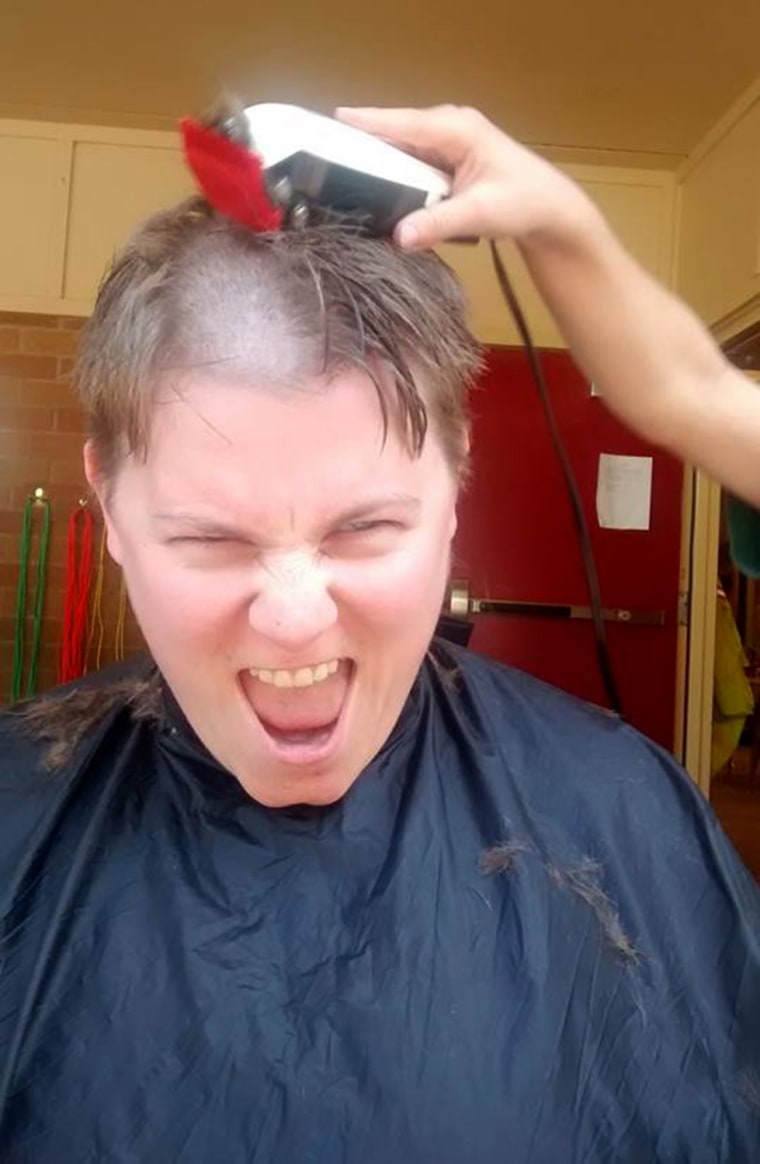 "What if I let you cut my hair, and then we'll be twins, and then if he makes fun of you again, then he's making fun of me?" she told him.
At first, Matthew didn't believe her.
"I didn't know if she actually meant it. I thought she was just joking," he told TODAY.com. But when he realized she was serious, "I got a little excited."
So Matthew went to class. By lunchtime, he told everyone he could what was about to go down and a crowd quickly gathered on the playground outside their room.
Matthew was handed a pair of clippers and went at it.
"It was hard because she had gel on. I had to shave one spot six or five times," he recalled.
But minutes later, teacher and student were indeed "twins."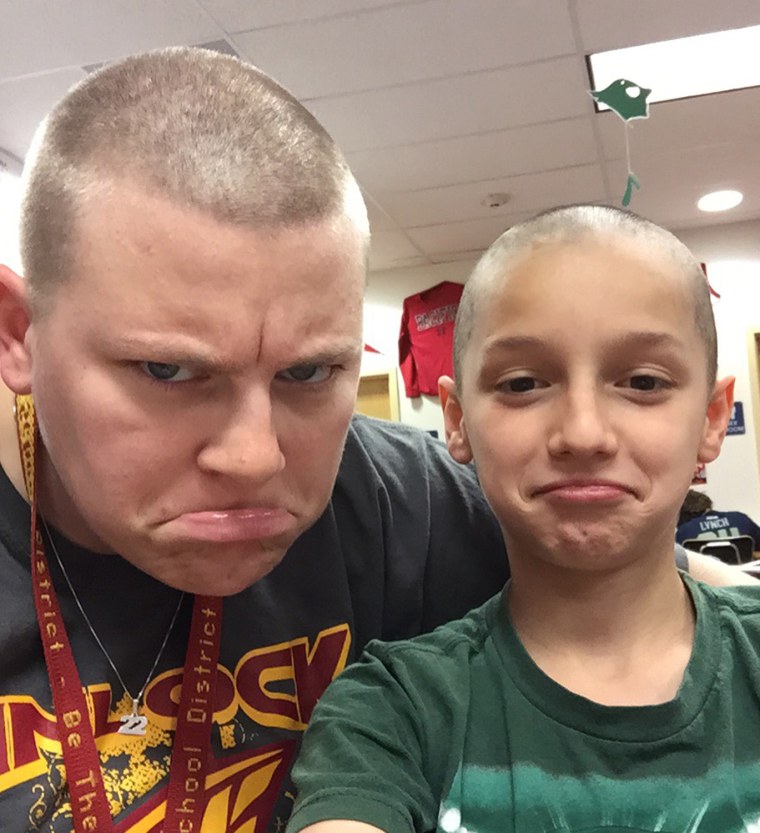 "It doesn't really surprise too much that she did it," Matthew said of his teacher. "Sometimes she's crazy and funny."
For her part, Nelson said shaving her head wasn't a big deal.
"Honestly, I could care less about hair," she said. "I have pretty short hair. So to me its just hair. If I can get rid some hair to make this kid feel better, well, that's an easy fix," she said.
"I wasn't thinking, 'Man, I'm going to change this kid's life today by getting a hair cut.' I was just thinking, 'I need to get him in the classroom to learn!" she said with a laugh. "To me, it's just hair. I'm okay with not having it. I didn't even have to think twice about it."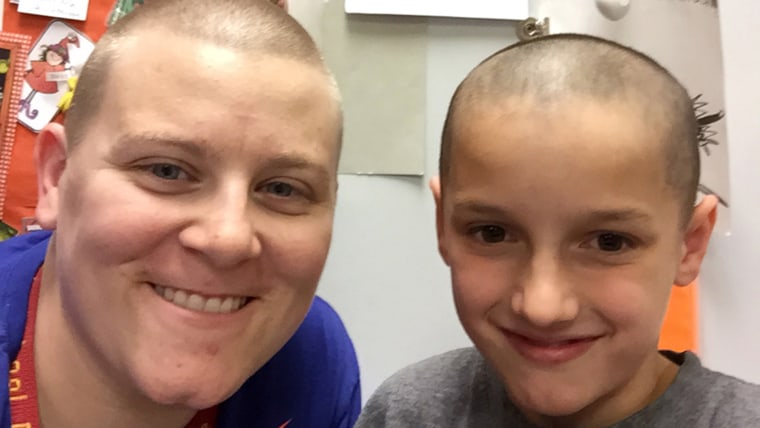 Matthew's mother, Breanne Finney, said she didn't know what had happened until the school called her the next day to tell her that a local news crew wanted to interview her. When she asked her son about it, he told her: "Yeah, Ms. Nelson cut her hair."
Finney said she was stunned after learning later just how much hair she had cut.
"She doesn't think much of it, but I think it was amazing," she said of Nelson, who "is always going above and beyond for the kids, trying to make them feel more confident, that they're cared about."
The school's principal, Boyd Calder, reiterated the lengths Nelson goes to for her students, including Matthew, who he agreed was "a pretty sad little guy" Monday morning.
"It was pretty cool that she would put her money where her mouth is. Instead of just talking the talk, she walked the walk," he said.
Calder also said he was not surprised by Nelson's action.
"She's so spontaneous and she'd do anything to help the kids," he said. "She's always thinking of ways to make a difference in the lives of these kids we have. She puts her words into action. She really, really does. It's pretty incredible."
Follow TODAY.com writer Eun Kyung Kim on Twitter or on Google+.