David Menasche loved to teach, but when his illness made it too difficult for him to stay in the classroom, he turned himself into a student, seeking out his former pupils for a different kind of education.
Diagnosed with brain cancer at the age of 34, Menasche continued to teach English at Miami's Coral Reef Senior High School for six years after doctors found his tumor. But when a seizure left him paralyzed on his left side and nearly blind, he finally had to say goodbye to teaching — though he wasn't ready to say goodbye to his students.
Instead, he decided that he would traverse the country like one of his literary heroes, Jack Kerouac, and visit his former students to learn about their lives since they'd left his classroom.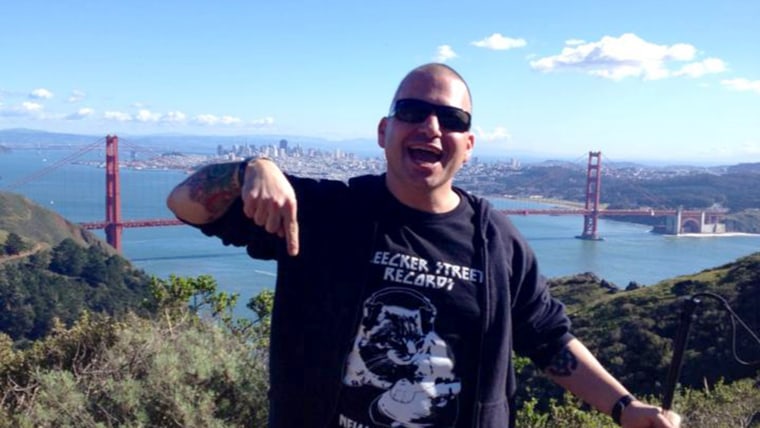 He announced his trip, which he called a "vision quest," on Facebook in the fall of 2012, having had enough of tests and treatments and wanting his freedom back — which meant being with his students. Within 48 hours he had offers of places to stay in 50 cities. He then spent 101 days traveling by train, bus, and car, sometimes even hitchhiking, and made stops in 31 cities to reunite with 75 former students from Florida to the Northeast and California, where he saw the Pacific Ocean for the first time. 
Menasche recounts the adventure and what he learned from reconnecting with his students in a new book, "The Priority List: A Teacher's Final Quest to Discover Life's Greatest Lessons," out this week from Touchstone Books.
The title refers to an exercise he assigned his classes at the magnet school, where he taught for 16 years. He would give them a list of words — including love, power, family, friendship, security, wealth, and career — and ask students to rank how important each word was to them. The priority lists gave Menasche clues about what was going on in their lives and sometimes allowed him to help.
There was the young woman who put privacy, security and sex at the top of her list. Menasche suspected from those priorities that she was self-mutilating and confronted her about it. It turned out she had been burning herself with matches, struggling to come to terms with being gay. The next time Menasche saw the student, she handed him a bag full of matches and said she didn't need them anymore; she wasn't going to hurt herself again.
During his travels, Menasche was able to visit the former student, Kim Kerrick, and meet her partner. She was one of several students who contributed a passage to his book:
"When he asked me if I was burning myself, I was blown away. How could he have known?" she wrote. "But he did. Nobody had ever paid that much attention to me before."
Other stops showed him how far the young people in his classes had come. A teen who had showed up drunk before 8 a.m. on Menasche's first day of teaching at Coral Reef, sporting greasy hair and an Ozzy Osbourne t-shirt, ended up becoming an executive for a technology firm.
"My attitude has changed from back then," Aaron Rawcliffe told Menasche when they met up in New York. "I used to rebel against the system. But I've come to embrace it and used it to my advantage."
Rawcliffe credited Menasche with setting high expectations and showing real concern for him. "He wasn't pulling the 'authority figure' thing with me," he writes. "He was showing me that he cared and was treating me with respect."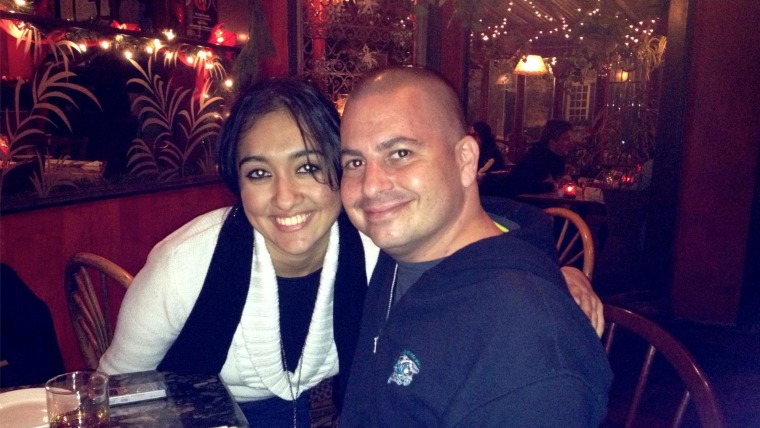 A bright young woman named Anjalee Khemlanee was Menasche's student in 2001. Though her family valued financial success and expected her to marry for wealth, Menasche urged her to look for work that would make her happy. "During our private conversations, I pushed Anjalee to think beyond her family's expectations, saying, 'You live in a free country and you should take advantage of that! What about pursuing your own way?'"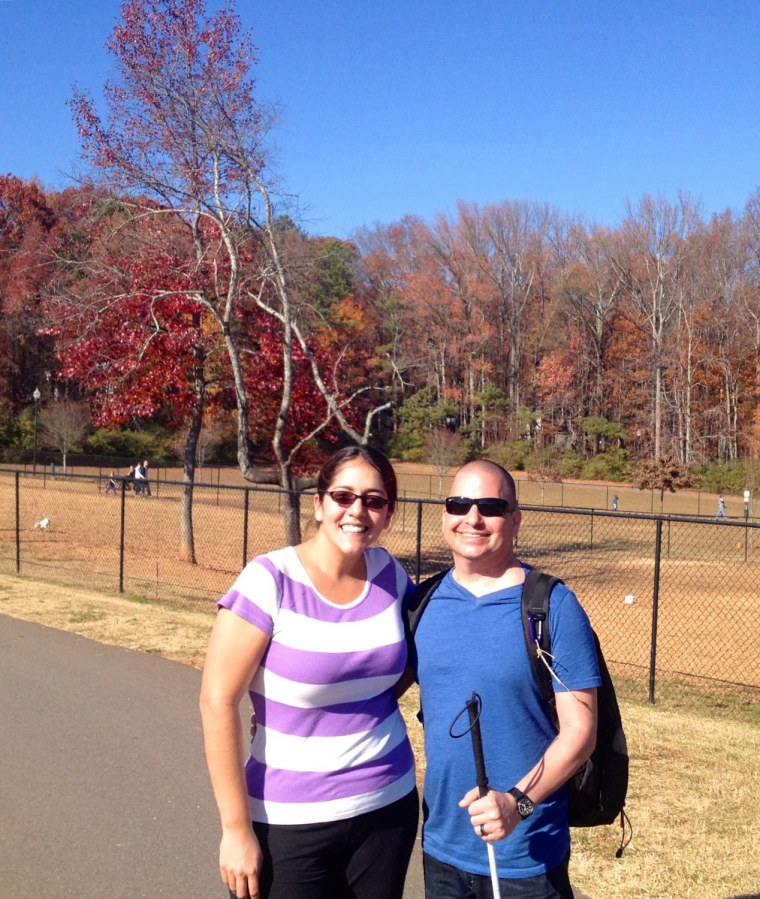 He suspects the comments initially offended her, but it turns out that she appreciated his advice. She became a reporter for "The Press"of Atlantic City, where Menasche got to visit her. "I didn't think I could choose my own life, but many things – time and circumstance – helped me reach where I am today. I am a journalist because of Menasche, though," Khemlanee writes in the book. "Rather than pursuing big money, I picked something I would be (and am) happy doing."
The voyage not only showed Menasche how he had helped his students, it gave him insights into his own character. He spent Thanksgiving in 2012 in Atlanta, Georgia with former student Karla Polo, her partner, Eric, and their two-year-old twin sons. Thanksgiving had always been Menasche's favorite holiday, one he spent with his large family, including his wife, Paula.
But Paula, from whom he is now separated, had been upset by his plan to stop cancer treatments and set off on this trip, calling it a suicide mission. Lonely and watching another family's intimacy, Menasche came to a realization.
"For my entire life, I had been so intent on never needing anyone that I'd never learned to trust people enough to allow myself to depend on them," he writes in the book. "Had I done that with Paula? Had I shut her out of my life by locking her out when I needed her most?" 
And though Menasche had always seen himself as the go-to guy, the person other people leaned on for help, the cancer's advancement taught him to prioritize other traits, like humility, appreciation, and honesty.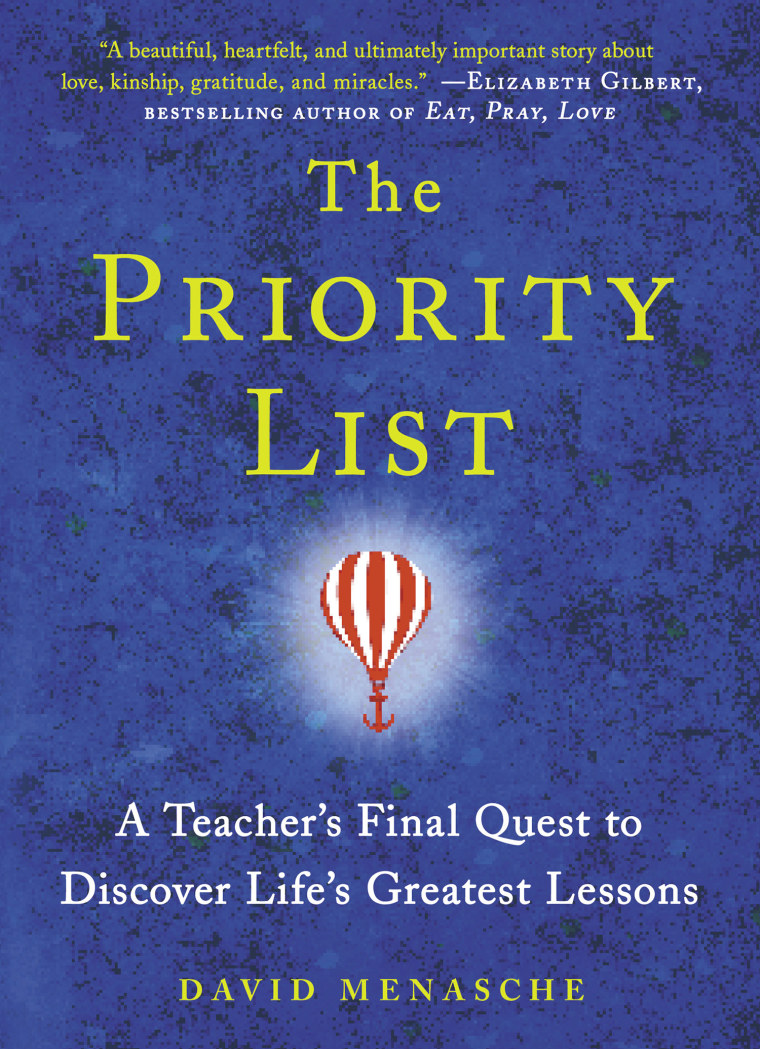 "I learned to trust others more than I ever did," he says. "It took me a long time to come to terms with the fact that I am now blind and crippled. I need help."
Today Menasche, 41, relies on one of his former students, Jennifer Brewer, to get through each day. She is his caretaker in New Orleans, and was one of the students he visited on the trip.
He still communicates with students via phone, email, and visits, including a recent jaunt to Hawaii. He's also an ambassador for the organization Voices Against Brain Cancer, raising money for research to battle the disease and to support both patients and their caregivers.
"If there's any way my experience can help somebody, today is the best day I've got," Menasche says.
"I hate being blind and crippled," he adds, but, "It has made me very appreciative. I look out the window at the sky and the clouds and take a mental snapshot. I don't know if I'll be able to see it tomorrow."