I have to confess, until last month I wasn't much of a Taylor Swift fan. I figured I was too old for her to be on my musical radar: The soundtrack for my generation's romantic hopes and foibles came from the likes of Janis Ian, Joni Mitchell and Carole King. In fact, Janis Ian's "Between the Lines" is still pretty much my "go-to" girlie album for post-relationship sorrow, although, I didn't "learn the truth at 17," but way past 30 (a tragically late bloomer.) Now I've changed my tune.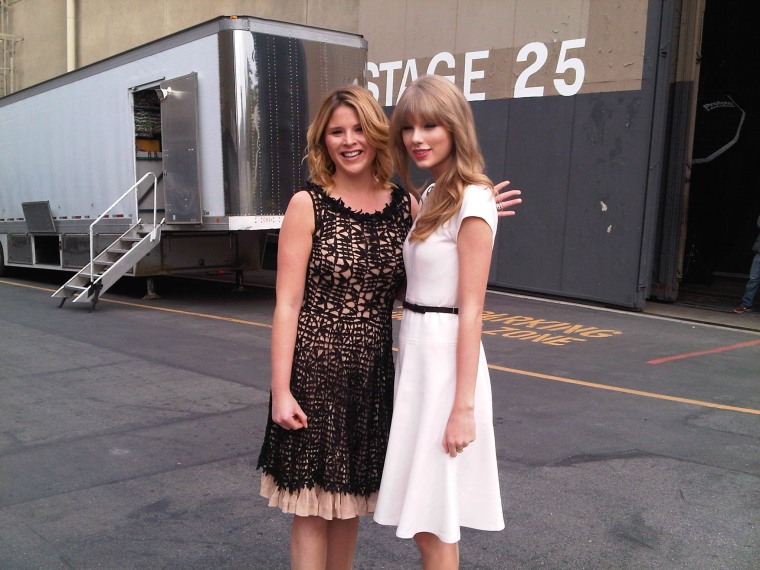 Preparing to produce this morning's Jenna Bush Hager segment on TODAY about Taylor's new movie, "The Lorax," I became immersed in Taylormania: that she wrote "Tim McGraw" in math class, that her grandma was an opera singer, that her cat's name is Meredith. I scored a 98 on a Taylor trivia test.
Mostly, though, I guess I'm just like everyone: in awe of how a 22-year-old writes so clearly about the roller coaster of romance. I may be a little late to the party, but I'm apparently not alone: My posse of gal pals of a certain age are all late bloomers when it comes to Taylor. Better late than never, right?
When Taylor arrived for the interview, impossibly tall and walking like a gazelle, I was like some tween-ager — totally overdoing the gushing. At my age, gushing is a little like seeing Danny DeVito in a Speedo: a little bit funny and a little bit icky. But Taylor was delightful and accommodating, gracious and cute.
I was shocked by her optimism: She was wearing a white dress for a day of interviews. I'd be afraid of instantly having some klutzy producer get pen smudge all over it, but with no fear, she eagerly signed a CD for our associate producer's young cousin (that's his story and he's sticking to it.)
She does have an odd way of writing, pen between her index and middle fingers.  But that's about the weirdest thing I can say about her.
She did look at my copy of "The Lorax," sheepishly confessing she didn't have the Dr. Seuss classic. "You'll really give it to me?" she asked incredulously as I practically threw my copy at her. Note to NBC Accounting: I'm putting in for a second copy.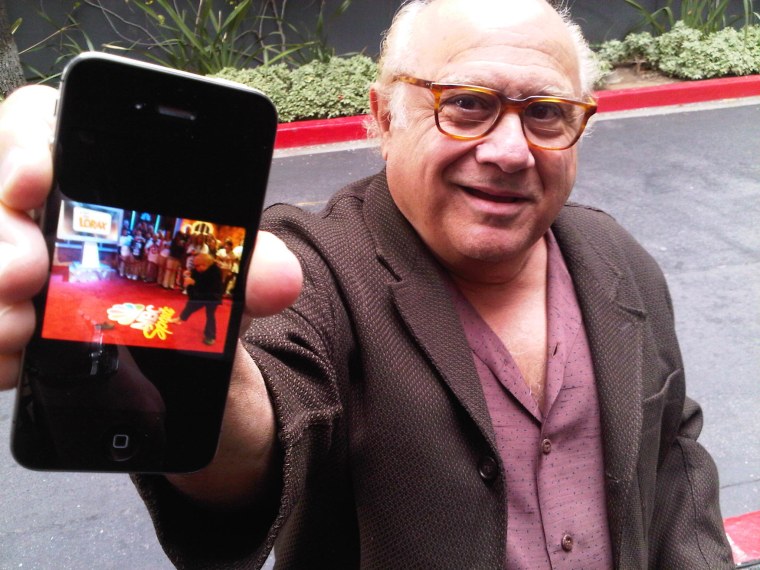 But Taylor wasn't my only celeb of the day. Also staring in "The Lorax," as the title character himself, is Danny DeVito. He was most certainly not in a swimsuit; he was just hanging out by our location. His wife, Rhea Perlman, just had left him there, pulling away in an unassuming white Prius. Now, I am also a huge fan of Mr. DeVito, although this time not in that ridiculous, gushy way.
I started yakking with my new buddy Danny, who regaled me with stories of the fun he had at  the Super Bowl. He whipped out the evidence to prove it — his iPhone — and paged through a series of pictures of his bare right foot taken in a variety of locations: in Indianapolis, the NBC booth, the Skybox, during half time. Apparently he has an online gallery of foot photos.
I begged to snap a picture of his foot with mine. He graciously demurred, explaining that he had strict rules about his foot photographs ... his foot and only his foot. I felt a little like a heel. Apparently, I'd overstepped my bounds.
Oh, the rejection! If only I were Taylor Swift, I'm certain I could write a sad but poignant song.