Few lists are likely to contain a combination of individuals like Taylor Swift, Vladimir Putin, the protesters in Ferguson and Apple CEO Tim Cook. Enter Time's shortlist of finalists for its 2014 Person of the Year. 
Time's Person of the Year is, according to the magazine, an individual or group who, for better or worse, has had the biggest impact on the world and news over the course of the past year.
Last year, Time crowned Pope Francis as its 2013 Person of the Year. 
Time editors have narrowed their list down to the eight individuals below and will reveal their selection for the 2014 Person of the Year on TODAY on Wednesday. The candidates are, in no significant order, as follows:
The Ebola caregivers, who are currently fighting the biggest Ebola outbreak in history.

Vladimir Putin, the Russian president, who gained attention for his staging of the 2014 Winter Olympics in Sochi, as well as for his nation's controversial conduct in Ukraine.
The Ferguson protesters, who contested the death of unarmed 18-year-old Michael Brown, who was shot by a police officer in Ferguson, Missouri.
Taylor Swift, the world's best-selling pop star, above the likes of Beyoncé, Katy Perry and Lady Gaga. Swift decided to pull her music from Spotify, contending that the service needs to pay artists more for their material.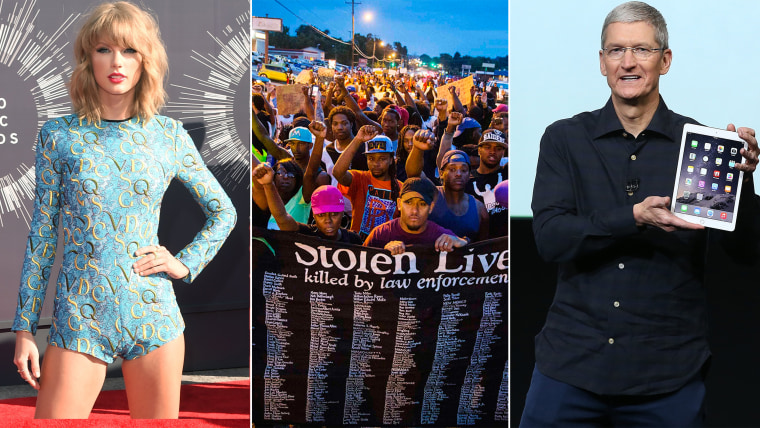 Tim Cook, the CEO of tech giant Apple, who stepped out of Steve Jobs' shadow with the announcement of the iPhone 6 and 6 Plus, Apple Watch and Apple Pay. Cook also came out in 2014, making him the first openly gay Fortune 500 CEO.
Roger Goodell, the commissioner of the NFL, which has been plagued by scandal in 2014. From domestic violence concerns and the Ray Rice case, to serious fears over head injuries, Goodell and his multi-billion dollar league are at a crossroads.
Masoud Barzani, the Kurdish politician who has led the Iraqi Kurdistan Region since 2005. Barzani has been weighing the possibility of independence for the Kurds, all while fighting ISIS.
Jack Ma, the founder and CEO of the Alibaba Group, which debuted on the New York Stock Exchange as the biggest tech IPO in history.
Who do you think should be TIME's Person of the Year? Head to our Facebook gallery and "like" the photo of the person or group that you feel most deserves the title.