As the GOP nomination potentially sharpens into focus, we take a break to focus on the other moments that brightened the political landscape this week.
Tongues were wagging over news that General Services Administration, which helps other federal agencies run, hosted an elaborate $822,000 training conference fete at a luxurious hotel just outside of Las Vegas. But apparently, whatever happened in Vegas did not stay in Vegas, as the deeply critical agency inspector general's report called the spending "excessive, wasteful, and, in some cases, impermissible."  
The pricey bash included a huge catering tab, loft parties, a clown and a mind reader. Administrator Martha N. Johnson and other agency leaders were forced to step down and Republicans criticized the Obama administration for big government waste and oversight. The president reportedly hit the roof and was "outraged" by the spending.
The caterpillar crusade?
The partisan battle over women's health issues took on creepy-crawly proportions this week when Republican National Committee Chairman Reince Priebus compared the showdown to a "war on caterpillars." "If the Democrats said we had a war on caterpillars and every mainstream media outlet talked about the fact that Republicans have a war on caterpillars, then we'd have problems with caterpillars," Priebus said in an interview on Bloomberg Television's "Political Capital with Al Hunt," set to air this weekend.
Democrats urged women to tell Priebus to go eat worms. Democratic National Committee press secretary Melanie Roussell tweeted, "If you agree that attacks on women's heath is too serious to be compared to a 'war on caterpillars' tweet @Reince to tell him how you feel!"
Wait…this wasn't already a law?
President Barack Obama signed the Stop Trading On Congressional Knowledge Act into law Wednesday, which basically bans members of Congress and other federal employees from doing something that's already illegal for the rest of us — insider trading.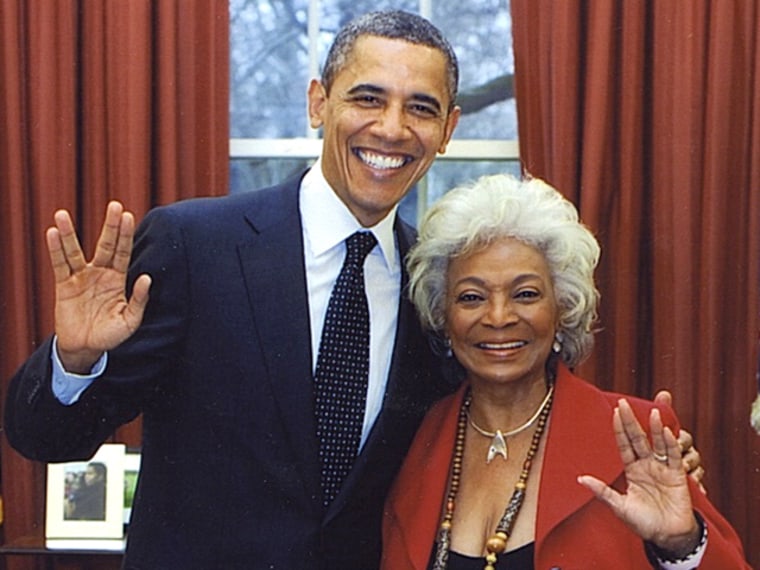 Live long and prosper
Ahh, we always knew Obama was a bit of a Trekkie. He proved as much — along with a bit of finger dexterity, when he offered the Vulcan salute while standing next to actress Nichelle Nichols (That's Lt. Uhura to those in the know). Nichols, the first African-American to hold such a recurring role on a sci-fi drama, and Obama, the first African-American to serve as president, shared a rare moment together at the White House back in February. 
More: Romney says women should be able to join Augusta 
McCain tweets 'great job' to Palin after TODAY appearance 
Former first daughter to Sandra Fluke: 'I've been there' 
Palin to GOP: 'Don't play it safe' 
In Wisconsin, Romney offers rare insight into Mormon faith
TODAY.com political contributor Halimah Abdullah is the site's woman in Washington. She hopes all of our readers "Live long and prosper."