An exclusive look on TODAY Monday of President Barack Obama's historic visit to a federal prison as part of an HBO Special by VICE News gives a glimpse into his empathy for non-violent offenders.
"I guess the honesty was what shook me the most, about how he opened up and said, 'Yes, I've done drugs and there but for the grace of God go I, and I didn't know my dad,'' VICE co-founder and CEO Shane Smith told Savannah Guthrie and Willie Geist.
"That's pretty unique especially as this presidential race is going on to have a sitting president go there and explain why he had empathy for these prisoners."
RELATED: Donald Trump: 'It's not my obligation to defend the president'
In July, Obama became the first sitting president to visit a federal prison when he traveled to the El Reno Federal Correction Institution in Oklahoma, where he met with six inmates serving time for drug offenses.
The visit was captured by VICE News for an HBO special called "Fixing the System," which spotlights the issue of mass incarceration in America.
TODAY was given an exclusive look at the documentary, which airs on Sept. 27.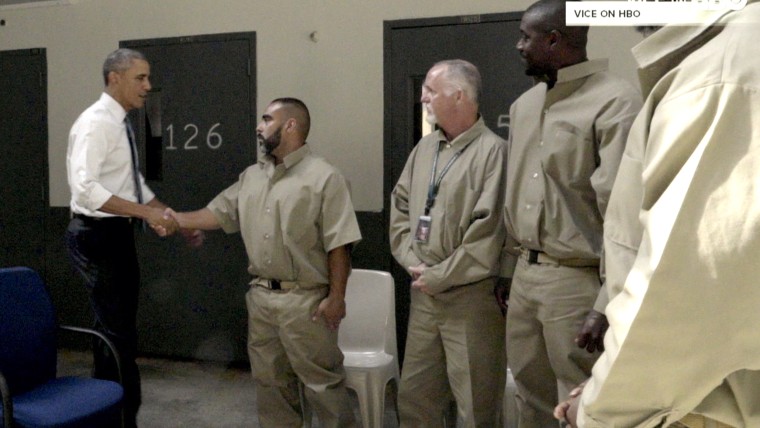 For Obama, it was part of his campaign to reform the criminal justice system, particularly mandatory sentencing for non-violent offenders. There are an estimated 1,574,700 inmates in state and federal prisons, according to 2013 figures from the Bureau of Justice Statistics.
"As a society, we seem to be OK with certain communities just being locked in this cycle,'' Obama says in the special.
"Our kids are being raised around drug crime, they naturally gravitate toward drug crime, they then get involved in the criminal justice system, and it just churns, and everybody thinks that's normal."
Smith told TODAY he believed there was a consensus among the president, the attorney general and Republicans and Democrats that something was "horribly wrong."
"There's not a lot of dissent. There's now just, 'How do we fix it?''' the VICE co-founder said.
In the special, Obama visits with an inmate named Tyrone who is in the midst of a 15-year sentence for a non-violent drug charge and is taking advantage of the prison's college program.
Tyrone says he wants to graduate so he can be a better man for his children, leading Obama to talk about his own father, Barack Obama, Sr.
"I didn't know my dad, and not too many of our young people don't know their dads,'' Obama says.
"Obviously for them to be able to see you in a strong, positive way, that's going to have an impact. I met my dad for one month when I was 10 years old. That was the only time I met him in my whole life."
The president also acknowledged that sometimes pure luck is a factor in avoiding incarceration.
"I did a lot of stupid stuff when I was young, but I've said this before — I was just in an environment where you could afford to make some mistakes,'' he said. "I had more of a margin for error than a lot of kids do."
Follow TODAY.com writer Scott Stump on Twitter.