Chapter 1: Beef Basics: Facts and Fundamentals
Welcome to your personal crash course in beef. Get ready to learn everything from simple definitions and types of beef to the grading system and carcass separation process — complete with illustrations. Don't worry, there is no final exam!
According to the U.S. Department of Agriculture (USDA), there are about 800,000 beef producers in this country, located in all 50 states. The common goal is to supply high-quality, safe, nutritious, and flavorful meat products for meals served around the world.
Although beef is the most popular protein among American consumers, the industry is always researching and testing new ways to meet the growing needs of today's consumers and food-service operators. Just by reading this book, you are a part of this effort and have the opportunity to make a difference.
Whether you are a trained butcher or meat professional, a chef, or an interested foodie, I think you will find this information to be a great review and maybe even enlightening. In any case, let's begin.
The Source of Beef
Beef is one of the principal meats used in U.S. cuisine and is also a staple meat in Australia, Europe, South and North America, Africa, and Asia. The word "beef" is the culinary term for meat derived from full-grown bovines, mainly cattle. Cattle are a group of bovines regardless of sex and age. Typically, there are two categories of cattle: beef cattle and dairy cattle. Cattle raised for human consumption are called beef cattle, while dairy cattle are raised for milk and dairy. Only females are kept in production and used as dairy cows. Males cannot produce milk and are sold as calves for veal or beef.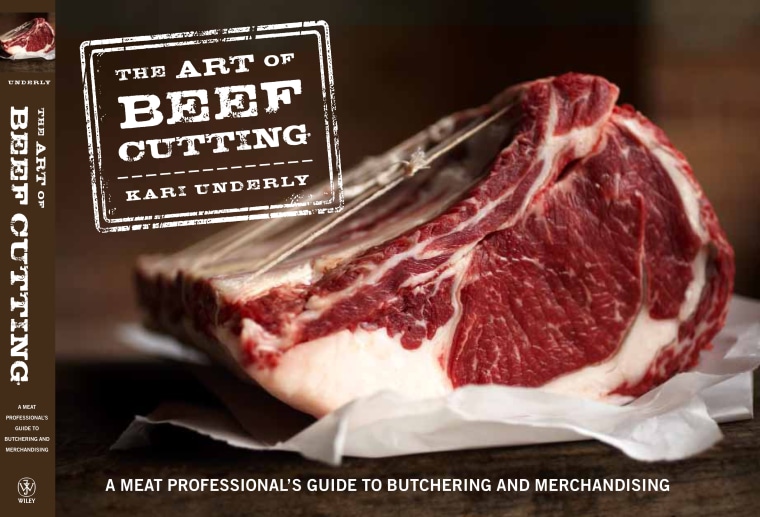 A Cow is a Cow. Or is It?
Terms such as "cow" and "bull" or other words are often used interchangeably, but the differences are significant. When a cattle herd produces offspring or calves, they are either female or male.
The male calves fall into two categories: bulls and steers. Calves with superior genetics are selected for breed stock, are not castrated, and are classified as bulls. Usually, there is only one bull per herd, so selecting the right genetics is extremely important in beef and dairy production. 
A steer is a male calf that was not selected for genetics. This steer will be castrated at birth and enter the beef production cycle.
A heifer is a female calf that is typically 2½ years old and has not been bred. Heifers, like bulls, are selected for their genetics and breeding stock. Once a heifer becomes a new mom, she is referred to as a "cow," and can then be selected to enter the beef production cycle.
Caring for Cattle
Most cattle are raised on family farms, grazing on pastures, range acreage, or in fields after crop harvest. These farms or ranches are referred to as either "cow-calf" producers or "seed-stock" producers. They both raise cows and calves for breeding stock or to sell to other cattle producers who need younger cows or calves to send to pasture. Cow-calf producers may have crossbreeds in the herd based on the ease of calving or tradition. Seed-stock producers raise purebred or registered cattle for branded or specialized beef programs.
In general, cow-calf producers sell cattle to stockers, producers looking to place light, weaned yearling calves on pasture. The cattle will remain on pasture, often moving to new pastures to sustain the proper nutritional value of the forage and refresh the fields. The herd grazes until each cow weighs approximately 750 to 900 pounds. They are then either sold to enter the food chain or sold to "feeders" where cattle are moved into custom feedlots or finishing yards.
Finishing Options
Most cattle are finished on grains, mainly corn. This high-carbohydrate diet increases marbling and palatability. Beef from the United States is preferred around the world because of this marbling and the resulting great taste. We set the standard in high-quality beef.
Cattle feed is specially designed to meet the nutritional needs of cattle. There are at least 17 minerals that beef cattle need in their diet, most of which can be found in forage. Vitamin and mineral supplements are used for grain-finished cattle, as well as grass-finished cattle to ensure that nutritional needs are met. This process usually takes place in a feedlot and is referred to as grain-fed or grain-finished. 
Some cattle remain grass-fed on pastures until harvest and are not grain-finished. This is considered "grass-fed" beef. In the United States, it is extremely expensive to hold the cow on open pastures for a long period of time. Land is expensive, and large areas of open pasture are hard to support. Therefore, a majority of the grass-fed beef in the United States is imported from Uruguay, Brazil, New Zealand, or Australia.
When the cattle reach the desired weight or age (30 months of age or less), they go to a packing house or meat packer for harvesting. A live bovine weighs about 1,000 pounds and yields approximately 450 pounds of edible meat. In this stage, cattle are processed into smaller manageable sections such as primals and subprimals for further processing.
Characterizing Beef Cattle Breeds
There are at least 50 breeds of beef cattle, but fewer than 10 make up most cattle produced. The most popular breeds of beef cattle in the United States and Canada originated in Europe.
British breeds
Angus (Black and Red), Hereford (Horned and Polled), and Shorthorn are the primary British breeds. They were brought to the United States in the late 1700s through the late 1800s. British breeds are generally smaller than Continental European breeds in mature size, reach mature size at an earlier age, have less growth potential, excel in fertility and calving ease, and attain higher-quality grades.
Continental European breeds
Considered "exotic" breeds, the Continental European cattle include Charolais, Chianina, Gelbvieh, Limousin, Maine Anjou, Salers, and Simmental. These are relatively new breeds to the United States, arriving in the late 1960s and early 1970s primarily to improve the growth rate and leanness of existing breeds. Continental European breeds are generally larger than British breeds in mature size, reach mature size at a later age, produce carcasses with less fat, have lower-quality grades, and have more calving difficulty when mated to the British breeds.
From the book "The Art of Beef Cutting: A Meat Professional's Guide to Butchering and Merchandising" by Kari Underly. Copyright © 2011 by John Wiley and Sons. Reprinted by permission.