In the tense moments before T.J. Oshie buried the game-winning shot that gave the U.S. Olympic hockey team its thrilling win over Russia in a shootout, he looked much calmer than he actually was inside. 

"There's a little panic in there,'' Oshie admitted on TODAY Monday while looking at a blown-up photo of himself preparing for the final shot.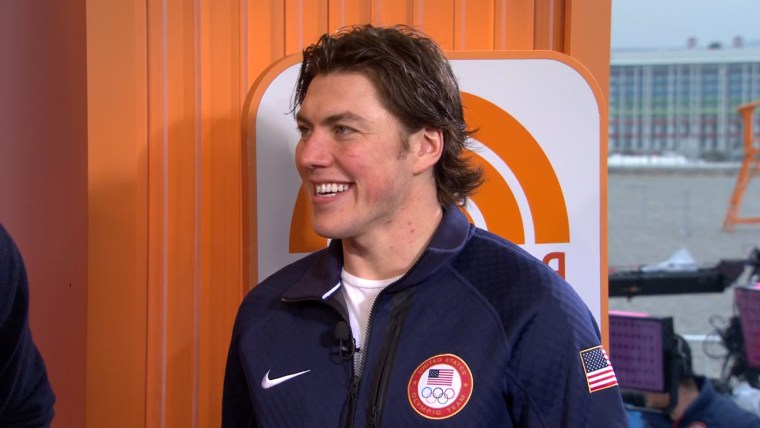 "I saw the replay. It looks like I wasn't shaking, but I was [shaking] underneath, and really happy that last one went in." 
Unlike the National Hockey League, the Olympics allow the same shooter to take all of the shootout attempts. Oshie went 4 for 6 during the shootout to combine with U.S. goalie Jonathan Quick of the Los Angeles Kings to seal the win. 
Watch video - TODAY: meet T.J. Oshie and Jonathan Quick, stars of USA Hockey
"I had a feeling that I was going again,'' Oshie said about the shootout. "I didn't know that I was going to keep going. I was running out of moves there. [I was] really happy that the last one went in, and the opposite of what Jonathan said, he bailed me out there a couple times. It seemed like when one of us didn't do a good job, the other one bailed us out." 
"At times, it turned into a little bit of a mind game because you're facing the same shooter that you've seen a couple times already,'' Quick said on TODAY. "You might have made one save, and they scored, so you're trying to figure out what he's going to do next, whether he's going to go back to a move that he's already beat you with, whatever he's going to do. I had a couple of opportunities to make a save to win the game, and wasn't able to do it. Luckily, T.J. kept scoring for us." 

Oshie, a center for the St. Louis Blues, has seen his popularity surge, gaining 140,000 Twitter followers since the start of the Games and the nickname "T.J. Sochi" after bringing home the win over host Russia on Saturday at the Bolshoy Ice Dome in Sochi. He even received a congratulatory tweet from the president. The crowd was chanting his name, and his phone was bombarded with texts and congratulatory calls afterward. 
"There were quite a few, not as many as I think everyone thinks there was, but we had a couple,'' Oshie said about the congratulatory messages. 

While the rivalry between the U.S. and Russia is not as fierce as it was during the "Miracle on Ice" in 1980 when the Americans shocked the then Soviet Union, Saturday's win was still a memorable one for the visitors. 
"Obviously, with everything that has happened with 1980, since then I think it's kind of a rivalry that died down a little bit,'' Quick said. "Playing any team on their home soil during the Olympics, it's pretty special. It's not the win that we want. The win that we want is Sunday, so we have a couple games to get there, but it's still pretty special to win that game."