Simone Manuel said she wasn't thinking about making history when she became the first African-American woman to win an Olympic gold medal in swimming.
Watch: Simone Manuel talks about her historic accomplishments in Rio
"I was just swimming my races. I swim for myself. I love it, I have fun, and just representing my country is the greatest honor I could ever have," she said Monday on TODAY. "I just went out there and had fun."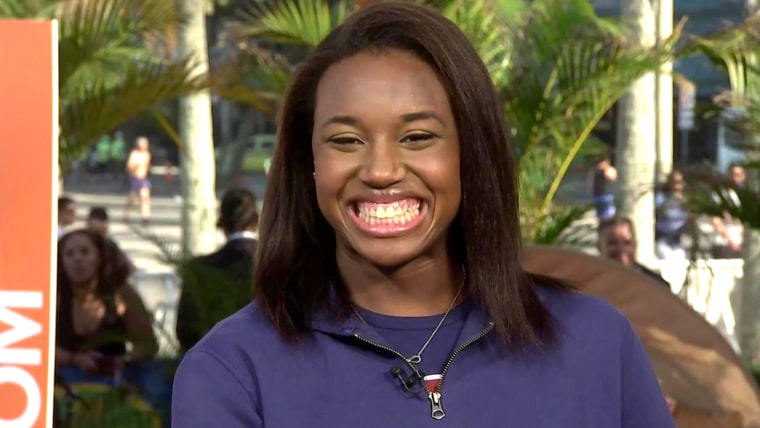 While it's true that Manuel wasn't as well known as the other Olympic athlete named Simone (the powerhouse gymnast who has earned multiple gold medals in her field), she grabbed the spotlight after she tied for first place in the 100-meter freestyle last week. She also won three more medals at the games, including a second gold over the weekend when she anchored the 400-meter medley relay. The victory earned Team USA its 1,000 gold medal.
Manuel said she was very aware of her place in history following the competition, as she stood on the medal podium with tears running freely down her face as the American anthem played.
The victory earned her a call out from NBA legend LeBron James, who described Manuel (and fellow Olympic gold medalist Simone Biles) in an Instagram post as "truly inspiring for so many, especially young black girls" like his daughter.
It also inspired countless others who said the moment provided motivation for their children, including one enthusiastic young swimmer whose mother captured her declaring, "I got next!" in a photo she posted to Twitter.
"It's very historic. I think it brings awareness to the swimming and helps diversifies the sport," Manuel said of the victory. "I mean, I didn't have that many people to look up to when I was younger so hopefully it inspires other African Americans to get involved in the sport."
Manuel also gave a lot of credit to her family for her determination.
"My family means everything to me. I have such a great support system and I wouldn't be there without them," she said.