A North Carolina man has been arrested for allegedly shooting a 6-year-old girl and her parents after a dispute neighbors say started with a basketball rolling into the suspect's yard.
Robert Louis Singletary, 24, turned himself in to police in Tampa, Florida, on April 20 following a two-day manhunt by authorities, according to a statement by the Gaston County Police in North Carolina.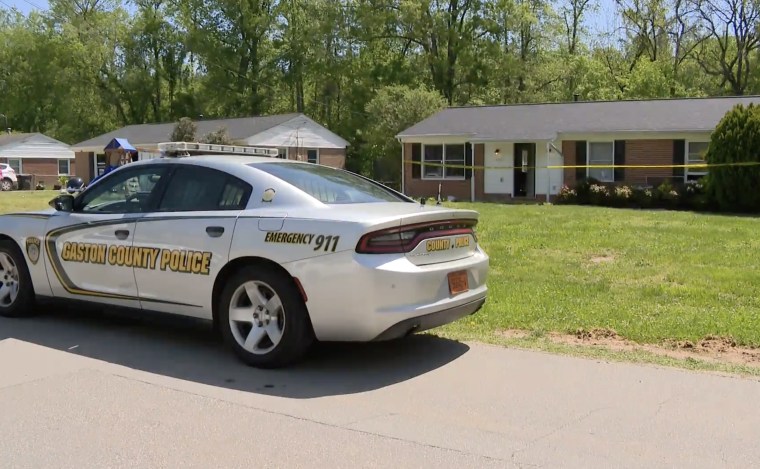 He faces multiple charges, including four counts of attempted murder, and is due in court in Florida on April 21 for a hearing involving extradition to North Carolina, according to police.
The father of the girl, William White, remains in serious condition at a Charlotte hospital from a gunshot wound, police said. The girl's mother and White's wife, Ashley Hilderbrand, suffered a grazing gunshot wound and was treated, police said.
Hilderbrand told NBC affiliate WCNC that her daughter had a bullet fragment strike her in the cheek. A fourth person, Derrick Prather, was shot at but not hit, police said.
Neighbors told WCNC that the shooting occurred on April 18 when a group of kids were playing basketball and the ball rolled into Singletary's yard at his home in Gastonia. Police have not confirmed that detail or released a motive for the shooting, citing an ongoing investigation.
"It was very scary," Hilderbrand told WCNC. "My daughter actually got to come home last night. She just had a bullet fragment in her cheek. Still, scary, but my husband, he's still in the hospital. He's in trauma. I'm doing the best I can."
Hailey Martin, 17, said she was outside when she heard shots nearby. She told NBC News that Singletary frequently complained about toys and balls being in his yard and believes that's what started the incident.
"There's always kids running around," Martin said. "We don't care if the balls get in the yards, because either the kids or the parents will come bring the toys back."
The incident is the latest in a string of shootings over seemingly harmless mistakes.
In Missouri last week, a 16-year-old boy was shot by a homeowner after he rang the doorbell at the wrong address while trying to pick up his twin brothers.
Days later in upstate New York, a 20-year-old woman was shot and killed by a homeowner when she and a group of friends pulled into the wrong driveway thinking they were at another friend's house.
On Tuesday, a pair of Texas cheerleaders were shot after one mistakenly went to get into the wrong vehicle in the parking lot of a grocery store.