A man accused of opening fire in an Atlanta medical facility waiting room Wednesday, killing a woman and wounding four others, was arrested in a neighboring county after an hourslong manhunt, police said.
Atlanta police announced the arrest of Deion Patterson, 24, at around 8 p.m., almost eight hours after the deadly shooting shortly after noon.
He was arrested in Cobb County, northwest of the city, officials said.
But why Patterson allegedly opened fire in an 11th-floor waiting room of a Northside Hospital medical facility remained unclear.
"We know that he had an appointment at the facility," Deputy Atlanta Police Chief Charles Hampton said at a news conference. "Why he did what he did, all that is still under investigation."
Patterson escaped from Atlanta's Midtown as police were descending on the scene. He stole a pickup that was left running at a nearby gas station, Hampton said.
That vehicle and the suspect were seen on Department of Transportation cameras in Cobb County at around 12:30 p.m., police there said.
That video and a 911 call about a possible sighting led to Patterson's arrest, Cobb County Police Chief Stuart VanHoozer said.
All five victims were women, and all had been shot. They have not been publicly identified. Three remained in critical condition Wednesday evening, hospital officials said. The fourth was stable.
The woman who was killed was identified as Amy St. Pierre, 39, an employee with the Centers for Disease Control and Prevention, the health agency said.
The four who were wounded were ages 71, 56, 39 and 25, Atlanta Police Chief Darin Schierbaum said earlier. It was not immediately clear whether they were patients or medical center employees.
"It's still too soon to know why these individuals were chosen," Schierbaum said of the victims at a news conference earlier Wednesday.
The suspect used a handgun, which has been was recovered, Hampton said.
Patterson was at the medical facility with his mother for an appointment, police told NBC News.
A woman who answered at a number associated with the suspect's mother declined to answer questions and handed the phone to an Atlanta police officer.
The shooter's mother was not harmed in the gunfire and his family has been cooperative with investigators, the chief said.
Patterson was formerly in the U.S. Coast Guard, the maritime military branch said. He entered the Coast Guard in July 2018 and last served as an Electrician's Mate Second Class, it said in a statement. He was discharged from active duty in January.
Two of the three injured people underwent surgery, and a third had a less invasive vascular procedure, Grady Memorial Hospital Chief Medical Officer Robert Jansen told reporters.
The hospital was mobilized for a possible "mass casualty event" and was ready to treat up to 12 gunshot victims, Jansen added.
"Within minutes, we had multiple trauma surgeons, multiple staff" ready for shooting victims, Jansen said. "We were fully prepared, we were anticipating up to 12 patients, fortunately we only received four."
The Northside Hospital location where the shooting took place houses a cancer center, an orthopedic institute, a radiology unit and more, according to its website.
"This tragedy is affecting all of us, and we ask for patience and prayers at this time," Northside Hospital Northside Hospital Healthcare System said in a statement.
Police at around 12:30 p.m. tweeted that there was an "active shooter" investigation and, told people to stay away from the neighborhood of 1110 W. Peachtree St. A shelter-in-place order by Atlanta police was lifted just after 3 p.m.
Within minutes of the police alert, the block the facility is on was flooded with squad cars and ambulances.
Peachtree Street, Atlanta's main thoroughfare, is lined with bars, comedy clubs, shops and a variety of eateries.
There were few pedestrians on the street in what is ordinarily a busy lunch rush in Atlanta's Midtown neighborhood, which is filled with hotels, museums and restaurants.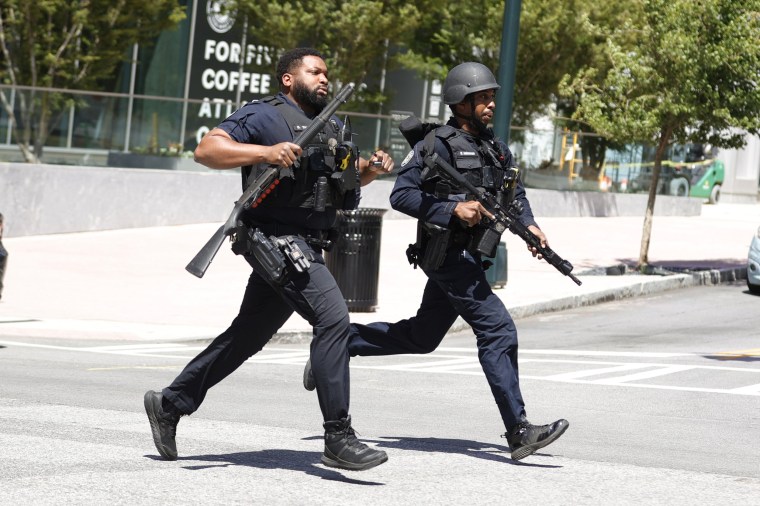 Atlanta Public Schools announced that nearby campuses were put on lockdown in the wake of the gunfire, officials said. Students were later dismissed.
VanHoozer, the Cobb County police chief, said that being able to use Department of Transportation cameras was a key tool in finding Patterson.
"Those cameras proved extremely helpful today. That is where we got the precise location of the building that he walked into," he said.
After a call to police, an undercover police officer encountered Patterson and other police arrived and took him into custody without incident, he said.
President Joe Biden and Vice President Kamala Harris were been briefed on the shooting, press secretary Karine Jean-Pierre said.
U.S. Sen. Raphael Warnock, D-Ga., said his own two children were caught up in the lockdowns.
"This is knocking on all of our doors, and I feel this this afternoon, in a very real sense," Warnock said on the Senate floor. "I feel it in my bones because my own two children were on lockdown this afternoon. I have two small children and their schools were on lockdown responding to this tragedy. They're there, I'm here. Hoping and praying that they are safe. But the truth is, none of us is safe."
This story first appeared on NBCNews.com.