This story is part of TODAY's series "Survivors: What Happens After the Headlines Fade." For more stories and videos from the series, click here.
Leo Melendez runs his hands over the memorial at the Pulse nightclub in Orlando, taking in all of the faces as he is instantly transported back to the night in 2016 when three bullets pierced his body while a gunman killed 49 people.
After the creation of the memorial in July, Melendez, 40, returned to the site of the shooting for the first time since the day it happened.
He paused when he came to a picture of Javier Jorge-Reyes, the co-worker who was right next to him that night when the shooting started.
"I'm a person who tries to leave things in the past, but when I saw the picture of my friend who died, it really brought all those memories back," Melendez told TODAY. "It's surreal. It's like you're in shock almost to go back and relive that."
Melendez and Jorge-Reyes decided to go to Pulse for a drink after work on June 11, 2016. Gunman Omar Mateen opened fire on the gay nightclub later that night, killing 49 and wounding 53 others before being killed in a shootout with law enforcement. At the time, it was the deadliest mass shooting in U.S. history.
"(Mateen) just started shooting like Rambo," Melendez said. "Javy was saying, 'It's a shooter, throw yourself on the floor and be quiet!' That's when I guess the first shot hit me in my leg."
One bullet struck his left thigh and shredded his knee, another hit him in the left foot and a third hit him in the back of the head, where a jagged scar remains.
"I remember saying 'My leg!' and after that, that's when I must've gotten shot in the head, and I don't recall anything else after that," Melendez said.
Melendez shared his ongoing journey as part of TODAY's "Survivors" series, which looks at how communities and individuals rebuild from man-made and natural disasters after the headlines fade.
Walking again
Melendez has undergone nine surgeries and currently goes to physical therapy for one 90-minute session a week after months of thrice-weekly sessions following his latest surgery in March.
He has regained about 80 percent of the flexibility in his left leg, which was stiff with scar tissue after his first few surgeries. He still has no hearing in his left ear.
"I have days where I get really down," he said. "I keep thinking my hearing is going to get better, but now I'm getting to the stage of frustration where it's not getting better. I have days when I get really upset and I just want to give up, but I work to get up the next day and snap out of it.
"I push myself every day to try to cope with it and try not to think that basically, now I'm handicapped."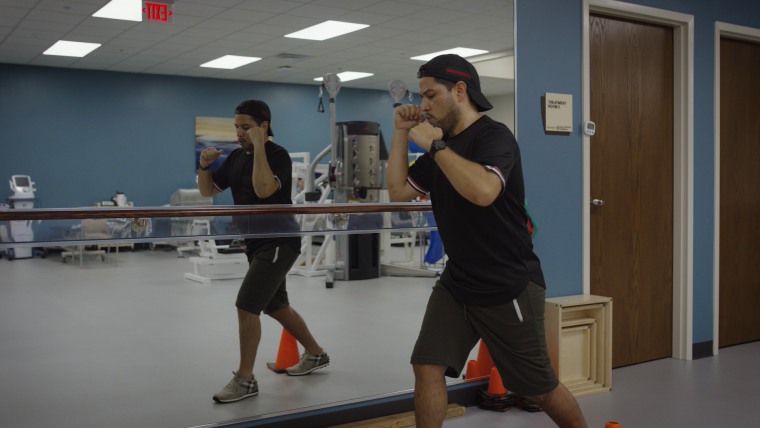 Whenever he feels exhausted in his recovery, he thinks of his daughter, Bella, 8, who lives with her mother in Orlando.
"She's my inspiration," he said. "That's why I feel I'm still here, because deep inside I didn't want to leave her."
Alone in a crowd
One of the hardest parts of Melendez's recovery has not been physical.
"Trying to learn again how to act in public and around people has been very difficult," he said. "At the beginning, I just wanted to cry and run away from everybody and be isolated, but I felt like if I did that I was just going to get more depressed."
The fear of going to public places with large crowds, like a mall or a restaurant, is common after enduring a traumatic event like the Pulse shooting, Michael Aponte told TODAY. Aponte is the director of the Orlando United Assistance Center, a collaboration between the City of Orlando, Orange County and Heart of Florida United Way that offers case management, emergency basic needs, mental health support, health services and other resources to those impacted by the Pulse tragedy.
"To be in an environment where there's a lot of people or it's a small room or even inside of a mall or a place where there's loud music, those are triggers," Aponte said. "For a lot of the survivors, that's still a challenge."
Melendez has not seen a therapist, but says he is now considering it.
"I'm starting now, little by little, to get away from that fear and go with the flow," he said. "It's still difficult with a lot of people in a loud restaurant or a lounge."
The hesitation to get mental health treatment is common, Aponte said. The OUAC has so far worked with more than 200 people who have been affected by the shooting.
"You teach the victim to start all over again," he said. "It's a new beginning. It's not going to be going back to the way your life used to be, because obviously you now have certain fears challenging you on a daily basis. You're still going to have nightmares and a lot of them are still not ready to get mental health treatment."
Christopher Cuevas, the executive director of QLatinx, an organization created in the wake of the shooting to support members of the LGBTQ Latinx community affected by the tragedy, told TODAY that two years later there are people coming forward for the first time looking for help.
"There is no timeline for grief, there is no timeline for healing,'' Cuevas said. "Support services need to be ongoing for years because people may not seek them immediately."
Like Melendez, the majority of those affected by the shooting are Hispanic, which also plays a role in getting mental health treatment.
"When it comes to mental health, our Hispanic culture, it's very challenging to accept the help of a provider of mental health because you grew up with this stigma that this is for people that have serious mental illness," Aponte said.
"There also is the language barrier, worries about immigration status, and LGBTQ cultural competency from various organizations that may inhibit people from coming forward," Cuevas said.
The OUAC also makes sure to reach out via phone, email or text after mass shootings, which has often brought many Pulse survivors right back to the day of that shooting.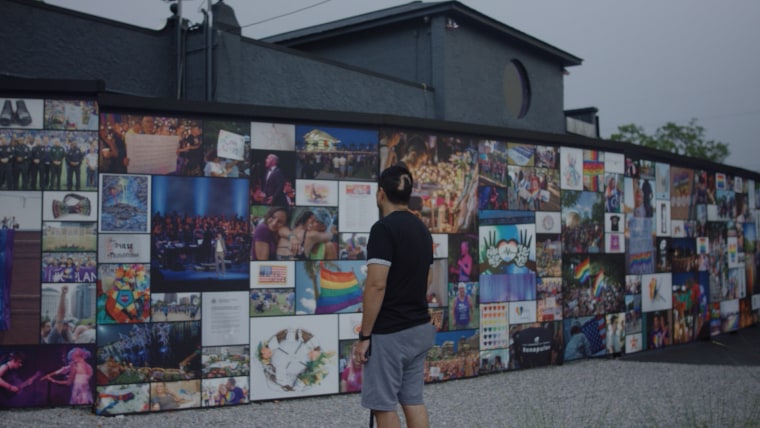 "When the Las Vegas tragedy happened, everybody was calling me and worried about me," Melendez said. "The people that I feel really bad for besides the survivors are the families because other people go on with their life. What my family went through, I wouldn't wish on anyone else."
There also has been two mass shootings in Florida just this year in Parkland and Jacksonville.
"Most recently in Jacksonville, we see people seeking services or being vocal about the triggers they have,'' Cuevas said. "We've also seen several people in our community (in Orlando) reaching out to other communities that have experienced mass tragedy because they want to help."
"We need to continue to respond," Barbara Poma, the owner of the Pulse nightclub, told TODAY. "Not just to our families and survivors and first responders, but to everywhere that has now been affected by any tragedy in your community. It's happening everywhere."
Melendez has chosen to heal mainly with the help of his friends and family. He has only met in person with one survivor since the Pulse shooting and keeps in touch with a few others via Facebook.
"I don't try to talk to anybody who had the same thing happen to them because it's almost like reliving it," he said. "I try to look ahead, not back."
Moving forward
Trying to avoid looking back can be a challenge. Just ask Neal Whittleton, who was the head of security at Pulse at the time of the shooting.
He had the DJ cut the music and helped usher as many people as he could out an exit the instant he realized what was happening.
"They told me I got 100-something people out. I still lost 49, so ..." he told TODAY while choking back tears.
He and Melendez are two of many for whom the shooting is now a part of their lives. How they decide to move forward is an individual choice. Melendez has decided to choose hope for a better future.
"Whatever you believe in, have that faith and never give up," he said. "The minute you decide to give up, that's when you fail.
"No matter how bad it is, you always say, 'I'm gonna make it. I'm gonna get through it.' Those words just give you the strength to keep going."