This story is part of TODAY's series "Survivors: What Happens After the Headlines Fade." For more stories and videos from the series, click here.
Felicia Sanders has searched for a reason why she was one of only three survivors left after a white supremacist opened fire at her church in Charleston three years ago, killing her son, aunt and seven other African-American parishioners.
She has carried the weight of those nine lives that were lost when 21-year-old Dylann Roof turned a Bible study gathering at Emanuel African Methodist Episcopal Church into a massacre.
"I was left here to tell my story to let the world know that God is real,'' Sanders told TODAY. "If I can change a white supremacist's life, somebody who's thinking about going to shoot up a school or shoot up a church or shoot anyone, if I can change one or two of their lives, it'll be worth it."
Sanders was in court last year when Roof was sentenced to death. Roof had hoped to incite a race war, telling FBI investigators after his arrest that "black people are killing white people every day on the streets, and they rape white women."
The South Carolina General Assembly voted in the aftermath of the shooting to remove the Confederate flag, which Roof often posed with along with symbols of white supremacy, from the grounds of the state capitol in Columbia.
"I feel sad for you," she told Roof in the courtroom. "When I look at you, I just see somebody is cold, who is lost, who the devil has come back to reclaim."
"Yes, I forgive you. That was the easiest thing I had to do. But you can't help someone who don't want to help themselves and that is you."
Loss of a beloved son and aunt
Tywanza Sanders, 26, worked a pair of jobs at a barbershop and a Steak 'n Shake and loved to write poems and go fishing with his father in his free time.
He also was a man of faith, regularly attending the Wednesday bible study at the church with his mother as well as Felicia's aunt, Susie Jackson, 87, whom he clung to in his dying moments.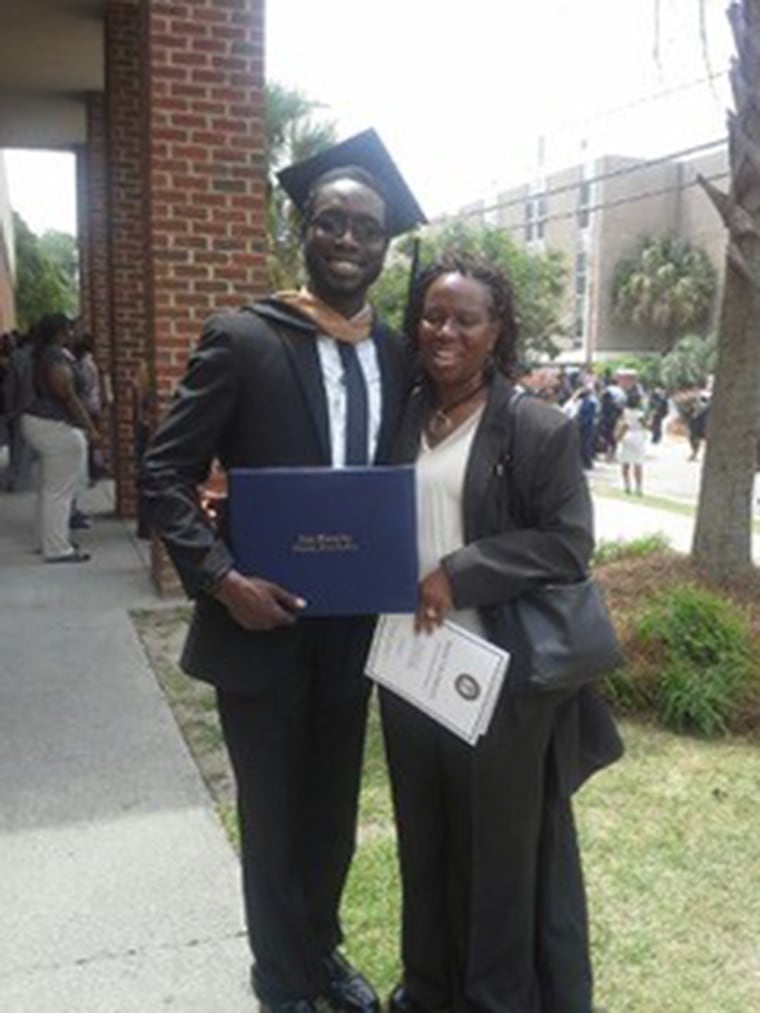 They had welcomed Roof into the church basement for a 40-minute Bible study, and when they bowed their heads in prayer at the end of the session, he pulled out a gun and started firing at the group.
"It's plain and simple what happened that night," she said. "He sat with us, and as we closed our eyes to pray, he unloaded the gun — 77 shots. Seventy-seven shots, I heard every last one."
Sanders grabbed her 11-year-old granddaughter and hid under a table, urging her to play dead. Meanwhile, her son and aunt were bleeding to death on the floor nearby.
She said Tywanza pleaded with Roof as he stood over him, saying "We mean you no harm."
Roof put five bullets into Tywanza. He left retired nurse Polly Sheppard alive, saying he wanted her to tell others what he had done. He then ran out and was later apprehended by police the following day.
Sanders immediately called her husband, Tyrone, to tell him what happened.
"My family and Tyrone was praying that he survived, but I knew he was gone,'' Sanders said.
"I was just in total shock, hoping that he would survive,'' Tyrone Sanders told TODAY. "I didn't know what to say or what to do. All I could do was hold her."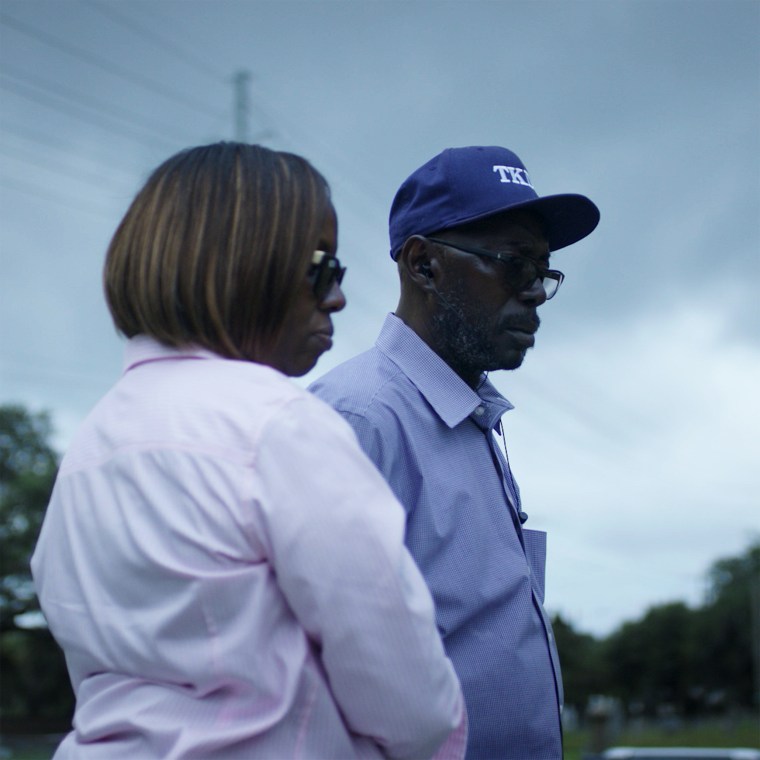 This year the family got together for a party in his memory on what would've been Tywanza's 30th birthday.
"I miss him a lot,'' she said. "I thank God that I had him 26 years though. I look at these things, it's all bittersweet."
She had often thought he might one day be a minister.
"We would talk about the Bible all the time, and sometimes I did wonder if my child was gonna die early because our conversations were so deep about the Bible,'' she said. "(A reverend at the church) told me that 'your son has a calling on his life.'"
"I took it as he was going to become a minister. I didn't take it as he was going to die."
Tyrone feels his son's presence the most at home rather than the church. He goes in the garage, turns on the song "Endless Night" from "The Lion King" soundtrack and closes his eyes.
"That brings me back to him all the time," he said.
A cauldron of emotion
Sanders touched many hearts with her ability to forgive Roof despite his horrific crime.
She no longer attends Emanuel AME, instead going to a nearby church, but faith remains an integral part of her life.
Tyrone's feelings about Roof, however, show the roiling emotions still surrounding that awful night.
"Like my wife says, forgiveness is for yourself, for her healing,'' he said. "But for me, I feel so strongly about not forgiving, that right after the court case, after he got sentenced, I told them I could never forgive him, even if it makes me sick and I die."
"That's just the way I have to go to my grave."
The burden of that night also admittedly weighs on Sanders no matter how much she wants something positive to come from it.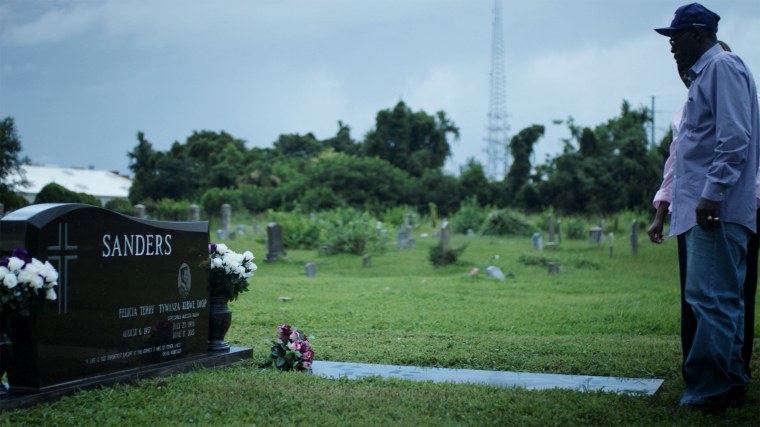 "I can't separate my son from the other eight,'' she said. "I carry the burden of all nine. I didn't apply for this job. The nine people who died, any one of them would've been terrific at it, but then here comes little old me and Miss Polly."
While she believes God had his reasons, she also admits that sometimes it would be nice to go back to being Felicia Sanders, grandmother and hairstylist, instead of Felicia Sanders, Charleston shooting survivor.
"You have to have a tough skin,'' she said. "Sometimes I can accept it and other times I just want to go and have lunch and don't worry about it. Other times I want to go to the mall and don't worry about it. Other times I just don't want to be that Felicia who went in the church who survived."
"Three of us were able to come out with no wounds physically, on the outside, but we have wounds on the inside."
She does her best to fight through that pain to deliver the message her son and aunt would want her to spread.
"We've got to stop dividing people,'' she said. "We've got to learn to love one another."
Editor's note: An earlier version of this article said that ten people had died in the Charleston church shooting. Felicia Sanders' aunt Susie Jackson was also misidentified as Shirley Jackson.